Enjoy Happy Trails, the free monthly newsletter from Hiking For Her.

Receive a free resource: Hiking Layering System Explained

Beginner Gear Guide:
How To Get Off To A
Great Hiking Start
by Diane Spicer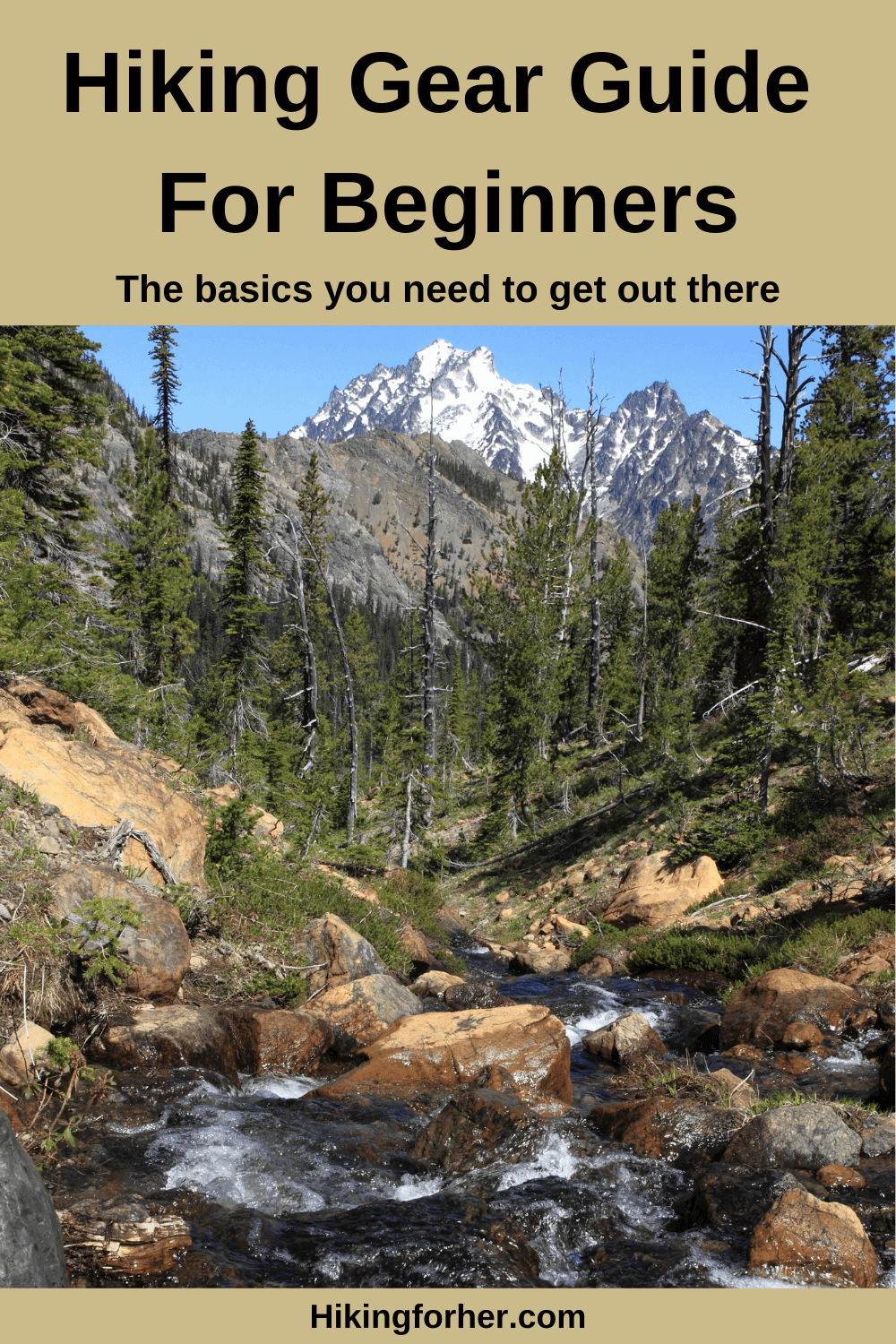 Why a beginner gear guide for hikers?
Because many women ask Hiking For Her for advice about how to get started with buying the right hiking gear and clothing.
Others (guys, you know who you are) ask for recommendations for a great gift for a female hiker.

So I'm guessing that since you're here, you also might find a basic gear guide useful.

Let's sit down together right now and take a look through the gear and clothing a beginner hiker needs.
In a hurry?
Get to the good stuff in this beginner gear guide fast:

What this beginner gear guide
accomplishes for you
The goal of every article on the Hiking For Her website is the same:
Putting you (or someone you love who loves hiking) onto the trail in comfort, confidence and style!
And because I have trusted REI gear co-op for my own outdoor gear purchases since 1978 (not a typo!), it makes sense to do our shopping there as co-op members.
Top brands
Wide selection of sizes and styles
Excellent customer policies
Amazing member rewards
What's not to love?

Disclosure: If you make a purchase through the links in this guide, Hiking For Her will receive a small percentage of your purchase price.
This costs you nothing extra, while enabling more free hiking tips on this website to be shared with women throughout the world. Thank you!


Why trust the experts?

By sticking with one of the most trusted gear companies on the planet, REI gear co-op, you have several advantages for gear shopping:

Detailed product descriptions and reviews are readily available to help you evaluate each piece of gear.

Excellent customer service and return policies make it easy to get your hiking gear list (or gift) just right.
It's a lot of fun to browse through your options, knowing that only quality brands and well designed gear are offered.

Hiking For Her's five decades of trail experience, using hiking gear from REI under all sorts of conditions, also makes this gear guide a fast, reliable way to select the best choices for your hikes.
But first, a bit of problem solving.
Beginners have two basic
gear problems to solve

As a beginner, you need to solve two problems to hit the trail in comfort and confidence:
Select gear that works well with your body, to give yourself the best chance of enjoying your hikes.

Invest a reasonable amount of money in that gear, without under or over buying.

Is it possible to be successful in solving both problems?
Keep reading... (hint: Yes!)

Essential gear a beginner hiker needs

This beginner gear guide for hiking presents excellent choices for the basics:
Everything in this beginner gear guide is something I own or have tried on the trail and am confident will work well for you.
Each category of hiking gear will have at least two choices for you to consider.
This allows you to allocate your budget to what's most important to you - and what serves you best - for the type of hiking you want to try.
Avoid overwhelm by targeting your selection to Hiking For Her's top choices in each category.
The bright blue boxes will help you navigate to exactly what you're looking for.
Prices may vary from what is shown on this page, depending on REI sales and seasonal close outs.

Let's start with fundamentals in this beginner gear guide:
What should you put on your feet to start hiking?
Hiking is much different than strolling through a park or walking your dog.
Your feet will feel the difference right away, and that's why you need hiking footwear to provide:
stability
arch support

ankle and toe protection
moisture wicking layer (inside)

water repellent barriers (outside)

comfort
If you are starting to hike on flat, well maintained trails, a pair of trail shoes is a perfect way to ease your feet into things.
Begin to hike in whatever athletic shoes you already own. You'll know soon enough if those are going to go the distance for you.

I wear low rise trail shoes from well respected companies like Salomon, like these:

Salomon X Ultra Pioneer Aero Hiking Shoes
These are great for trails that don't pose much of a challenge for your feet, and they're comfortable right out of the box.


But I also love the support and stability of full size hiking boots, like these KEENs.
KEEN Targhee III Mid WP Hiking Boots
None of the KEEN choices requires a "breaking in" period.
They're comfortable right out of the box,too, something that is not a trivial fact for a hiker!

For a complete list of recommendations for the best beginner hiking boots and trail shoes, read this.

And to avoid foot fatigue or soreness as your feet are becoming hardened to the reality of the hard work they perform on a hiking trail, consider a good pair of hiking insoles.

Two pairs of socks, or just one?
Far too many hikers are taken off the trail because of foot problems, and I don't want that to happen to you.
Here's my simple rule:
Trail shoes pair well with lightweight, thinner hiking socks.
Hiking boots like the Keen pair you just saw?
It's smart to use a thicker pair of outer socks.

SmartWool is a company that has been making hiking feet happy for many years, including mine.
Take a look at two different choices of lengths and weights:

Smartwool Performance Hike Light Cushion Mid Crew Socks
---
Technical socks like these might seem expensive at first glance.
But remember, taking good care of your feet is your top priority, so don't under-buy on your hiking socks. 

You will come to appreciate their durability, protection, and quality workmanship on the trail.
And if you buy your socks in bulk from REI, you'll get a 10% discount. Just one more reason to join this gear co-op, especially if you're in this hiking thing for the long haul.

The beauty of liner socks

Boot wearers need liner socks, too.
The goal: to wick away your sweat and keep your feet from sliding around in your boots, thus reducing the possibility of blisters.
These socks are made from recycled materials, and are soft and wicking:
REI Co-op COOLMAX EcoMade Liner Crew Socks
---

Beginner gear guide:
outdoor clothing for active hikers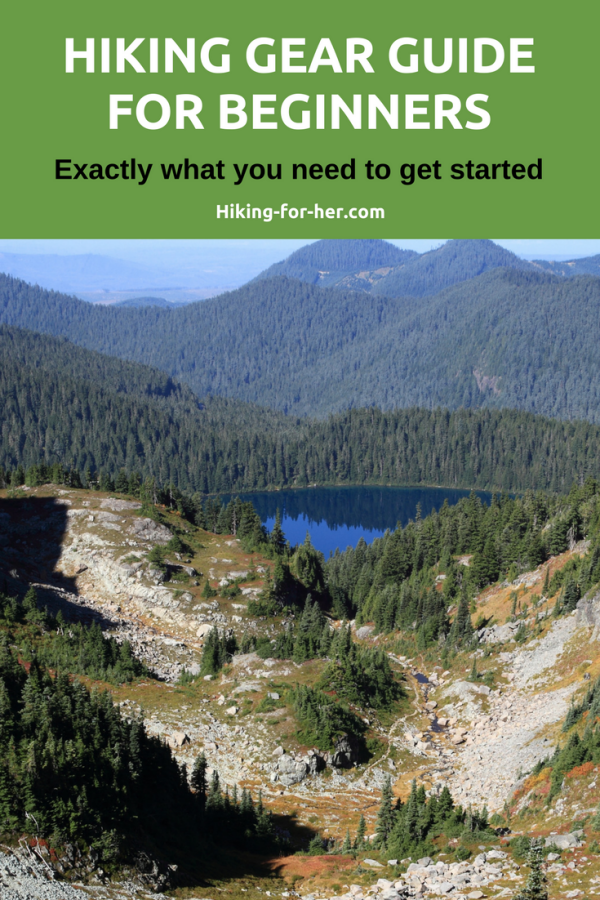 Now that we've got your feet covered (literally), let's turn our attention to outdoor clothing suitable for hiking women.
There are two "rules" for choosing good hiking clothing in this beginner gear guide:
Moisture wicking, UV blocking fabrics are your friend.
Versatile clothing in a layering system will take you through three seasons of trail hiking with ease.
The good news about that short list?
It's really easy to find appropriate hiking clothing at all kinds of price points.
Here's the bad news:
So let's design a great hiking clothing layering system from the inside out, using my two rules: the right fabrics, used in layers.
We begin with the top base layer, and for women hikers, that means a supportive, comfortable sports bra.

Sports bras for hiking

As you hike, your breast tissue needs a supportive sports bra made of moisture wicking material.
Otherwise, you run the risk of chafing, pinching and binding.

Workout sports bras that you already own may do the trick.
But after a hike or two you might realize that the combo of bra plus backpack calls for a hiking specific solution.
A well designed sports bra (see these suggestions) also eliminates the need for wearing two flimsy ones a time.

Take a look at sports bras from companies like Brooks that in my experience work well for women hikers:
Brooks Drive Convertible Bra
Trail hiking is considered a medium impact workout, but I'd recommend that you err on the side of high impact if you're well endowed.
Here's a good choice:

Brooks Dare Zip 2.0 Bra
The zipper makes it easy to get in/out of it, and the C/D fit will give you support.
Hiking Tip:
Don't toss your sports bras in the dryer. The high heat shortens their lifespan. You want to extend the life of this fundamental item of hiking clothing, right?


Hiking underwear
What about the bottom base layer?
What you wear when you're not hiking probably won't make a smooth transition onto the trail.
Thongs, for example, lead to bunching and twisting problems that force you to break out of your trail rhythm.

Slippery fabrics like nylon, with a cotton panel, can work well with your mid layer bottom choices (coming up: shorts, tights and pants).
But as you sweat, they trap moisture against your skin.
Quick dry fabrics that soak up sweat but don't stay cold and clammy (cotton, we're giving you the evil eye here) are a great choice when hiking in variable weather patterns during spring and fall.
ExOfficio is known for its reliability as hiking underwear, with many options for finding the right cut that works well with your hiking pants, shorts and skirts:

ExOfficio Briefs
---
Base layer tip:
If you plan to take a dip in a stream or lake at your hiking destination, choose your sports bra and briefs with camouflage in mind:
Can they pass for a two piece swimsuit?

Do they provide modesty when soaking wet?

Lightweight wicking shirts
Now we're transitioning into the mid layer of our layering system in this beginner gear guide.

Because I'm not sitting right beside you in person, I can't ask what season you plan to start hiking.
So let's start with a short sleeve shirt like this one from Patagonia:

---

The best hiking pants
Some women really like the versatility of zip off hiking pants, like these.
REI Co-op Sahara Convertible Pants
I count myself among them!
Here's why:

If convertible pants are too trail-ish for you as you begin to transition into the hiking lifestyle, how about these? They repel the elements, move with you, and look great doing it.

---

Hiking shorts
Shorts are an obviously good choice for warm weather hiking.
But be sure to choose breathable fabric, not heavy denim or moisture hogging cotton.
Beginner gear guide tip:
These hiking shorts do the job!
Just select the length you like:
REI Co-op Sahara Shorts with 9 inch inseam

REI Co-op Active Pursuits with 4.5 inch inseam
---

Wear leggings or tights on a hike

Don't overlook how shorts can be used for shoulder season hikes (cool spring and fall weather).
Before you don your shorts, layer on a pair of tights or leggings that can stand up to more than a yoga mat, like these:
REI Co-op Lightweight Base Layer Tights
---

Jackets for hiking
Here's where you can wander into some pricey neighborhoods.
Lots of technical jackets have features you don't need yet - so why pay for them?
For now, you should carry a rain repellent jacket (shell) that zips up and provides a hood, at least one pocket, as well as a sturdy zipper.
You probably already have one.
Tips on how to buy a great hiking jackets are here.
Layering tip: Just add another mid layer like a vest under your jacket if you're going to be hiking in cool spring and fall temperatures.

Or double up on your shirts, as noted above.

I routinely go up one size, in my jackets, for this reason.

Now let's turn our attention to some vital safety equipment for your hikes.
Hiking ten essentials
I would be surprised if you haven't seen the infamous list of stuff that every hiker (yes, even you as a newbie!) should carry for your own safety and well being.
Note that extra clothing, such as your jacket, counts as an essential.

Now let's quickly cover a few other lightweight, versatile and inexpensive Ten Essentials to stow in your backpack.
As always, we will focus this beginner gear guide on the fundamentals: your well being and safety on the trail.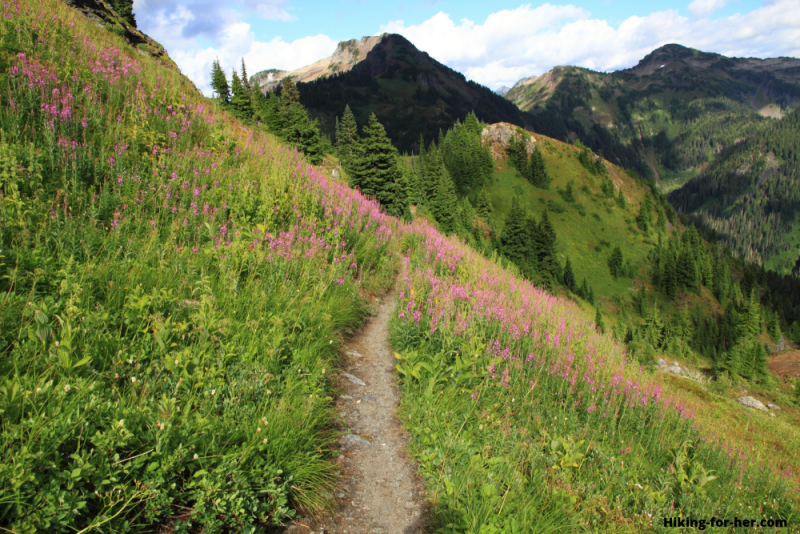 Essentials keep you in top shape to enjoy the trail!

Hiking hydration
Your hydration level becomes very important on the trail, so drink at least once per hour during a hike.
To make this easy to remember, carry an inexpensive but durable water bottle in an outer pocket on your backpack.

Platypus SoftBottle Water Bottle - 34 fl. oz.
There is a larger version available, as well, if you'd rather have one large bottle rather than two smaller ones.

Do travel tips belong in a beginner gear guide?
Here's one anyway:
Carry a collapsible water bottle when you travel.

Just roll it up and stash it easily in a pocket or purse until you have access to water in the airport terminal.
---

The two sides of illumination:
too dim or too bright

Just in case you get delayed on the trail, carry an illumination device in an outer pocket of your backpack.
You want a lot of brightness without a lot of weight or cost.
And you can keep your hands free for trekking poles or map reading when your light is strapped to your head.

You might also find yourself using your headlamp for chores around the house.
I've used mine for fishing, as in fishing my wedding ring out of the bathroom drain. (Don't tell my husband!)

Petzl Tikka Headlamp
Staying with the theme of illumination, another essential item is a way to protect your eyes during strong sunlight hours.
If you don't already wear sunglasses for outdoor activities, consider how much sun exposure your corneas receive during a long sunny day hike.
SunCloud Duet Polarized Sunglasses - Women's | REI Co-op
---

Best backpacks for the trail

Well, finally!
Were you expecting that our beginner gear guide would start with the best backpacks?

In reality, a backpack is merely a transport unit for your ten essentials.
And lunch.

So while it's important, your choice of a beginner backpack is not as important as what you're wearing.
Here's a big heads up!

There are many ways that choosing your first backpack can go wrong.
And as with trail footwear, if the pack doesn't seem to fit right away, it might drive you away from this AMAZING sport of hiking.
So let's be careful to focus your attention on backpacks that will treat you right from your very first step on the trail.
Here's what they look like.

Here's why I chose these particular backpacks for you to look at in this beginner gear guide:
You don't need a lot of volume for your clothing, lunch and essentials, so start out with a pack in the range of 25 - 28 liters, like these.

You want comfort. You have curves and extra bits (hurrah for us women!) that need a woman-specific backpack design.
Don't weigh yourself down with a backpack that's too heavy even before you start loading it.

As a beginner, you can skip some of the features that harder terrain requires, and do just fine on the trail.

And my best reason:
I own several day packs from both of these companies, and have never been disappointed with fit, function and performance.
Now you know how to get started!

Just three simple rules in our beginner gear guide:

That was easy, wasn't it!
Beginner gear guide questions?
Thanks for letting me be your guide to beginner hiking gear today.
You can read lots more about each of the gear categories introduced in this beginner gear guide by popping a word like "backpack" or "socks" into the bright green search area below.
I've got a lot to say about keeping you safe and comfy on the trail!
Like right here.

Or you can contact me, and we can get those questions answered pronto.
Here's to a successful first season of hiking!
Home page > Beginner Hiking Tips >
Beginner Gear Guide
Hiking For Her only recommends what works. When you make a purchase from the links on this website, HFH may receive a small amount of your purchase price.
But you pay nothing extra.
So you get great advice, high quality gear from a trusted merchant, and the pleasure of hiking, while HFH can keep cranking out gear advice.
Everyone wins!
Thanks for being a hiker :)
Hiking For Her: Hiking tips you can trust!