Enjoy Happy Trails, the free monthly newsletter from Hiking For Her.

Receive a free resource: Hiking Layering System Explained

Hiking For Her's
REI Hybrid Hoodie Review

By Diane Spicer

Welcome to this REI Hybrid Hoodie review!
First let's see why Hiking For Her outdoor gear reviews are trustworthy.
And worthy of your time.
Be sure to ask a few questions whenever you read a hiking gear review.
I'll get you started.


Is the reviewer paid?

Hiking For Her does free reviews after receiving the item from the company or purchasing it.
There is no obligation to say flattering things.
Always expect HFH reviews to stick to the facts: fair as well as accurate.

Does the review consist of "cut and paste" information?

I'm sure you've seen "reviews" written with minimal time and effort.
What you read on this website is the opposite: thorough, detailed and "hiker first" gear reviews.

Does the reviewer receive a commission on your purchase?

In this case, yes, and you should be told that upfront.
Hiking For Her has been a member of REI Co-op for many decades.
That's why you see REI products on this website.
In my long trail experience, they work, they're fairly priced, and customer service is top notch.
Hiking For Her receives a small percentage of your purchase price if you purchase through this page.
You pay not one penny extra.

Now on to the details of this hiking jacket.
What is being reviewed
This review features the REI Co-op women's Flash Insulated Hybrid Hoodie.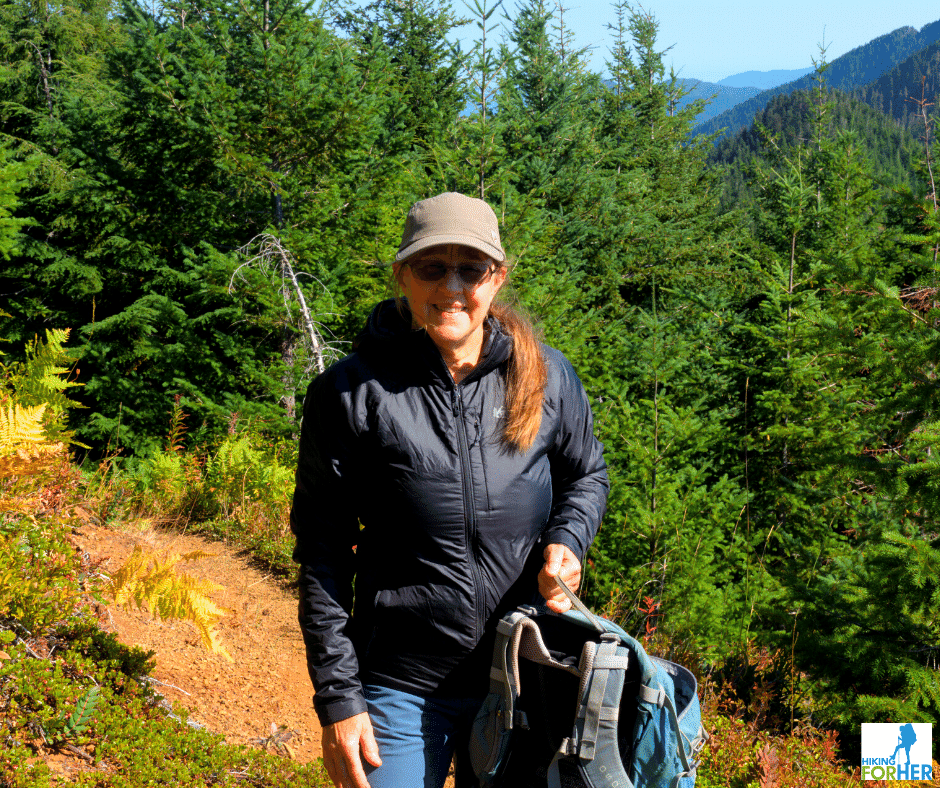 Here it is in black
The Hybrid Hoodie is available in women's sizes XS - 3X.
Beyond classic black, you have these color choices:
Beachstone Gray

Sea Forest
Shaded Sumac
Tidal Blue
See them here.


Technical specifications
in this REI Hybrid Hoodie review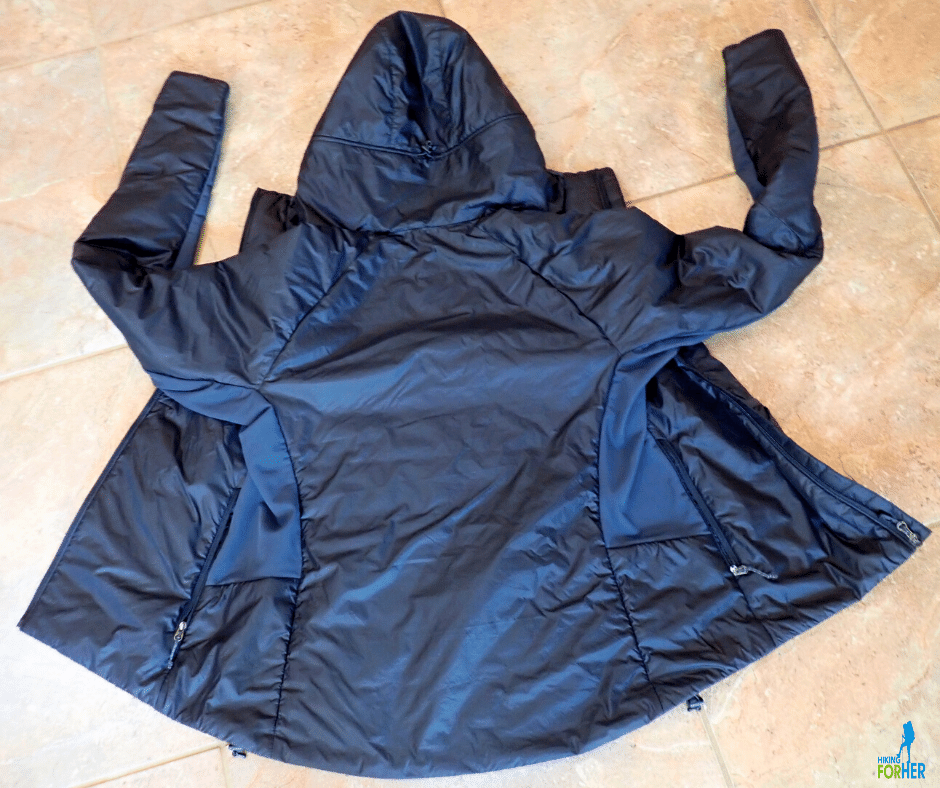 Here's the jacket, as it would look if I face planted in a puddle
Fabric should get top billing in a hiking jacket review, so let's start there.
The REI Flash Hybrid Hoodie nylon shell and lining fabric has a durable water repellent (DWR) finish.
PrimaLoft® Silver Eco synthetic insulation makes this jacket warm even when wet. 
This lightweight insulation is breathable and compresses into a small footprint.
100% post-consumer recycled insulation, hurrah!

This Hybrid Hoodie jacket features REI's ShadowBaffle construction. This stitching technique has been lab-measured for its heat retention.
REI rates it as 14% warmer than stitching through all layers.
Not sure what baffles mean to you as a hiker?

The jacket retains your heat rather than letting it leak to your surroundings through gaps in seams.
It's a great design feature!
More technical details to notice
See the quick-dry LYCRA spandex stretchy panels on the sides?
These provide both ventilation and ease of movement.
The jacket is hip length, sitting just below where your backpack hip belt hits.
This full coverage jacket weighs around 12.7 ounces.

Yup, ounces!
So it won't make much of a dent in your overall pack weight, while providing you with good coverage.
Trail Tip:
Always read the technical specs for a piece of gear or clothing. It's the only way to know whether it will stand up to the conditions you will face.
And never take a piece of clothing as important as a jacket on a backpacking trip unless you've field tested it first on day hikes.

Features important to a hiker in this
REI Hybrid Hoodie review

Now you know how the jacket is put together.
And why it will protect you during a cold, wet hike.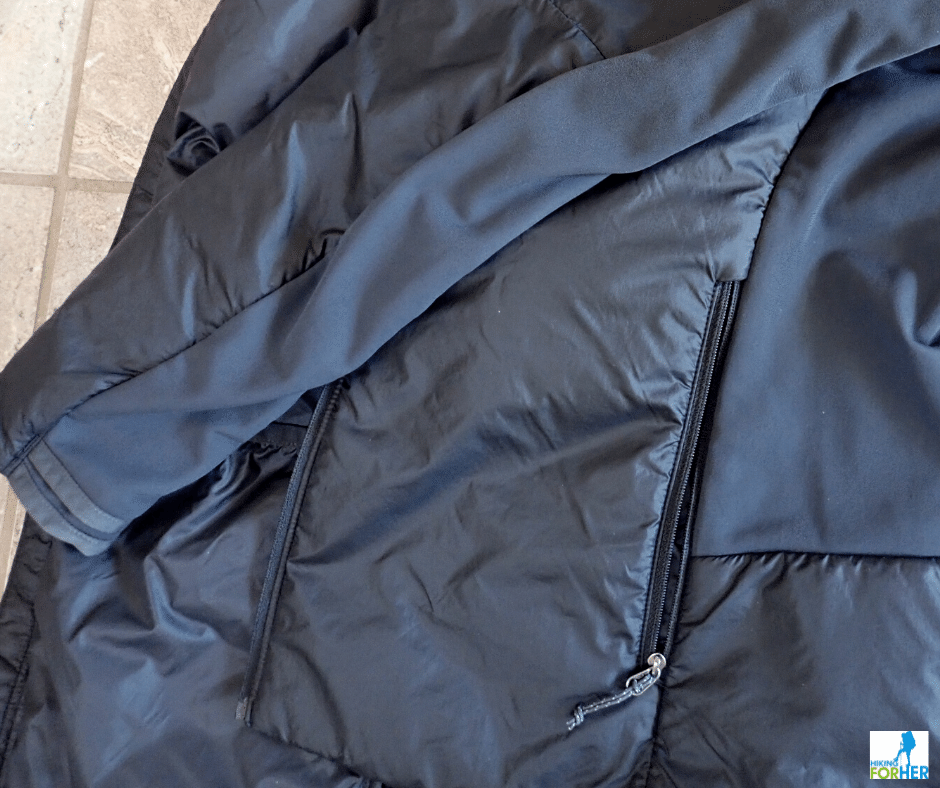 High quality zippers, plenty of pockets
But what makes you feel comfortable in it?
Zippered hand pockets for secure stashing of snacks, gloves, or maps
Thumbholes for full, partial or no hand coverage
Zippered chest pocket plus internal pocket for storage

And there's more:

Drawcord at hem

Stretch binding at both hood and cuffs
One more thing: It's a hoodie fit, not a puffy jacket, so it's streamlined and snug.


REI Hybrid Hoodie Review:
trail performance
Now let's take a look at its trail performance.
Remember, these are my subjective comments. They are based on the terrain, temperature, wind speed and mileage this jacket experienced on my back, and in my pack.
Your results may vary ;)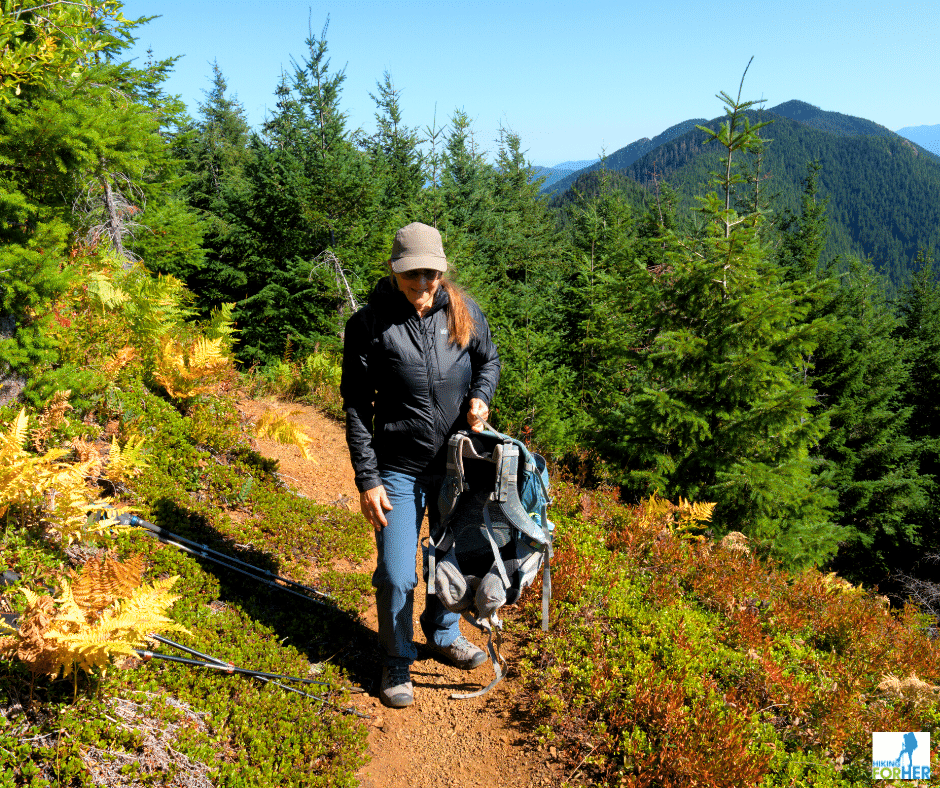 I'm wearing this jacket over a lightweight long sleeve base layer. Note how it hits at hip level.
This jacket has a lot going for it due to its design.
The quick-dry stretch side panels run from just behind the side pockets up through the armpit area and into the arms.
That was important during my 9 mile hike with 1900 feet elevation gain in a brisk breeze.
Why?
The panels provided freedom of movement when I needed to scramble over downed trees and boulders during the off trail portion of the hike.
The panels also allowed my torso to dry out a bit at rest breaks.

When the wind is blowing, you don't want to take off the jacket to vent some of your dampness, right?
I was able to keep my focus on the tricky trail navigation in a relentless cold breeze, thanks to the lightweight efficient insulation.
A note on the fit: The collar wasn't too high or tight when the jacket was zipped up to the top. I'd say the jacket fits true to size.

Trail Tip:
Place this jacket beneath you on top of your backpack when you're sitting in damp, cool conditions.
The insulation and DWR finish helps you conserve body heat even when you don't "feel" cold.

My personal bias with hiking jackets
Hiking For Her considers hoods on hiking jackets really important!
On a lightweight jacket like this, a hood that frames the face but leaves plenty of room for a hat with a brim is critical.
You want full movement of your neck, and room for a neck scarf, too.
You want soft fabric against your skin.

You also want to be able to see and hear while you shade your eyes.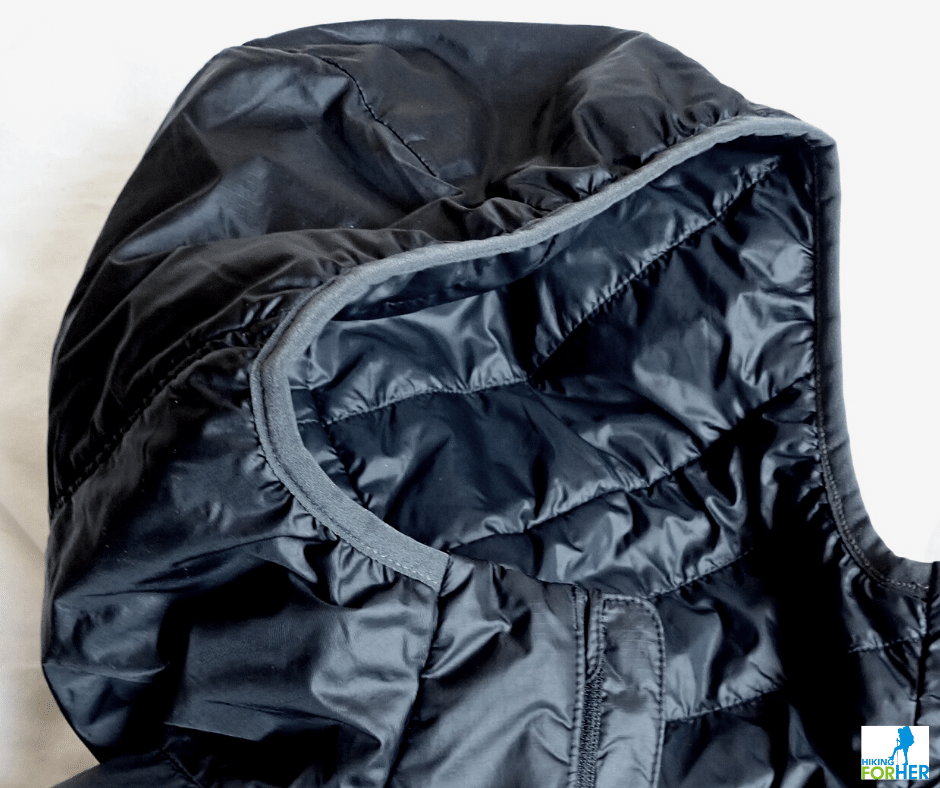 Note the soft piping around the face, a nice touch.
Always look for versatility in a jacket hood.
In this case, we have a hood adjustment toggle:

The hood cinches around your face during cold weather.
Or hang frees, waiting until you pull it tight.

This is the small cinching toggle on the back of the jacket's hood.
This is an important point of adjustment on this jacket, so use it freely.
You don't want the wind getting at your ears and neck on a cold day.
Better to prevent rather than combat getting chilled, that's the Hiking For Her motto!
Trail Tip:
Please don't wait until you feel cold to be proactive with this hood. One of the biggest risks to a hiker is hypothermia.
Read more here.

When to use this jacket on a hike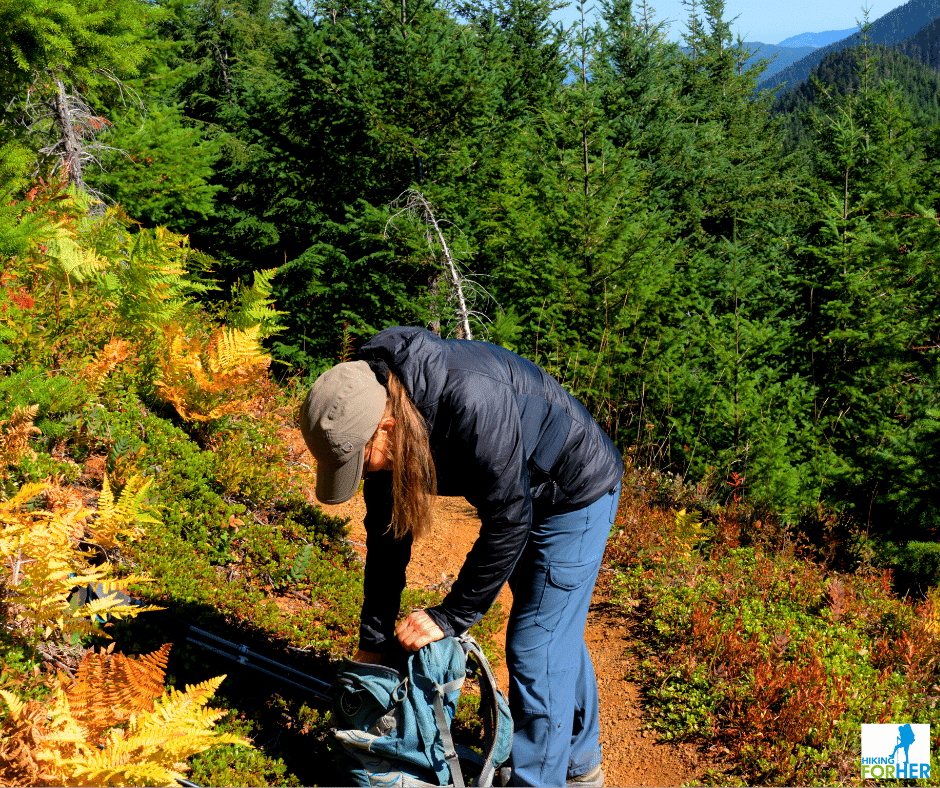 Great outer layer for a chilly or windy fall trail, with the hood lying flat but ready to go if needed
Jackets need to pull their weight in your backpack throughout the seasons. Without adding weight, of course.

So stash this lightweight one in your pack for spring through fall day hikes.
Use it as a middle layer for backpacking underneath a rain shell on a cold rainy day.
Wear it while working your way through moist brush or overgrown trails, knowing it will perform even when wet.
Use it inside your sleeping bag if you are a cold sleeper, as it traps heat from your torso and head.

For winter hiking and snowshoeing, this hoodie style jacket can stand alone over a base layer.
The hood, thumbholes and waist cinch are useful features regardless of the season.
Things I liked best
in this REI Hybrid Hoodie review
I am delighted by the tiny footprint and lightness of this jacket.
It packs into the left hand pocket with very little effort. That's thanks to its highly compressible materials.
No bulk, but plenty of warmth and freedom of movement once it's zipped up.

The streamlined fit plays nicely with a backpack hip belt and sternum strap, too.

This REI Flash Hybrid Hoodie has earned a worthy place in my Ten Essentials (extra clothing).
And now you know why!

More reasons to like this jacket

Our planet is finite.
What we buy matters to its future.

REI Co-op recognizes the need to pay attention to these facts.
I like that it uses recycled materials.

I like that this jacket was made in a Fair Trade Certified™ factory.
Read more about what that means for the workers here.
And see all the Fair Trade products from REI here.
Growing your hiking clothing list

If you're a beginner hiker, it's important to start your hiking clothing list with a great jacket.
Been on the trail awhile? You already know the importance of finding a versatile hiking jacket.

The Flash Hybrid Hoodie works for either type of hiker.
Caveat: It's not what I consider an entry level piece of clothing because of its advanced features.
Which brings up the topic of price.

At the time of this writing, the jacket costs $179.00.
That brings you to a fork in the trail called "gear acquisition".

If you're in this hiking thing for the long haul (bad backpacking pun, not sorry), you must choose one of these trails:
Invest in trailworthy durable clothing for years of safety and comfort.
Use an inexpensive less durable jacket and hope for always sunny skies.
The choice is yours.
But remember that sometimes cheap becomes expensive when you need a margin of safety on a hike.
A jacket is one thing I never skimp on when building out my gear list.

Here's something else I need to point out
regarding price

REI Co-op members receive an estimated $17.90 back when this jacket is purchased.
So if you're not a member, now is the time.
You pay a one time low fee, and reap the benefits as you build your outdoor gear and clothing list year after year.

Conclusions in this
REI Hybrid Hoodie review

Hiking For Her reviews only the outdoor gear and clothing you need for safety and comfort, simple as that.
And that's why this jacket caught my eye.
Safety: water repellent, warm when wet, and responsive to changing weather conditions.
Comfort: tailor the fit to your needs as you enjoy full coverage of your head, neck, torso, and hands.
If you're looking for an outer layer for dry-ish but cold conditions, or a midlayer for wet, chilly conditions, you've found it.
Thanks for reading this REI Hybrid Hoodie review!
Home page > Best Hiking Gear Reviews > REI Hybrid Hoodie Review