Enjoy Happy Trails, the free monthly newsletter from Hiking For Her.

Receive a free resource: Hiking Layering System Explained

How To Find The Best Hiking Shirts
For Women

by Diane Spicer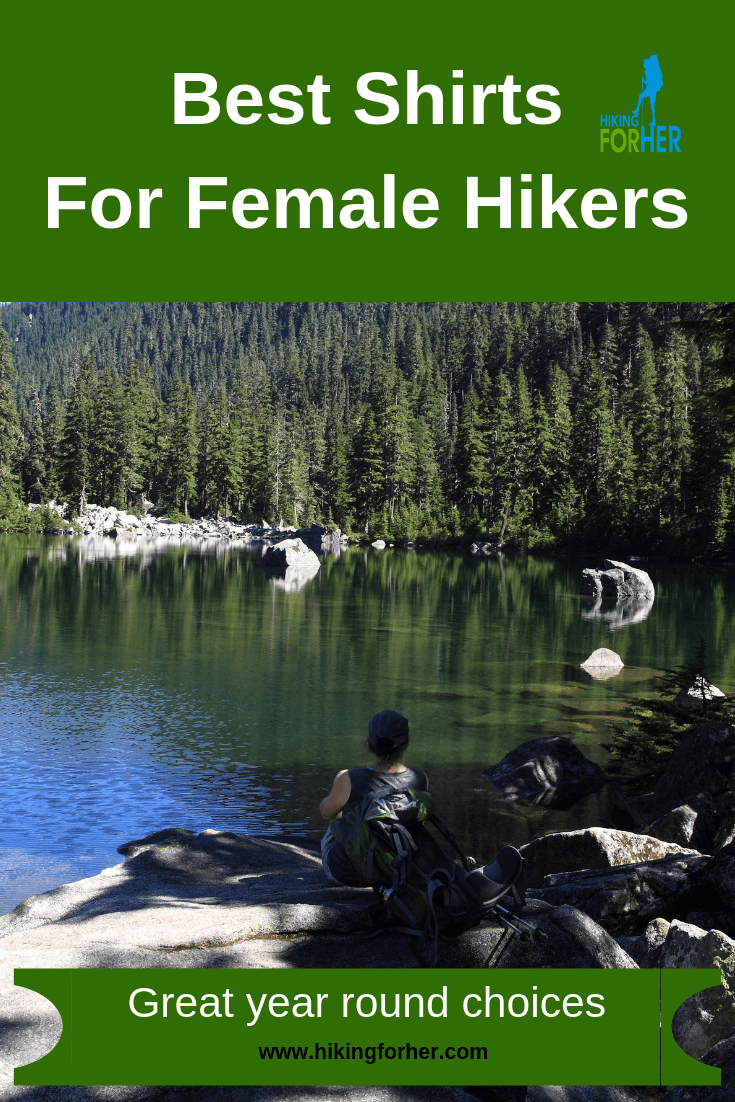 The best hiking shirts for women are the ones that:
are worn on every hike because they fit perfectly
stand up to trail dirt without staining
work well in your layering strategy for warmth and ventilation

look great after 25 (and beyond) wash and dry cycles.

I've been hiking for 50+ years, so it's safe to say I've purchased and tried dozens of hiking shirts.
Here's where I tell you which types are the best hiking shirts.
These recommendations are for women's hiker shirts, but the brands I favor also make great hiking shirts for your male hiking buddies.

The best hiking shirts for women
have these features

You might be thinking that it's a little over the top to call out the best hiking shirt features, and if so, just skip down here to where I name names for the best hiking shirts available right now.
But if you want to size up the expense, quality, versatility and durability of hiking clothing, this stuff is for you.
It's smart to shop smart, right?
What to spend on the best hiking shirts

Which type of hiker are you?

If you're a beginning hiker who plans to hike only in warm dry weather, don't spend lots of money on high end technical hiking shirts. Just wear what you've already got until you figure out if this hiking thing works in your life.
If you're a committed hiker, choose inexpensive hiking shirts unless you are hiking in areas prone to downpours, wild temperature swings, blazing sun and insects.

If you're a rabid "don't get between me and the trail" hiker, you need technical hiking shirts in specific fabrics that will perform all of the functions I listed above and work well in your layering system.

Versatility of hiking shirts

A hiker need a hiking shirt that...

is be worn under or over other hiking clothing
is rated at UV 40+, meaning it blocks sun rays 40 times longer than if you were without it
has

no cotton fibers

(only nylon, polyester, or natural fiber blends) so it will dry quickly if you jump into the lake to cool off
fits well to protect you from pesky insects and creepy crawlies

draws sweat away from your body and enhance evaporation, keeping you cooler
looks good enough and smells good enough to go into town for dinner at the end of the hiking day.
Hiking shirt durability
Your hiking clothing needs to...
"wash & wear" in any conditions, including a lake, stream or puddle
be thrown into the washing machine with no qualms about shrinkage, loss of color, or pilling
last for at least 5 years of regular trail use (until you get a huge rip from a low hanging branch, or burn a giant hole in it at the campfire, or spill fuel from your backpacking stove on it, whichever comes first)
have extra buttons, if that's the closure method
feature reinforced seams, to allow for some pretty vigorous movements
Now it's time to name some names!
These are the hiking shirts that have worked for me,
and will serve you well, too.

Opinion: The best sleeveless
hiking shirts for women hikers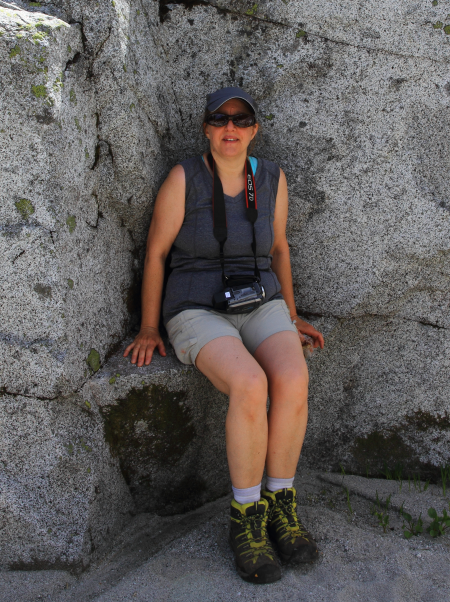 A sleeveless hiking shirt is the way to go if you've applied sunscreen.
Obviously we're talking about warm weather hiking here.

Some of my favorite sleeveless hiking shirts are from UnderArmour.
I prefer a modified tank style, with enough fabric to cover the straps of my sports bra and to prevent chafing from my pack.
The wicking ability of these shirts is wickedly good, and they don't hang onto body or cooking odors after they're laundered.
Here is one of the most inexpensive hiking shirts you'll find, and it's going to hold up well to dayhiking in moderate weather conditions.
I own a few of these, and wear them a lot.

Here's another solid choice, a bit more fitted and a notch up in price, from the well respected brand ExOfficio:

And one more, worthy of your consideration at a bit higher price point. It's from Patagonia, so you know it's high quality and well designed:

Patagonia Women's Capilene® Cool Merino Tank Top

The best short sleeved hiking shirts

Sometimes a sleeveless shirt won't give me enough protection from the sun, bugs, or a brushy trail.
That's when I don one of these little beauties from Helly-Hansen.
Note: I've been using this company's outdoor clothing for decades, including waterproof bibs and jacket for spring and fall gardening as well as rugged river trips like the Alsek.

There are lots of reasons to love this shirt for hiking.
The short list includes:
wicking, fast drying polyester
softness against your skin
reinforced seams
no wrinkles when you pull it out of your pack.
Here's a more technical choice for an avid hiker, from Appalachian Gear Company.
It's called the 8020 AG-Tee, and you'll love it because it is:
lightweight on your skin, around 5 ounces
made of a blend of 80% alpaca fibers and 20% Tencel™, meaning you'll enjoy a durable, quick-drying, and comfortable shirt
providing a bit more coverage through the hip area, perfect for preventing chafing from your backpack's hip belt.

The best long sleeved hiking shirts

Keeping our mantra of quality, versatility and durability in mind, here's my absolute favorite shirt to take along on every hike except winter snowshoeing:
The dirt washes right out, whether in the Canning River in Alaska, a fjord in Greenland, or the washing machine in the laundry room.
And it dries fast.

Another nifty feature: You can roll up the sleeves and secure them with buttons, making this shirt versatile enough to leave other shirts at home (thus, a lighter pack).
Buy it one size up to layer over your sleeveless and short sleeve shirts.

My husband has the male hiker version of this shirt, and he says to add his testimonial about durability and good fit!
Trail tip
Always add a hiking vest over your long sleeved shirt, once conditions demand more insulation.
This will protect your vital organs (torso) from heat loss.
A cozy collar on a vest also blocks a cool breeze, keeping you more comfortable on the trail.
The best hiking shirts keep you comfortable AND look great

Who could argue with that statement, right?
But there are a LOT of places you can buy a hiking shirt. Overwhelm is not only possible, but probable.

The clothing companies I use and have recommended to you have good reputations and are interested in developing a long term relationship with hikers.
Their price points are higher, but sometimes you can score a deal! It's worth a try, right?
However ...

If you decide to buy less durable (and thus less expensive) hiking shirts, please avoid cotton.
It's not going to give you the sweat wicking and fast drying features you really need on the trail.
It will become baggy and smelly after a season of hard hiking.
And don't overlook its association with hiking hypothermia.
Exception to the rule: If you hike in hot, dry conditions, cotton may give you the most comfort during the day. But always have a clean dry shirt to change into after your hike.

Plus size hiking clothing
including shirts

Interested in an extended size range in hiking clothing?
You're not alone!
Read these tips for locating the best companies and recommendations of great active wear in extended size ranges for women hikers.
Hiking shirts to get you started

That's the scoop on the best hiking shirts!
One last little trail tip:
When you find a brand (and a particular fit within that brand) that works great for your hiking style, be sure to buy a couple shirts. Things change all the time and supply chains weaken, so don't be disappointed.

You want to have what works for you, ready to go when the hiking mood strikes.
Home page > Best Hiking Gear >
Best Hiking Shirts
Purchasing the best hiking shirts through one of the links on this page will be your random act of kindness for today, because at no extra cost to you, a small commission flows into the Hiking For Her coffers to keep the lights on and the free hiking tips flowing.
Thank you for supporting this website in your quest for the best hiking shirts and other outdoor gear!

Hiking For Her: Hiking tips you can trust!