Have the freshest free hiking tips sent to you each month!

Best Sleeping Bag Liner -
Do You Need One?

by Diane Spicer

A sleeping bag liner or insert does just what it promises: lines your sleeping bag, keeping the inside from touching you.
But why do you need this piece of hiking gear?
Maybe you don't!
Take a look with me at the variables that go into deciding whether or not to purchase, and deploy, a sleeping bag liner.
Or keep things fast and easy:
Sleeping bag liner
variables

Choosing a great sleeping bag is a tough job.
In contrast, choosing a liner is really straightforward.
It's a tug of war between comfort and price!
Maybe you'll have to split the difference to make a decision.
But if you have the luxury  of a plump slush to spend on backpacking and camping gear, the comfort factor will rise as you pay for a more robust liner.
Let's take a look at comfort first.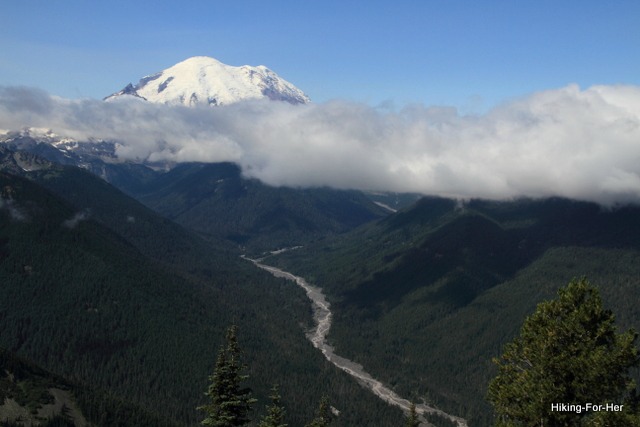 The right sleeping bag liner can buy you a great night's rest on your next hiking trip!

Sleeping bag liner
comfort

As a backpacker (current or aspiring), you realize that sleep is essential to a safe, enjoyable backpacking trip.
Here's the non-negotiable fact of being in the dark and possibly facing the wind, cold, rain, hail, sleet, snow or whatever antics Mother Nature wants to throw at you:

You can't sleep if you're cold.
A sleeping bag liner is built to slide inside your current sleeping bag and do two nice things for you:
increase the temperature rating of your bag by several degrees, to keep you toasty warm (or at least toastier than life without the liner);
keep the inside of the bag away from your sweaty, clammy, dirty skin, thereby extending the overall lifespan of your pricey sleeping bag.
A liner is an ideal solution to the problem of weight -vs- comfort, because for a few extra ounces you can get away with a less expensive, (possibly) heavier sleeping bag without sacrificing your comfort.
Bag liners are easy to wash and line dry, but sleeping bags are not. So why not go the easy route and use a liner?
Not convinced yet?

More good news about using a sleeping bag liner:
It feels nice against your skin as the cotton, silk, or soft polyester wicks away moisture and traps your body heat in your bag.

Hygiene concerns after acts of intimacy with your significant other hiking partner are another reason to consider a liner - clean up the odors and residues with a quick trip through the washing machine but spare your sleeping bag from frequent soap, water, friction, and drying cycles.
Sleeping bag liner
price

Money is definitely a factor in price, but for a backpacker, lightweight comfort also comes at a price.
Let's tackle the monetary cost first.

A silk bag liner is going to set you back more than a polyester liner, but neither of them is considered a cheap piece of hiking gear.
That's why you need to ponder whether you really need one of these liners.
Does all of your backpacking occur in warm climates?

Do you schedule all of your backpacking trips for warm summer months, when extra warmth is not required?
Maybe you can get away with using just a bag liner, and skip the whole "what is the best sleeping bag for me" ordeal. Think of the weight and space you'll save!
But if you're going to be caught out in wet, windy or unpredictable conditions in cold weather, packing a liner to augment your sleeping bag makes good sense.
What if your gear gets soaked by an unexpected tumble into a stream? This liner might help you get through an uncomfortable night without flirting with

hypothermia

.

Or what if you're a "cold" sleeper? Most women are, compared with men. You might cherish those extra degrees of comfort because it's the difference between shivering all night and falling into a deep restful sleep.
For these reasons, buying a liner is a good move.
Another plus: Liners usually come with a stuff sack and because they're soft and pliable you can squish them into any dead space in your pack. Be sure the sack gets encased in a plastic bag or waterproof sack along with other survival gear.

Multipurpose mummy shaped liner
Here's another great feature of carrying a sleeping bag liner:
I use my liner as a pillow when I didn't need to be inside of it.
The softness and warmth of the liner material was very comforting on my face and neck.

I'm a side sleeper, but you could also use the rolled up liner under your neck or knees if you sleep on your back.
One more idea to justify the expense: you can carry the liner year round on day hikes, as an extra "ten essentials" to buy yourself a small margin of safety if you need to spend an unplanned night out of doors.
Why carry extra weight?

Now to address the "extra weight" price.
Ultralight hikers would be scandalized by my suggestion to carry a liner AND a sleeping bag, because liners range between 5 and 14 ounces.
To them, I say that sleep is priceless and I'm willing to sacrifice weight in other areas in order to guarantee a deep sleep cycle.
Tips on how to buy
a sleeping bag liner

Be sure to select the right liner to match your bag:
mummy or cocoon style

rectangular
Otherwise you'll have too much, or too little, fabric, which creates uneven thermal conditions.
Pay attention to how you enter the sack:

-Some liners are just big sacks with a top opening, so you might have to squirm and wiggle a bit to get into them. But all of that muscle action will create body heat, which you will efficiently trap!

-Others will open up wide and give you a lot of space to thrash around in.
If there's a draw cord, you might want to cinch it down to keep your heat in where it matters. Or use it to vent the liner if you're a menopausal hiker.

And the answer is...

How do you feel about sleeping bag liners now?
Only you can decide whether the extra ounces make sense for your budget, your back, and your sleeping needs.
But I think you can see that I come down squarely in the "buy the liner already!!" camp.
To recap why I'm a fan, here's what a sleeping bag liner gives you:
several extra degrees of warmth that will translate directly into restful sleep;
a washable way to extend the life of your sleeping bag;
softness and moisture wicking so your sweat encrusted trail dirt won't get embedded in your sleeping bag fabric;
versatility: use it alone, on top of your sleeping bag, or inside it; carry it on day hikes as part of your survival kit.
So it won't surprise you to know that I own one of these little beauties!
Home page > Best Hiking Gear >
Best Sleeping Bag Liner
Didn't find what you were looking for? Use the blue TOP button
on the right to jet back up to the search box.
Why wait a whole month?
Plus, there's never enough room in the newsletter to share it all, so why miss out on exclusive Hiking For Her giveaways, limited time gear deals and discounts, freebies, updates, and more?

A short, info packed weekly email update will keep you current on all things hiking!
When you sign up to receive this update, you are agreeing to Hiking For Her's privacy policy.

Don't miss out!

Read more about these hiking weekly updates
HFH Policies


Save Time & Money


Hiking For Her's weekly emails keep you current on hiking & backpacking news:


flash giveaways
timely deals
steep discounts
freebies
trail changes


resources

Free, fast, fun info for you, every week of the year