Enjoy Happy Trails, the free monthly newsletter from Hiking For Her.

Receive a free resource: Hiking Layering System Explained

Hilleberg Tent Review:
Allak 2 Person

by Diane Spicer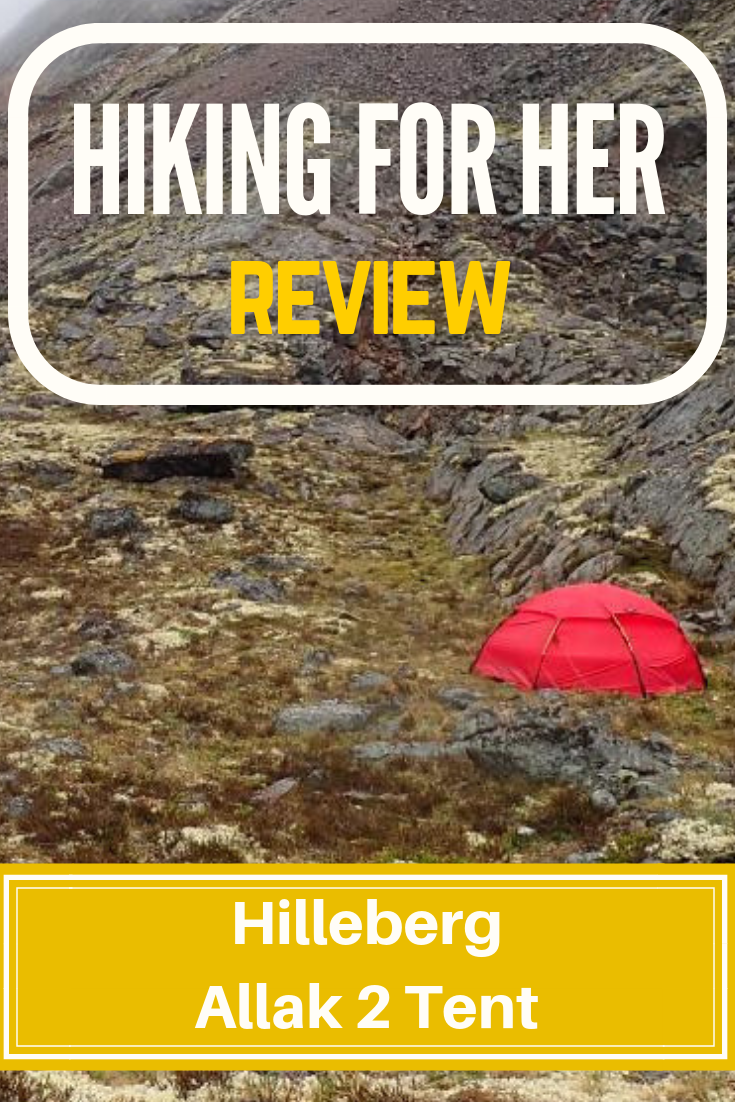 This Hilleberg tent review is being written based on using the Allak 2 on a ten day remote hiking trip in the Mackenzie Mountains of the Northwest Territories, in the month of August.
No one asked or suggested that I write this review, and I am receiving no compensation or praise for sharing with you the merits and drawbacks of this particular Hilleberg tent.
So why am I writing this
Hilleberg tent review?
Same reason I write every other review on this website:
to put relevant, useful and trustworthy gear information into your hands so you can make informed decisions about your hiking choices.
As an affiliate of outdoor gear companies I trust, Hiking For Her will receive a small percentage of your purchase price if you use this link but it costs you nothing extra.
Just in case you're
wondering about this
The word Allak means "lake" in Sami,  the language used by northern Scandinavian people indigenous to that part of the world.

Now let's take a close look in this Hilleberg tent review at all of the details relevant to purchasing and using this Allak 2 tent, one of the Hilleberg red label all season tents.
Let's be upfront about
the types of hikers this tent
is NOT going to impress
If you're an ultralight hiker who shaves down your toothbrush handle (or skips it altogether) in order to eliminate a fraction of an ounce from your gear list, skip this review or risk heart palpitations.

If you are looking for an entry level backpacking and camping tent at a modest price point, read this instead.
If you're going to be using a tent only in prime summer conditions, you don't want a tent this overbuilt and rugged.
If you are a four season adventurer who knows she will be facing extreme weather conditions for prolonged periods of time, take a look at the Hilleberg black label tents, which incorporate more strength than the red label series.

Everyone else, let's get to work on the details in this Hilleberg tent review.

Hilleberg tent review:
the company
Know who you're dealing with when you plunk down your hard earned cash, that's what Hiking For Her always says!
Hilleberg has been a well planned family business for nearly 5 decades. You can read their story here.
Let's summarize why we as outdoor folks want to do business with them:
The company founders are knowledgeable outdoors folks.

Their Responsibility Code encompasses sustainability, great design, attention to source materials, and commitment to quality

Hilleberg fully complies with

the European Union's European Chemicals Agency "Registration, Evaluation, Authorization and Restriction of Chemicals"  (REACH).
And that's before we even begin to examine their tents!
So let's do that right now.

Hilleberg tent review:
Allak 2 specifications
The basics in this Hilleberg tent review:

Dome type tent designed to handle wind and snow loads

Minimum weight:

2.8 kg/6 lbs 2 oz


Packed weight:

3.3 kg/7 lbs 4 oz

Two doors, each with a vestibule for easy access and gear storage

Outer tent wall extends to ground for complete protection


Outer fabric:

Kerlon 1200, coated on both sides


(3 layers of 100% silicone) plus UV resistance embedded within fabric during dye processing


Inner fabric:

30 Denier ripstop nylon; DWR (Durable Water Repellent)


Tent floor:

70 Denier nylon;

triple-coated polyurethane

Three 9mm poles

(DAC Featherlite NSL) collapse for easy transport and snap together quickly

Pole sleeves, set slightly above the ground for fast pole insertion, are made of

100 denier high tenacity nylon

Guy lines are made of

Vectran fibers and polyester

12 lightweight metal pegs


Flat fell-seams throughout (no chance for water to enter, while creating a strong bond between layers of fabric)




Trail tip:
Never buy a tent without taking a close look at its list of features.
Always keep in mind which of them are "must haves" or deal breakers for you.
For example, if you backpack with a large dog, you're going to need a fairly large door, and perhaps two of them.
Another example:
If you know that you camp where the wind is a severe problem, choose a tent like this, which is designed to withstand wind loading.
More tent buying tips here.

Hilleberg Allak 2 merits
for camping and backpacking
There were many things to like about this tent, and a few to rave about.
I'll call them out, one at a time, in the order of most important to least important from the perspective of a rugged, remote backcountry hiking trip.

Weather proof shelter
When there is zero possibility of hiking out to a road if something goes wrong, or no chance at all of being rescued when bad weather prevents bush planes from flying, you want to know that you can depend upon your tent to keep you from hypothermia.
That's where I tested this tent, as you can see!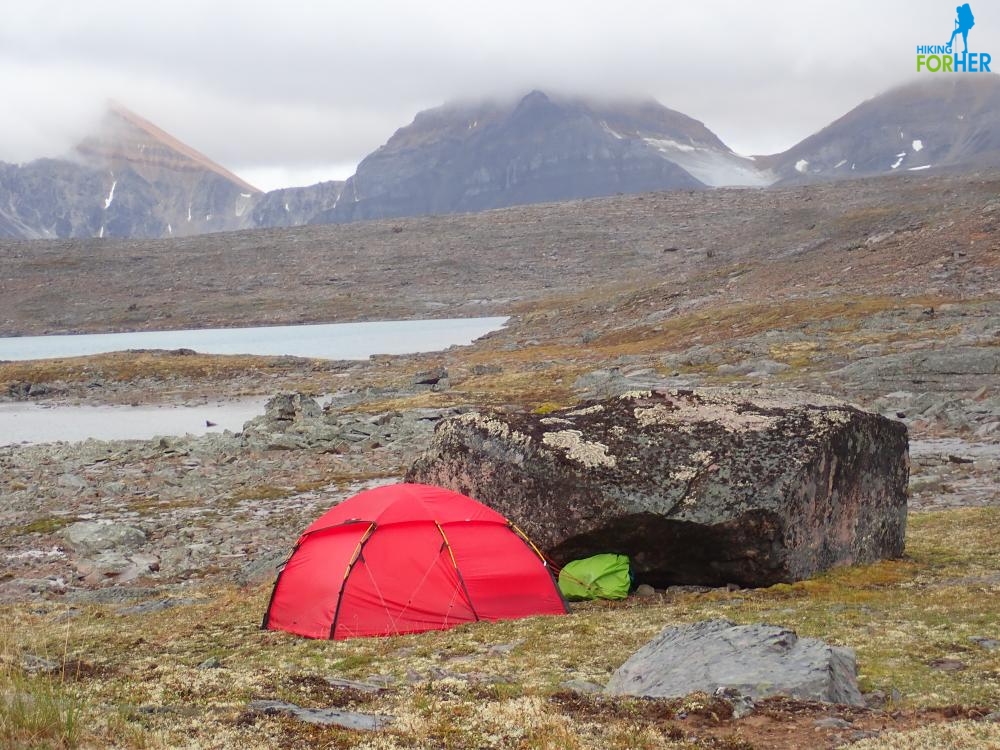 Nice snug shelter from the relentless rain and fog in the Mackenzie Mountains
The outer rain fly can be left attached to inner tent wall to maximize your chances of getting this tent up in a stiff wind or pouring rain.

Noteworthy tent features
The Hilleberg Allak 2 is built with a bathtub shaped floor (sides come up) and waterproof material to ensure that water stays away from your sleeping pad, bag and clothing.
The tent is designed with "gutters", which direct water away from the side of the tent.
Zipper flaps, in other words, so water doesn't cascade down your face when you unzip from inside

In addition, there is an extra removable "lid" which clips onto the top of the tent, providing one more layer between you and the snow, sleet and rain.
Sort of like a beanie for tent. See it in the photo?

Tip: Leave this lid clipped to the tent when you stow it in the stuff sack, for faster set up.
On several days I rolled up a very wet Allak 2, shoved it into its stuff sack along with poles and stakes, and was absolutely amazed at how dry the interior of it was when I set it up again several hours later.
And heads up: the poles are pre-bent, and may look a little odd to you the first time you put up this tent.
Live-ability & comfort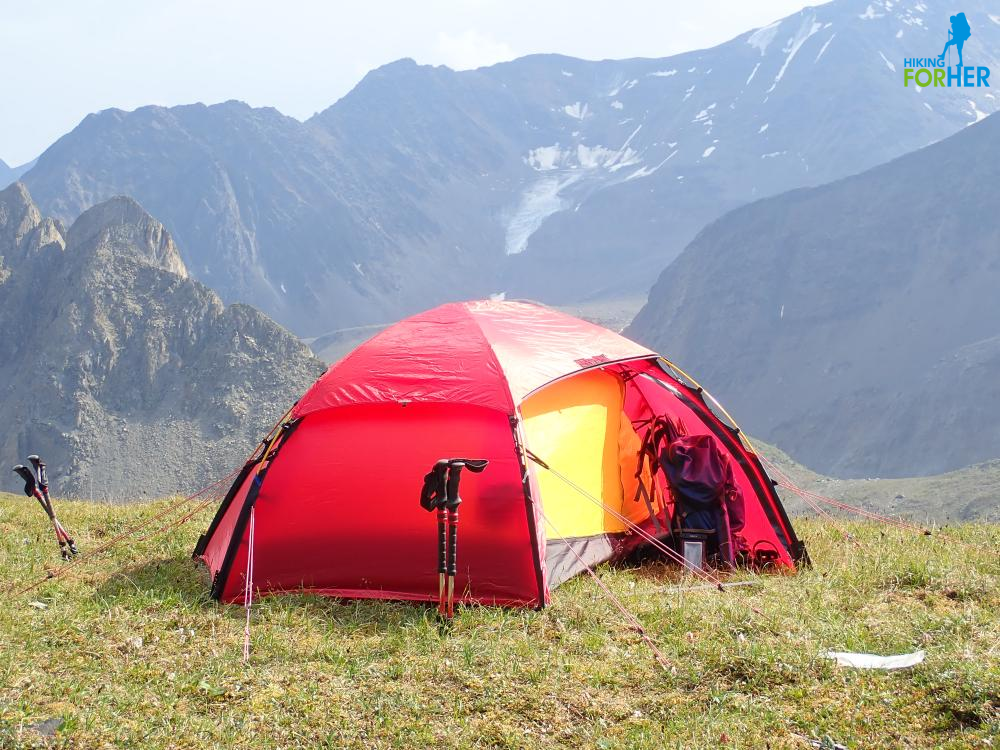 Come on in! Plenty of head room and space for your gear, too
Whomever designed this tent was thoughtful about what it means to share a tight living space with another hiker, in all kinds of weather.
You don't ever want to be trapped inside the tent for days at a time, but if it happens, this tent is going to get you through it with your sanity intact.

Here's the first reason I say this:

There are 2 doors.
Dual entrances guarantee harmonious relationships within the tent, so buy a tent with 2 doors if at all possible

The two doors both have generous vestibule space, plenty of room for a 60L backpack, boots, water bottle and canister of bear spray to be kept out of the rain and handy to the inside of the tent.
Two internal mesh pockets give you a clue about where the "head" end of the tent is, but no worries if you get it reversed. They are easy to reach from the other end of the tent as well.
Spacious enough for a pair of glasses, ear plugs, bandanna, extra socks, and pen & paper
The mesh sides of the tent can be uncovered in mild weather (remove the rain fly) for additional ventilation while preventing bugs from reaching your tender skin.
The footprint is quite roomy, easily accommodating two sleeping pads with bags, two sets of boots, two day packs, and miscellaneous camera gear, clothing and hygiene supplies.

More about the
tent ventilation system
Ventilation translates into comfort in this Hilleberg tent review.
Here's why:

You might not think much about the moisture laden breath being trapped in your tent while you're sleeping or resting.
But Hilleberg did.
They have a ventilation system designed to bring in fresh air and allow the moisture from your breath and wet clothing to escape, without coating the inside of the tent in wetness.
To begin with, there are vents sewn into the upper portion of the tent, at its highest point, which can be adjusted via zippers.
In my experience, it's important to keep these vents open, at least a little, whenever you're in the tent.
The inner tent mesh covered areas can be revealed, or covered, with adjustable fabric panels.
And the outer tent goes completely to the ground if you want it to, thus blocking cold drafts or moisture from entering.
Convenience
Putting up this tent took literally 5 minutes, because the 3 collapsing poles are color coded to the 3 sleeves on the tent.
Once you've got the poles inserted into the sleeves, raise the tent and clip it to the poles.
You can leave the outer layer (rain fly) clipped to the tent, making an integrated system that guarantees a fast set up in windy, wet or snowy conditions.
The Allak tents are designed to be free standing, useful in high alpine terrain where staking options might be few and far between rocks.

There are 12 stakes to bring the tent's shape to a full dome, but in a pinch you can crawl into the tent and have plenty of head space and a good footprint without guying out the sides with stakes.
Tears apart quickly, too!

Personal experiences worth noting
in this Hilleberg tent review
Anytime you head into the untamed backcountry, you're putting yourself at the mercy of the weather goddesses.
This trip was no exception.
After 2 gloriously dry, sunny days, the wind kicked up and rain moved in.
And never left.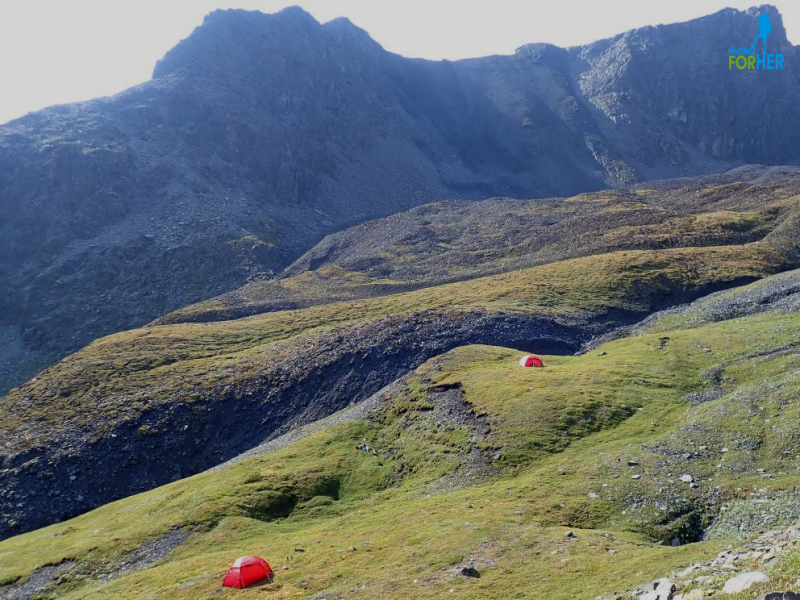 Here's our first camp spot, at 6700 feet elevation. See the wind potential?
In high alpine terrain, with nothing to block the wind screaming over that ridge on the upper left corner of the photo, we were sitting ducks.

Yup, that's exactly what happened: a huge rainy wind storm that went on for nearly 10 hours battered our two little Hilleberg tents.
I fully expected the tent to blow down, with stakes scattered to the winds and perhaps a broken pole.
But it didn't happen! We emerged unscathed.
I was suitably impressed.
But in fairness, let' s mention again the heavy weight of this tent.

Hilleberg tent review:
Allak 2 drawbacks
Hilleberg is not looking to save ounces of weight with their designs, so expect some "old school" features:
metal zippers (which clank against the side of the tent in the wind), although they are lightweight and seemingly jam proof


metal, rather than plastic, ladder lock buckles on pole and peg tensioners for strength

a thick tent floor which adds weight but ensures resistance to abrasions

multiple layers of materials for weather proofing and ventilation

Beyond the mention of the weight of this tent, there is nothing to share which would put purchasing this tent into the negative column.
Take this tent along on
non-hiking trips, too
Usually hikers embrace more than one outdoor sport

For instance, you might be a car camper who needs a solid, sturdy and well designed tent to make your car camping just that much more comfortable.
Speaking for myself, I always reach for the roomiest tent I own when I go car camping.
Why hunch over, elbow my tent partner in the face, or worry about leg room when gear weight is not an issue, right?
The Allak tent, as noted, is live-able and comfy in good weather, and the same in bad weather.

Canoeing and this tent
Again, gear weight is not the problem it would be on a backpacking trip.
So throw this tent into the canoe and rest easy:
wind, rain, snow, cold, and anything else Mother Nature throws at you in spring and fall will not put a damper on your canoe trip.
And because it's freestanding, the Allak can be pitched on sandy river banks or gravel bars with no loss of comfort or space.

Got any pack animals
handy?
If you hike with pack animals, this tent should be included in your gear list for all of the reasons mentioned above.
Leave the cast iron skillet behind if you're worried about the well being of your llama, horse, mule or goat!
Hilleberg tent review
conclusions
During the ten days and nights I used this tent, I was impressed.
That's a hard thing to do, since I've been using tents since the 1970s and I'm a gear curmudgeon.

But the quality materials, weather proofing features and ability to withstand wind really got my attention.
While writing this Hilleberg tent review, I researched the materials and construction, and was impressed yet again.
But I must warn you:

If you'd like a three season tent incorporating some of the good Hilleberg design features (and at a lower price point), this company makes some dandy options for you.
They also offer a heavy duty "black label" tent, if you need ultimate protection from the elements and cannot risk your safety with a three season tent
All I can say is this:
If you and your loved ones are heading into unpredictable conditions and rugged terrain, a Hilleberg tent is what you want to have with you.
Bottom line in this Hilleberg tent review:

The Allak is an investment in your outdoor safety for years to come.
Take good care of this tent, and it will take good care of you!
Home page > Best Hiking Gear Reviews >

Hilleberg Tent Review: Allak 2
Hiking For Her: Hiking tips you can trust!