Enjoy Happy Trails, the free monthly newsletter from Hiking For Her.

Receive a free resource: Hiking Layering System Explained

Hiking For Her
Sleeping Bag Review:
Sea To Summit Flame
Ultralight Women's Down Bag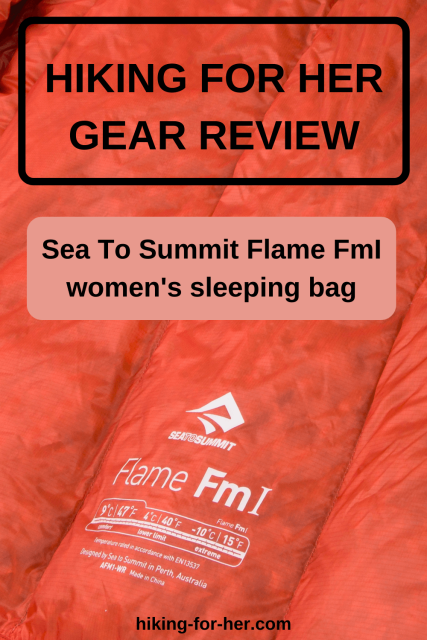 What are we looking at in this
sleeping bag review?

Hiking For Her's sleeping bag review focuses on the Sea to Summit Flame Ultralight 25F (-4C) Women's Sleeping Bag in regular length.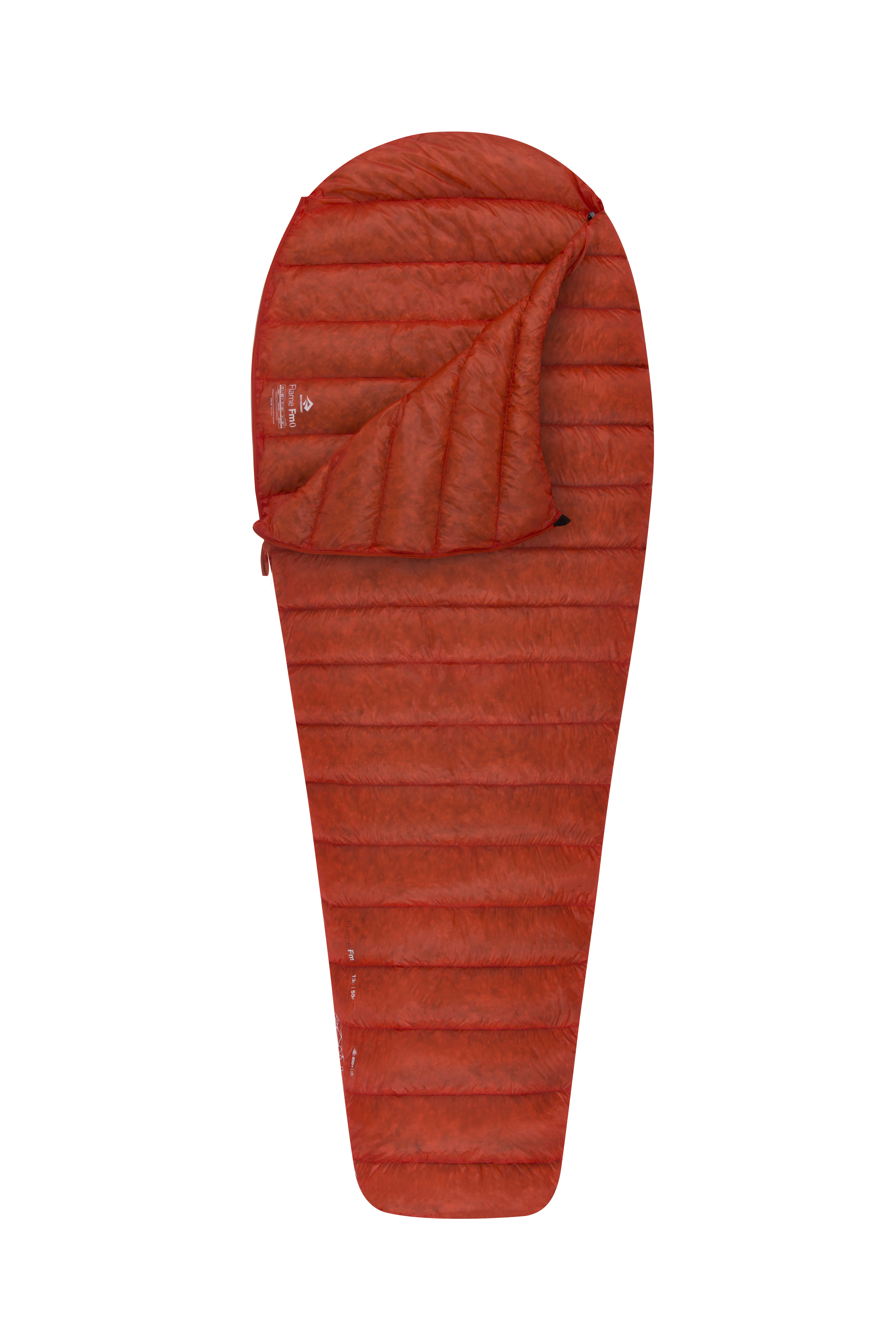 A few additional notes in this sleeping bag review

It is important to tell you that this bag is available in two lengths (regular and long) and multiple temperature ratings (48F, 35F, 25F, 15F) for use in various seasons.
That means you can choose exactly what you need for your backpacking style.

Trail tip:
Buy only what you need in a sleeping bag. See my advice here.

Why carry more weight, or sacrifice more space in your backpack, than necessary?

Disclosures in this sleeping bag review
A sleeping bag was provided to Hiking For Her to use and review by Sea to Summit.
As with all gear reviews by Hiking For Her, no money was exchanged for my opinion or comments, so expect a fair sleeping bag review with no hidden agenda.
All photos belong to Sea to Summit, and are used with permission.
None of the numbers provided by Sea to Summit in the technical specifications were independently verified by Hiking For Her.
As an affiliate, HFH will earn a small commission if you purchase through the links on this page. You pay nothing extra.

Why write this sleeping bag review?

My goal with this sleeping bag review is twofold:
1. To show you how I approach a new piece of hiking gear, pointing out what I look for as markers of quality

2. To share my opinion of this particular sleeping bag to help you choose the best hiking gear for your needs

Not really sure how to approach a sleeping bag purchase?
Or how to make sense of the word salad in a sleeping bag review?

Read my discussion of the terms (loft, fill, denier, etc.) and features you should look for here first.

Technical specifications in this
women's sleeping bag review
When you go shopping for a serious piece of backpacking gear like an ultralight sleeping bag, it's important to slow down and take a hard look at what your money is buying.
In this Sea to Summit Flame bag, you get:
Overall weight: 1 pound 7.5 oz (665g)
Down fill weight: 15.5oz (440g)
850+ loft 90/10 goose down
Rated to 25F (-4C) for comfort, lower limit to 14F (-10C)
10Denier shell, 7D liner

Tapered (mummy style) design: 59 inches (150cm) in chest area, 56 inches (142cm) in hip area, 35.5 inches (90cm) in foot area
Recommended for women no taller than 5'7" (170cm); a longer version for women up to 6 feet tall (183cm) is available
Full length side zip, with 2 sliders for access and ventilation options

Can be connected securely with any Sea to Summit quilts (see my recommendation here)

Taken together, these specs tell you that you are looking at a serious sleeping bag, appropriate for two and a half, if not three season backpacking (depends where you are).
It's durable enough to give you years of service, without weighing you down (tiny UL pun).
And if you're a side sleeper, or one who thrashes around, keep reading this sleeping bag review!


Treated down to repel water

This bag uses water-repellent down (trademarked as ULTRA-DRY) to fight moisture from the environment (leaky or blown down tent, hammock camping).
And from your own body inside the bag (condensation).
The concept of hydrophobic down (literally, "fearing water") is a good one for backpackers.

The only information I could find on how this down is prepared was this statement : "...treated with the environmentally-friendly water-repellant Ultra-Dry Down™ treatment".
The difference in spelling of these words in this sleeping bag review is due to preferred versus accepted conventions, in case you're wondering!

Female centric features to note
in this sleeping bag review

First off, let me note in this review how refreshing it is to find a company that designs gear with women in mind, not just tweaking the men's version a little.
Let's look at some specific examples of how this sleeping bag was designed for women.


Size and weight

Appreciate the contoured mummy shape (narrow shoulder, wider hips, slim profile in the foot area) and know that it will work to keep your body heat close to you throughout a long night.
Trail tip:
Speaking of size, let this sleeping bag plump up while you're eating your supper. Give it a few shakes, too, to get the full loft working for you when it's time to sleep.
And its weight?
This bag feels like almost nothing when you pick it up. A wet bath towel is heavier!

Attention to cold spots

A woman's body reacts to cold temperatures in specific areas: chest, feet, and head in particular.
So the sleeping bag design is important if you know that you hate being cold at night.

Cold spots in the chest area are reduced in this sleeping bag thanks to a full box baffle construction design.
This is in contrast to sewn-through construction you'll find in other bags. (The thread piercing the fabric can leak heat.)
This construction puts extra down where you need it to fend off cold breezes. Think of all the feathers on the breast of that happy female mallard you've seen on a cold pond.

Shifting down = less coverage

If you're a restless sleeper (not saying all women are, but many fit that description), you won't see the down shifting in the chest area as you toss and turn in this Sea to Summit sleeping bag.
Why not?
There are vertical baffles to hold it in place right where you need it.
Attention to head and neck
Your head loses a lot of heat as you sleep.
So make use of the zipper draft tube, hood and front neck draft collar to stay cozy without having to scoot way down inside the bag.
This may eliminate the need to wear a hat or scarf in your sleeping bag.

More backpacking sleep tips here

High warmth and low weight:
a noble goal for a sleeping bag
Be realistic about any temperature rating attached to your gear.
There is only so much the combination of goose down and fabric can do to hang onto your body heat.
So take the 25F/-4C rating with a tiny grain of salt.
You'll know how it performs in your conditions once you're inside it, but you can use the numbers as a general guideline.
This particular bag is rated for spring through fall backpacking, used inside a tent or otherwise protected from the elements.

Here's my subjective experience of warmth:

This bag is very warm,especially for its weight.
Hack for extra warmth
If you're the type of sleeper who is never quite warm enough at bedtime, add this to your gear list: Sea to Summit Thermolite Reactor Extreme Sleeping Bag Liner.
I use it alone in hot weather, or paired with my sleeping bag to create a deep warm cocoon in spring and fall.


How did this sleeping bag perform?

To curl up in a sleeping bag at the end of a long day of hiking brings a sigh of relief and anticipation of a restful night.
To make sure that happens, I look for two things from my sleeping bag: comfort and warmth.
So how did this bag do?

Comfort

My tent and sleep system are my haven from the elements in the backcountry.
Kind of ironic that I go to great lengths to get out there, and then want to get away from it when it's cold, wet or both.
But there you have it.
So my sleeping bag has to invite me to crawl inside and be ready to relax all of my muscles.
This bag was definitely inviting, with its hood and high fluff appeal (thanks, loft).
There was room in this bag to do a few passive yoga poses to cue my body that it was time for rest.
Trail tip:
If your bag doesn't have space like this one does, tensing and relaxing major muscles groups to let go of the day's hard work can be used.
The zipper worked flawlessly, staying on track and easy to pull with 2 fingers.
I was able to adjust the hood and neck collar to my satisfaction quickly.
So full points for comfort!

Full disclosure: The comfort of this sleeping bag is tied to my choice of sleeping pad, which is discussed here.
What you eat for your backpacking dinner may also affect your warmth through the night.
Warmth

Now we come to the heart of the matter in this sleeping bag review.
When you've been outdoors for 18 hours, fighting wind and rain, you need a place to warm up and rejuvenate your body so you can get back out there tomorrow.
The importance of a warm sleeping bag cannot be overstated if you're backpacking.
And I mean that in the psychological as well as the physical sense. Many backpackers are defeated by their mind, not their bodies.

Because "warmth" is subjective, let me give you the details on why I say this bag is warm.
Usually I sleep in a clean, dry base layer: long bottoms and long sleeve V neck top.
If the concept of layering your clothing is new, read this.

In addition, I wear a hat and if need be, a fleece scarf.
Clean socks complete my attempt to hang onto every joule of body warmth.
Did I need all of that clothing inside this bag?
Nope!

For this sleeping bag review, I was able to ditch the scarf and socks.
To me, that's major!
One more note: a full length zipper is wonderful, compared to a one-third zipper that makes you wriggle in and out.
It relates to warmth in two ways:
You can get your feet and legs out if you're having a hot flash or feel too snug.
You can quickly get into the bag, zip it up and put your body heat to work to warm up that lovely hydrophobic lofty down!

Complete transparency
Let me state that the nighttime temperature hovered around 40F, with no wind or precipitation.
So I might need to revert to my full scale night time outfit in colder temperatures.
I'll report back after I've had more field time with this sleeping bag.
And remember, I am an extremely cold sleeper! You may not have to resort to all of my cold avoidance strategies.

The ethics of using goose down
Sea to Summit uses down which meets the Responsible Down Standard (RDS).
This voluntary compliance addresses the sourcing and certification of goose down used in the sleeping bag.
In essence, it assures you as the buyer that animals were not harmed to acquire the down and feathers in your sleeping bag.
I checked the RDS list, and Sea to Summit is indeed on it.

You can read more about RDS here.

A few notes of caution
about this particular sleeping bag

As with any hiking gear review, there are things I must point out so you get the full picture of how this piece of gear performs.
Cramming is not a good idea for exams -
or this sleeping bag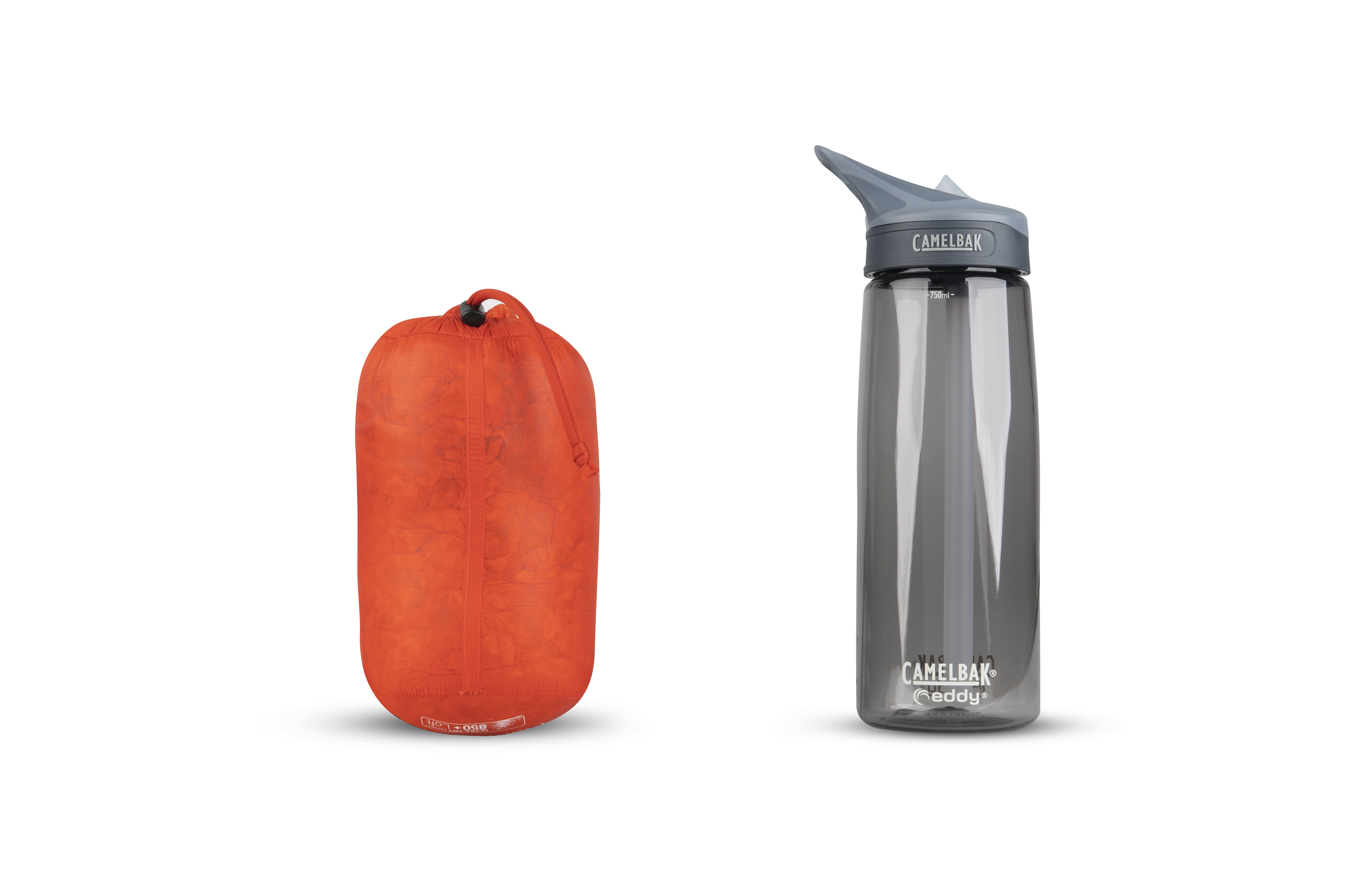 Ideally, the footprint of the bag inside the provided stuff sack should look like this, a total of 5.3 liters.
That's an amazingly small, light footprint!

I'm not saying it was impossible to get the fluffy sleeping bag into the tiny stuff sack that came with the bag.
Just worth more time than I'm willing to give it when I want to get on the trail in the morning.

My hack: get a larger stuff sack!

I'll be ordering the next size up from the 6L sack to spare my hands and patience.
10L will do nicely.
And note that I recommend a dry sack, giving even more gear protection from moisture as it compresses the sleeping bag.


Side sleepers
Side sleepers can feel claustrophobic inside some bags, as there is no room for head and arms if you're lying on your side.
I know this for a fact, as I am one.
This Flame bag design is great for us side sleepers: more room for hips and knees, more room to flip from one side to the other during the night, along with some breathing room.

I can see restless sleepers feeling good about this extra room, too.
But if you're concerned about the amount of extra fabric and down to accommodate side sleeping, you might frown at this bag's generous tapered cut. Look at this Sea to Summit UL sleeping bag instead.
The specs are 58/50/35 inches, compared with the 59/56/35.5 noted above.

Crinkly noise
This does not bother me in the slightest, but I realize that some of us are hypersensitive to noise when we're trying to fall asleep.
So heads up. This bag makes crinkly noises when you move in it.

Trail tip:
Just hum "crinkle, crinkle little star" as you drift off in your warm cozy nest.
Or don't move once you're in your comfiest position ;)
And it might be a bonus, because you won't hear the rustlings in the bushes outside the tent!

Availability
When you're ready to purchase your own Flame bag, you can do so at REI Co-op or directly at Sea to Summit.
Availability of outdoor gear right now can be a bit dodgy, so it's good to have more than one option.

These are affiliate link, and yes, I do receive a small commission, but you pay nothing extra for great gear from a well respected company.
I only recommend what I've used myself and found to be trailworthy.


Sleeping bag review conclusions
I love the warmth and comfort of this bag, despite it being as light as a cloud.
I have to test it a bit more in wet conditions to be fully convinced that the treated down will keep me comfortable, but I'm optimistic. I'll report back.
This bag is thoughtfully designed for female hikers, with quality construction and high performance materials.
To me, the Sea to Summit name means something, and I have no hesitation recommending this bag to female hikers who have read my concerns above.
Last trail tip in this sleeping bag review:
Ultralight is the way to go as you get older, or want to go faster and farther.
While you may be discouraged that you seem to be paying more for less, compared with bulkier and heavier bags, calculate what an ultralight (UL) bag saves you.
Regard your load bearing spine and knees as priceless.
Good gear is an investment in your current and future well being as a hiker, right?
Thanks for reading this Sea to Summit Flame sleeping bag review!
Home page > Best Hiking Gear Reviews >
Sleeping Bag Review: Flame Sea To Summit