Why Winter Hike?
Try These Reasons!


by Diane Spicer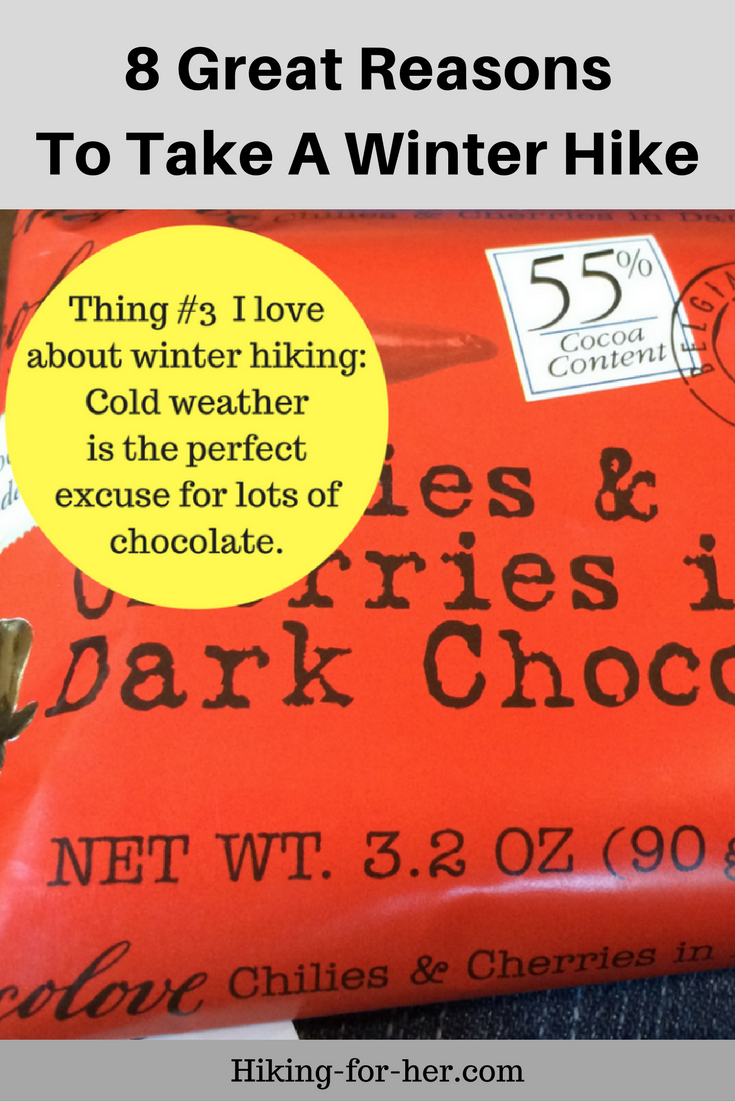 A lot of people ask me: Why winter hike?
My reply?
Why not!!
Winter hiking demands more from your body.
It requires a lot more preparation with your gear, your clothing, and your attitude.
But the rewards are huge.
Not sure what I mean?

Here are 8 great things to love about winter hiking, in no particular order.
I'll also share some tips to make your winter outdoor adventures safe and enjoyable.

Why winter hike,

in 8 part harmony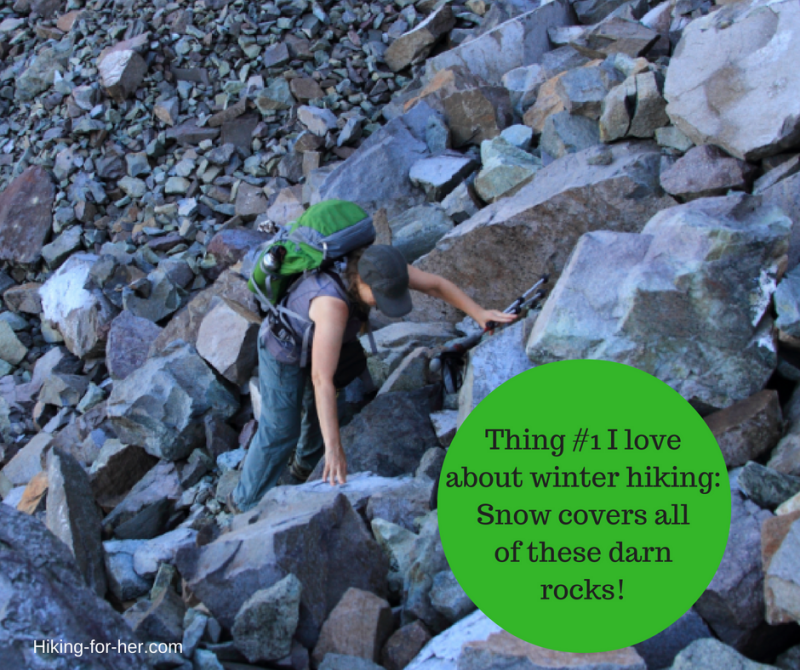 While it's true that you can sail over rock piles covered by snow, you're going to have to rely upon your navigation skills.
Get some insight into staying safe and un-lost here.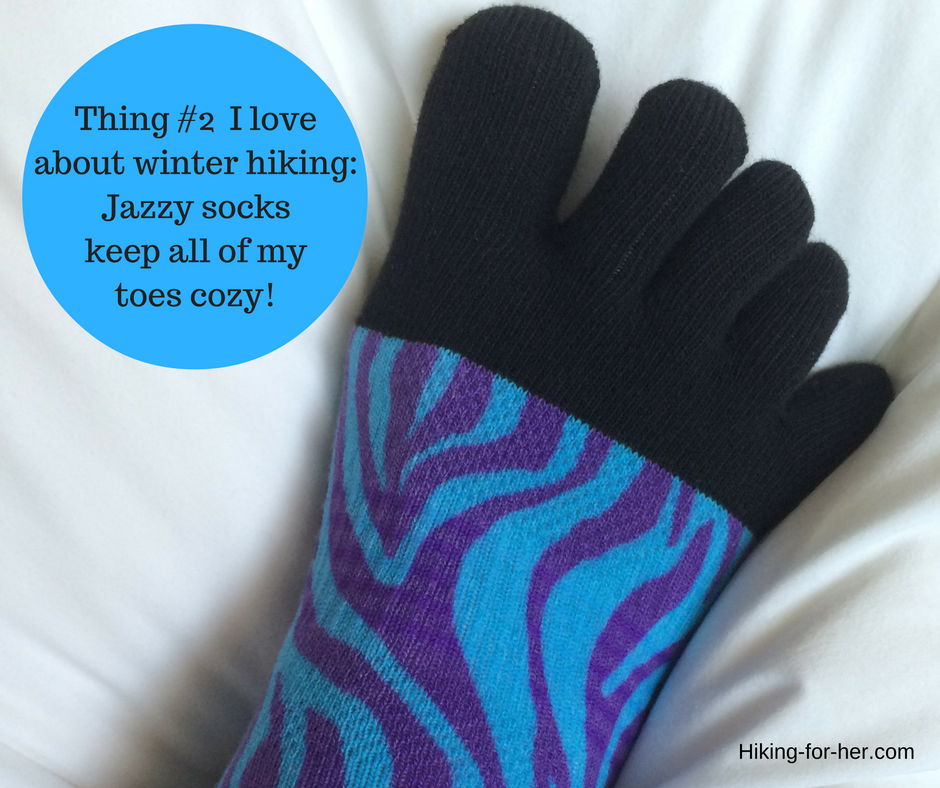 To decide if these socks are for you, read a review of them here.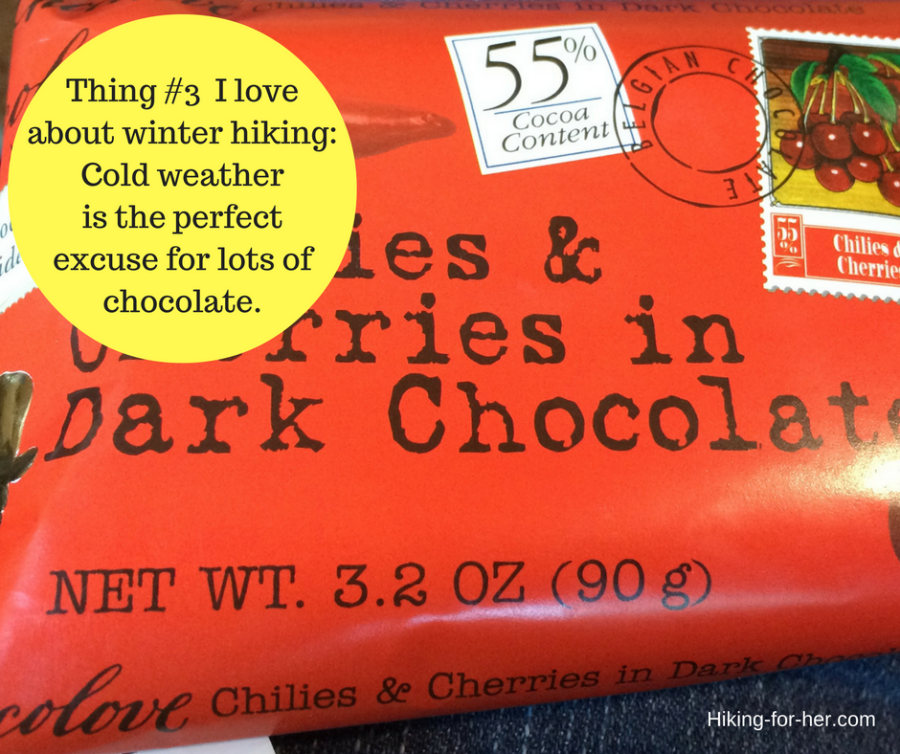 Why winter hike?

To burn some calories!
And to enjoy an extra dose of hiking chocolate.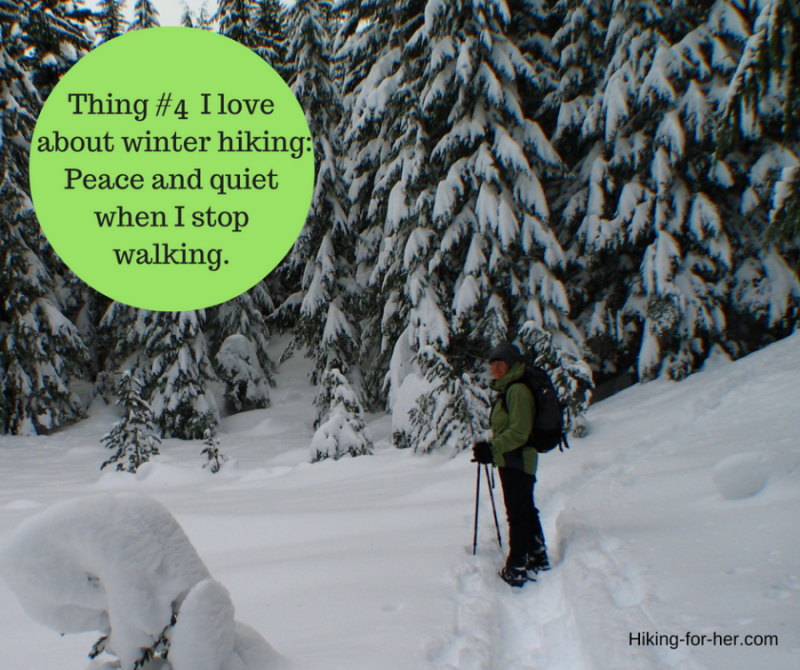 Solitude.
Silence.
Serenity.
Solo hikers know what I'm talkin' about.
Experience it for yourself on a winter hike!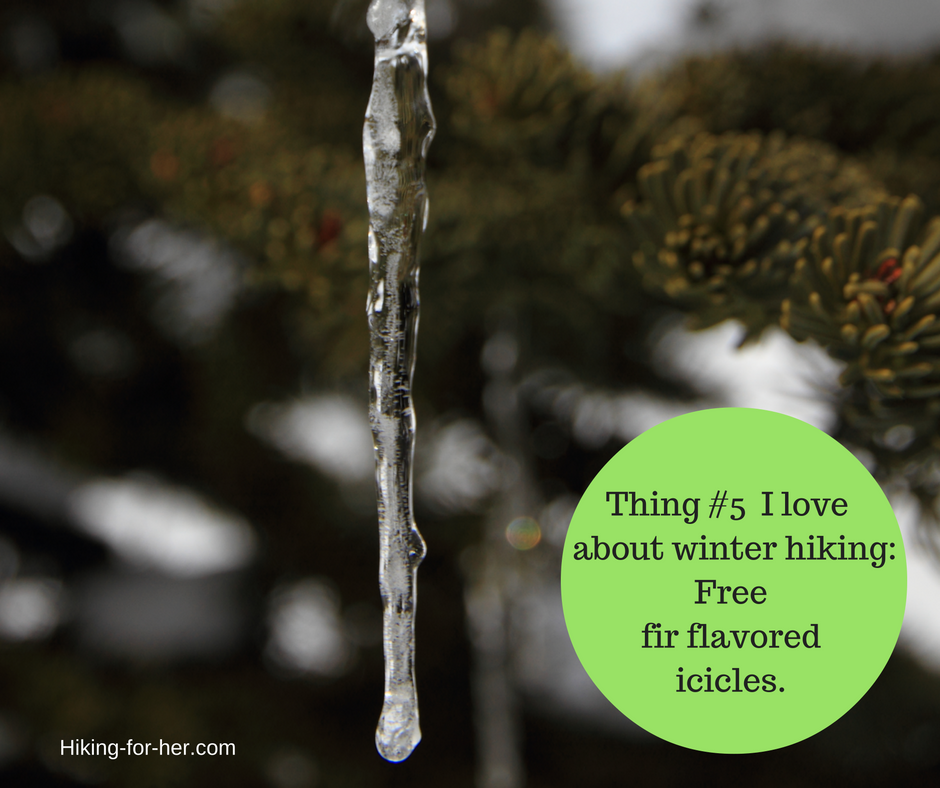 Seriously? You need to stay hydrated even when you don't feel thirsty - so don't pass up those free fir-sicles.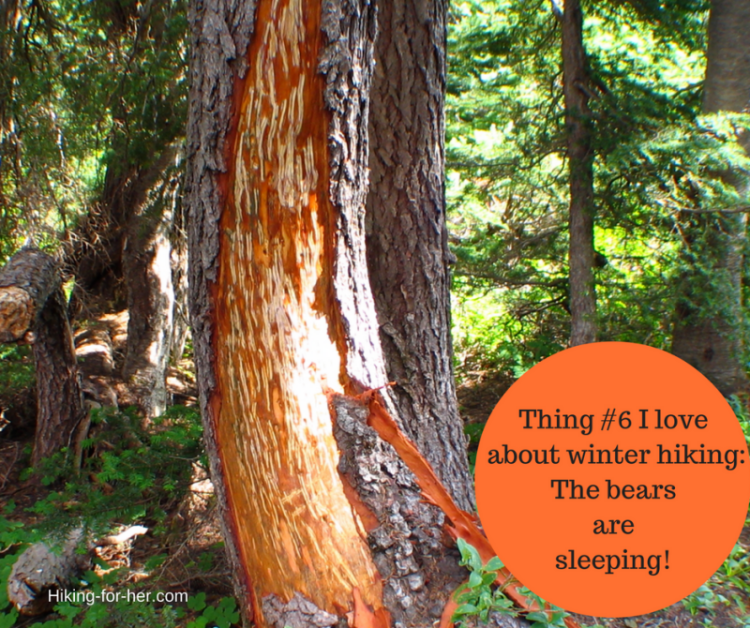 Being bear aware is necessary at other times of the year, though.
Need some tips for hiking in bear country? Right here!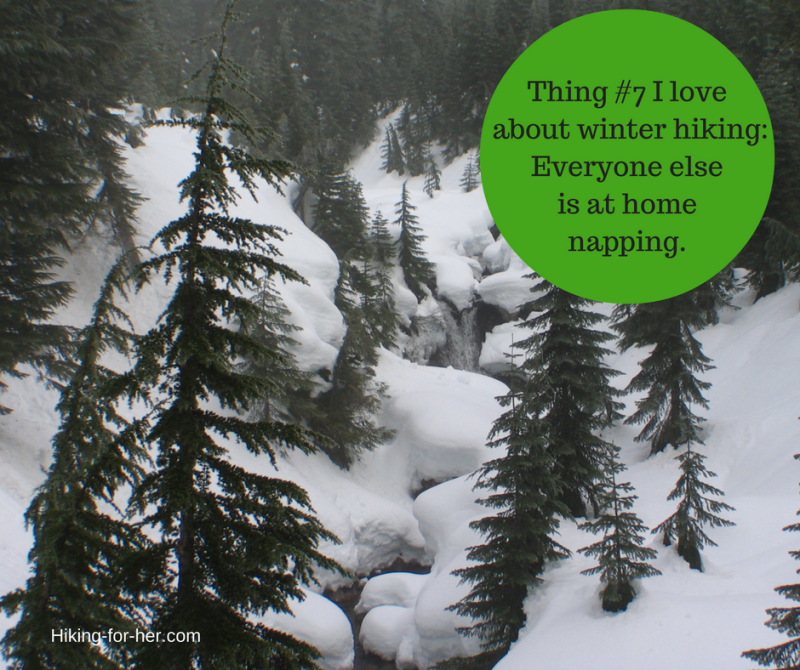 Be sure your weather window for safe winter hiking is a good one!
Or you'll wish you were on the couch napping, too.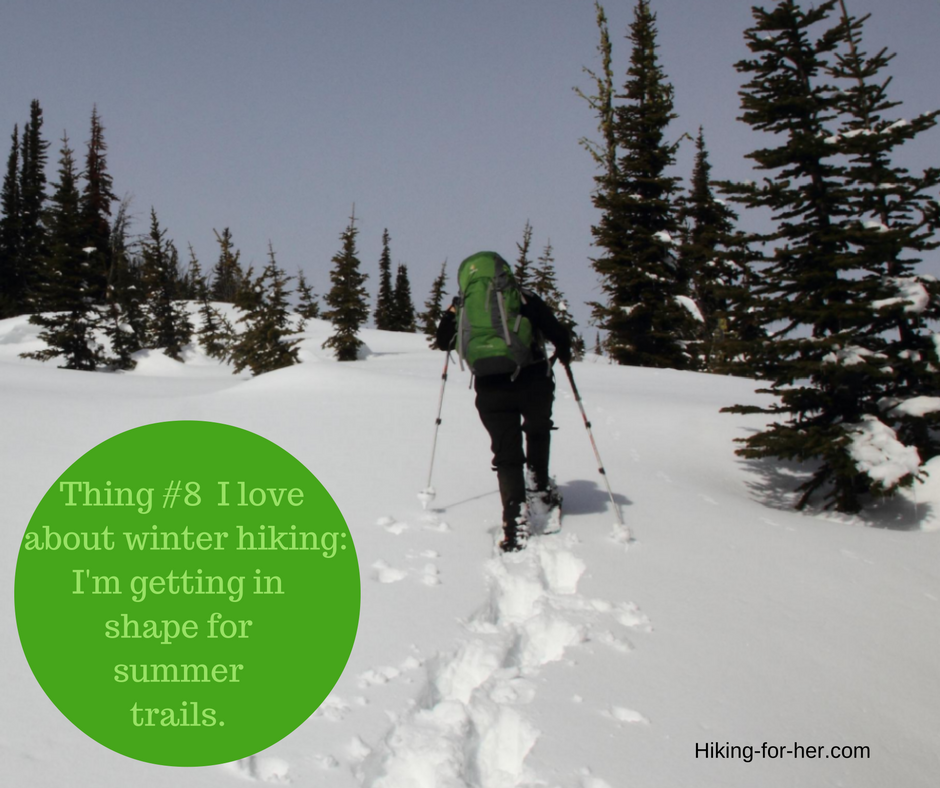 Pre-hike conditioning and strength training is always a great idea, especially if you plan to tackle a long trail next season.
Why winter hike?
Eight great reasons!

That's it!
Hiking For Her's 8 reasons why winter hike adventures are just as much fun as summer hike adventures (if not more).

I hope at least one of them will resonate with you.
And if you're a "summer only" hiker, perhaps you will be tempted to get out there and give winter hiking a try.
You could always ease into things with spring and fall hiking, using these tips:
Need more answers to
why winter hike?

Send me an email, using this handy CONTACT link.
Also send any questions you have about how to get started.
If you'd like to share your winter hikes, you can do that right here :)


Winter hiking tips
for you

Need some tips for getting yourself ready for a winter hike?

After reading all of that great information about winter hiking equipment and preparation, you'll be ready with your own answer when people ask, right?
Right!

Why Winter Hike



Hiking For Her's weekly emails keep you current on hiking & backpacking news.


Free, fast, fun info for you, every week of the year.

Use the box below for fast sign up!






flash giveaways
timely deals
steep discounts
freebies

resources
Why wait a whole month?
Plus, there's never enough room in the newsletter to share it all, so why miss out on exclusive Hiking For Her giveaways, limited time gear deals and discounts, freebies, updates, and more?

A short, info packed weekly email update will keep you current on all things hiking!
When you sign up to receive this update, you are agreeing to Hiking For Her's privacy policy.

Don't miss out!

Read more about these hiking weekly updates
| | |
| --- | --- |
| HFH Policies | Hiking For Her is a participant in the Amazon Services LLC Associates Program, an affiliate advertising program to provide a means for us to earn fees by linking to Amazon.com and affiliated sites. |