Enjoy Happy Trails, the free monthly newsletter from Hiking For Her.

Receive a free resource: Hiking Layering System Explained

Best Beginner Backpacking Tips:
How To Get Started

By Diane Spicer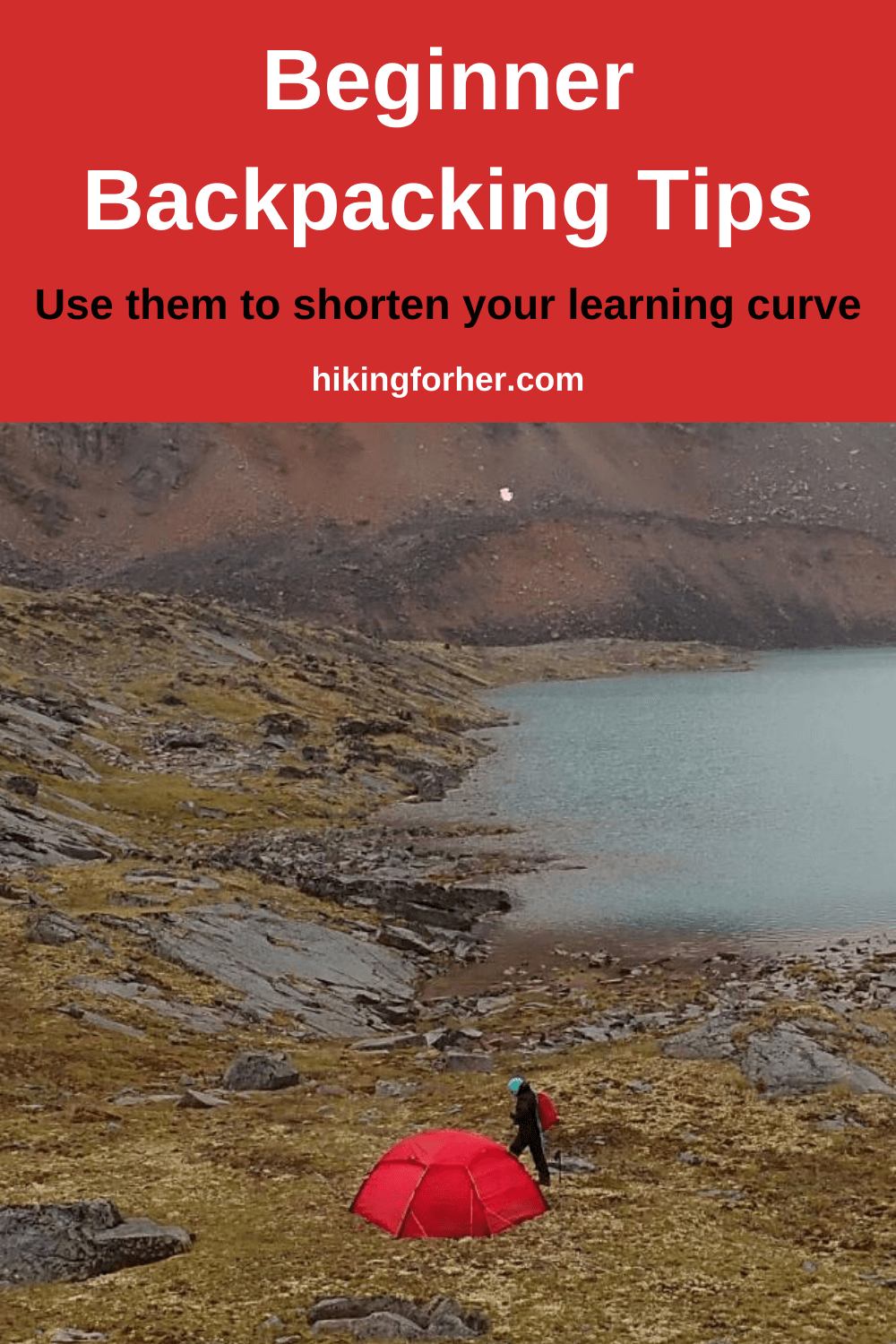 You've found the best beginner backpacking tips to get yourself started on the right foot (or left, your choice) as a multi day hiker.
But did you realize that you can choose from two different approaches as you build up your backpacking skills?
It's true!
It's all a matter of where you put your focus (and money).
Let's take a peek.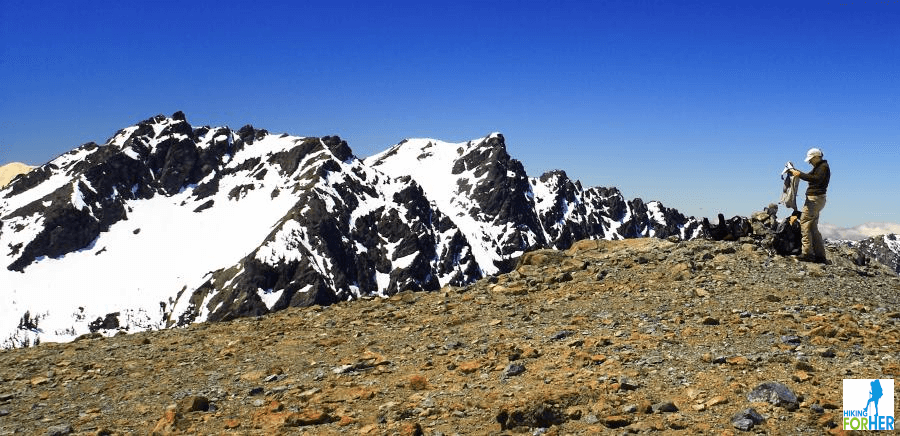 You want to get out here in comfort and safety! So focus on the backpacking essentials.

You can concentrate on

essential backpacking gear
If you're eyeing the latest backpacking gear, you'll need some pointers on what to buy, what to put on a wish list for later, and what to avoid as a beginner backpacker.
Gotcha covered right here:
Each of those links takes you deeper into the wilds of what to bring on a backpacking trip, and why you want it.
It's opinionated, in the sense that it's written by a long time backpacker who has made a lot of mistakes and wants you to avoid them!

Itching for a backpacking checklist?
Here's the streamlined one I use, each and every time I plan a hiking trip:


A second approach:
focus on

dialing in your gear & backpacking skills
Some backpackers prefer to figure out the skills needed for a safe, fun backpacking trip, and then worry about purchasing, renting or borrowing all of the gear needed for the trip.
If that sounds like you, try these Hiking For Her links to get a good overview of what it means to hit the trail for three, five, or more days at a time.
I've arranged them into categories to make it easy to find what you want to learn.
Backpacking trip planning
Backpacking gear to keep you safe
Best backpacking food & cooking tips 
Important backpacking skills and tips
These backpacking fundamentals will keep you safe and happy regardless of the number of nights you're out on the trail.
But which approach is right?
Let's re-frame the question:
Which approach is right for you?
If you are determined to make
a backpacking trip happen soon

Is this you?
You've got the financial resources to tackle the gear list you'll need as a backpacker.
Plus you're able to carve out time for at least one multi day backpacking trip in the near future.
You're itching to get started with gear lists and planning!
A few cautionary tips for you:
In your rush to get geared up, don't overspend.


Even high end gear doesn't buy you peace of mind or safety if you don't know how to use it, repair it, and carry it.

Your clothing is an essential backpacking piece of gear, so begin to think of it this way. Function over color!

So spend some time with my tips above before you spend your money.
If you are a time rich
beginner backpacker
If you've got more time than money right now (most likely as a student or working long hours with limited vacation time & family obligations), work on building up your trail skills as you slowly build up your backpacking gear inventory.

Year round, take lots of day hikes and get comfortable with the realities of the trail.
Plan a few trips each year with more advanced backpackers who are willing to share a tent, loan you a sleeping bag, or who might have an extra backpacking backpack.
Patience is the key to this approach.
And these best beginner backpacking tips!

Of course, you can do both
simultaneously

With the best beginner backpacking tips here at Hiking For Her, you can build you own custom menu of techniques and gear, going at your own pace and staying within your hiking budget.

With careful selection of your backpacking destinations, you can minimize your mistakes and maximize your trail rewards as a beginner backpacker.
And you can have the time of your life on the trail! Visualize yourself with a huge grin on your (sweaty, bug bitten) face :)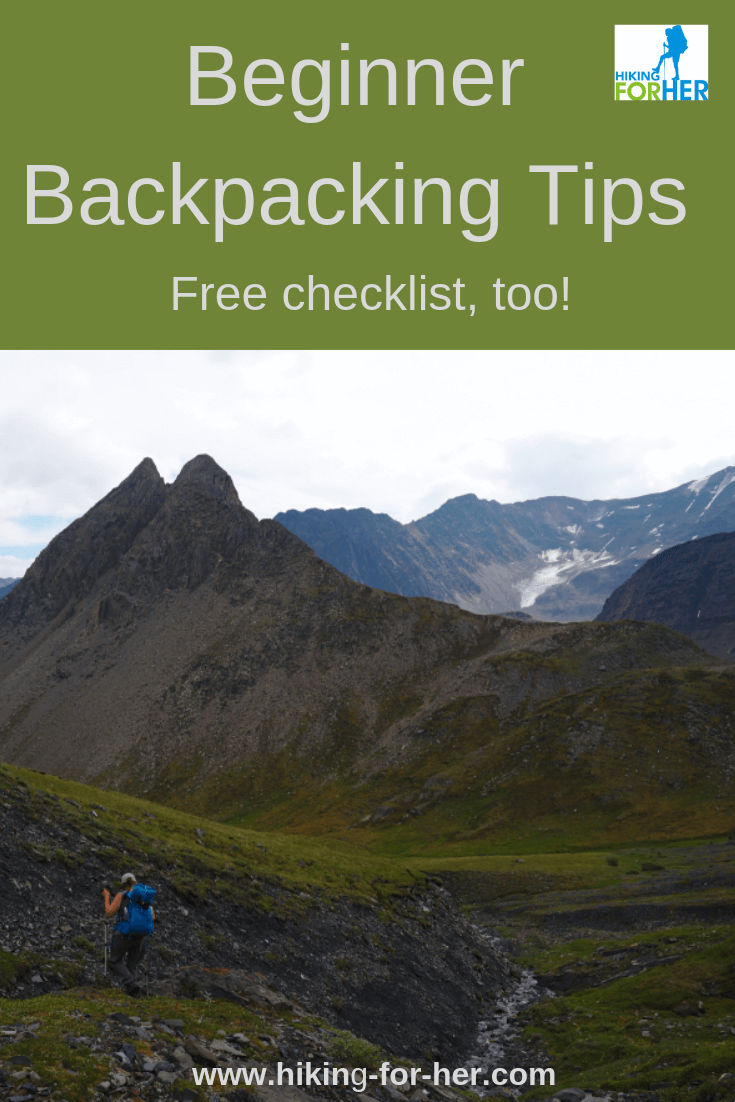 Best beginner backpacking tips:
any questions?
This website has been in existence since 2008.
During this time, I've received and answered hundreds (and hundreds) of questions from hikers just like you.
For free!
Just because it's so much fun to hear about your plans and help you troubleshoot what's bugging you.

So don't be shy!
Ask me your best beginner backpacking tips question here.
It's so exciting to see new backpackers on the trail!
I won't spill the beans (or heaven forbid! the trail mix) on how I know who they are, because soon you'll be able to spot them yourself - from your position as an experienced backpacker ;)
Home page > Best Backpacking Tips >
Best Beginner Backpacking Tips