Have the freshest free hiking tips sent to you each month!

Best Hiking Gear Sources
by Diane Spicer

Which hiking gear sources can you trust?
Who delivers the goods, quite literally?
Which businesses are easy to deal with when you're hunting for backpacking gear sources?
What are the names of top hiking gear manufacturers?
Whoa! Loaded questions!
Let's get started.
Finding the best
hiking gear sources

"Best" hiking gear sources depends on what you're looking for in hiking gear.
Words like:
quality,




durability,




performance, and




affordability



should leap to mind.
Ask yourself these questions:
Your answers to these hiking gear questions give you a personal profile as a gear buyer.
And you won't be surprised to hear that there's no ONE GRAND SOURCE of hiking gear.
The best you can hope for is a list of reliable hiking gear sources.
Then you can shop around for the best set of features within your budget.
And you can build your own list of hiking gear sources.

Here's Hiking For Her's short list to get you started.
Try a gear co-op: REI

One place I've had great luck with over the years is REI, a well established, respected gear cooperative based in Seattle, WA.
They carry top rated gear, and if it's new on the market, you'll find it there first.
REI offers gear in a wide range of sizes, too.

You'll need to pay a one-time membership fee, but you get a rebate each year on the amount you spend on hiking apparel, gear and footwear.
Take a look at their camping and hiking equipment selection here.
An easy way to locate what you want is to use their left side bar. You can narrow your search by several parameters, which is why I think they're a great place to get started on your gear search:
features

brand

best use

gender

weight (of gear, not yours)


price.
Use their "compare" feature to look at only the items you want to zero in on.
They mark their gear down as the seasons change, so watch for fair prices to get even more amazing.
And their "garage" area gives you some fantastic options on name brand gear that is discounted year round.

Use Backcountry to get into
the backcountry

Backcountry is a reliable source of hiking and camping gear, all year round since 1996.
Their outdoor clothing, footwear, backpacks and everything else you need for the trail are top notch, because the company values safety and comfort.
If you love winter sports like skiing, or pursue other outdoor loves like biking, check out what this company can offer to get you geared up.

Another reliable gear source:
Outdoor Play

This company, which carries the top brands and has been around since 1995, has a great name, don't you think?

If you're into other outdoor sports beyond hiking, this is the place to shop. They were founded by avid kayakers, and have an amazing collection of gear for water sports.
What I like about Outdoor Play is their surprising sales prices, along with their wide range of options in each category of hiking gear.
You can type a question into a chat box on the right side of each page, and get a real live person to engage in a conversation about the gear you're considering.
Because this company is run by staunch outdoor enthusiasts, expect their gear selection to be realistic and reliable.
Lighten up!

As each hiking season unfolds, I find myself more and more interested in lightening up the weight of my outdoor gear.
In fact, I've made a vow to go lighter with one major piece of hiking gear each year, with an end goal of replacing all of my older technology with lightweight options.
Ultralight Adventure Equipment (ULA) is supportive of this idea, featuring durable backpacking and hiking equipment hand sewn in the United States.
Their website is easy to navigate.
And be sure to check out their Rain Kilt (use the pull down tab marked outerwear).

How I can help

My gear reviews are a good place to start on your quest for the best hiking gear.
I only recommend the best stuff for the trail, because just like you, I don't like to waste my money or time.
Feel free to use the CONTACT link at the bottom of this page, and send me your question about gear sources.
I'd be glad to help!
If you're curious about the types of questions I get from other hikers, visit the Hiking For Her hiking questions archive.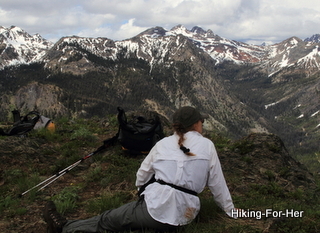 On the lookout for great hiking gear sources!
Home page > Hiking Gifts > Hiking Gear Sources
Some of the links on this website are affiliate links. When you purchase great hiking gear through the links, you pay nothing extra. But a small percentage of your purchase price flows to Hiking For Her.
And it's used to keep the best hiking tips flowing freely on this website.
Thanks for your support of HFH's mission to get everyone out on the trails in safety and comfort.
Didn't find what you were looking for? Use the blue TOP button
on the right to jet back up to the search box.
Why wait a whole month?
Plus, there's never enough room in the newsletter to share it all, so why miss out on exclusive Hiking For Her giveaways, limited time gear deals and discounts, freebies, updates, and more?

A short, info packed weekly email update will keep you current on all things hiking!
When you sign up to receive this update, you are agreeing to Hiking For Her's privacy policy.

Don't miss out!

Read more about these hiking weekly updates
HFH Policies


Save Time & Money


Hiking For Her's weekly emails keep you current on hiking & backpacking news:


flash giveaways
timely deals
steep discounts
freebies
trail changes


resources

Free, fast, fun info for you, every week of the year