Enjoy Happy Trails, the free monthly newsletter from Hiking For Her.

Receive a free resource: Hiking Layering System Explained
Tough Chick Top Review:
Skirt Sports Unites Style
With Performance
by Diane Spicer
This Tough Chick Top review takes a close look at a Skirt Sports offering for Fall 2019.
Come along with me to discover how this shirt can earn its place in your cold weather hiking wardrobe.
Time marches on, and so do the SkirtSports designers. See the updated version of this great little hiking top here.

Note
Hiking For Her is a Skirt Sports affiliate. When you purchase through website links, you pay nothing extra to allow HFH to earn a small commission.
All of the photos and unvarnished, unpaid opinions belong to Hiking For Her.
In fact, none of the reviews on this website were bought and paid for, meaning you can trust them to find the best hiking gear and clothing. That's the whole point, right?

So what's being reviewed here?

This long sleeved full coverage top in a subtle gray and white pattern, to pair with all of your hiking pants, workout clothes, yoga leggings, and skirts.
It's aptly named the Tough Chick Top!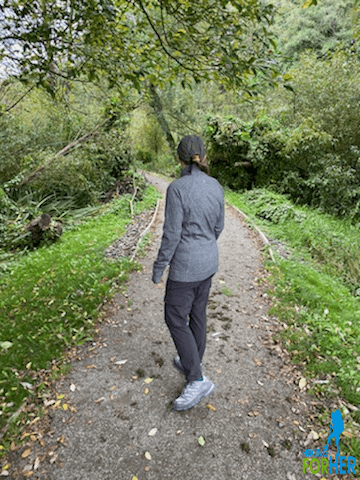 Feeling like a Tough Chick as I start a training hike in crisp fall air

Tough Chick Top review:
design details
This shirt's design uses a midweight fabric and a relaxed fit.
Put those 2 together and you've got a worthy component of your shoulder season layering system.
Fabric:
88% polyester, 12% spandex gives you room to move but holds its shape.
Easy care: wash in cool water, line dry.
The longer length works well under a backpack or waistpack.
Raglan sleeves encase your arms in softness.
Thumbholes keep hands comfy as you grip your trekking poles on chilly mornings, or when you take a snack break in low lying cold spots along the trail.

Check out this versatile neckline: a half-zip mock turtleneck collar so you can adjust your ventilation and warmth as needed along the trail.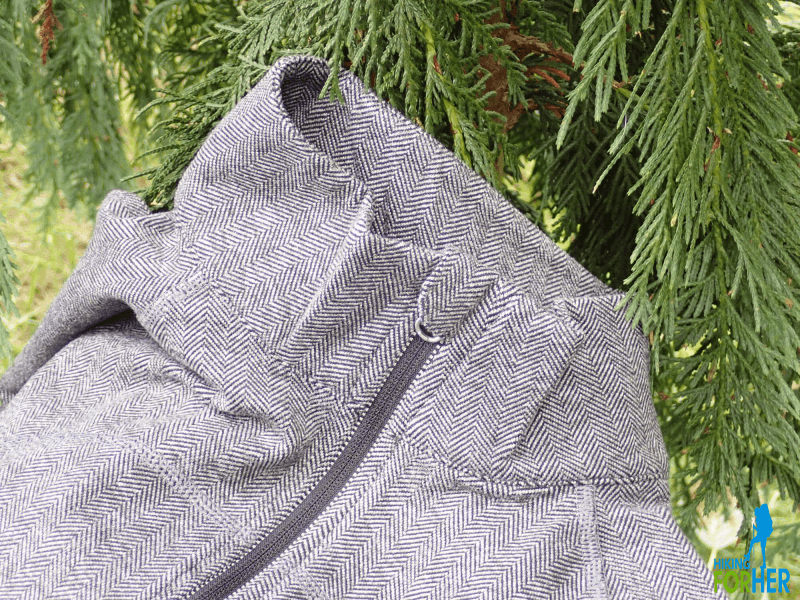 Small flap of fabric covers up the pull tab on the zipper so you look nicely pulled together!
The half zip makes it easy to put this top on, even over a base layer.
Tough Chick Top review:
the fit and feel
You're going to love pulling on this shirt. It's got a soft finish both inside and out.
And the midweight fabric feels like a gentle hug on a chilly trail. 
The Tough Chick Top is not closely fitted, and that's a good thing for layering.

You can use this top as a base layer under a jacket on a moist day.
But it can also stand alone as an outer layer on a dry day, with a long sleeve base layer beneath it if it's breezy.
Or throw a down vest over it for a snowshoeing adventure.
So many options with this one shirt!
Tough Chick performance
on the trail
In the review photos, I'm wearing a long sleeve base layer beneath the shirt, and had plenty of room for arm, shoulder and torso movements. 

I ditched my backpack so you could see the full coverage of the Tough Chick top
Note the full backside coverage.

When you strap on a backpack or waistpack, you'll have lots of fabric between you and it. No chafing or rubbing.

Bending over to pick up your poles? No chilly breezes to fear!
As a hiker, I love the hand coverage!

Options for keeping your digits toasty: thumbholes + spacious kangaroo pocket accessed by side zips
On chilly days, gripping my poles will be easy without my knuckles seizing up.

That's a big win in my book :)
Also notice the side zips (one on each side) with handy pull tabs.
The zips open into a spacious kangaroo pouch pocket at the midline.
Perfect for stashing all sorts of small things you'll need further down the trail but don't want to take off your backpack to find.

For me, that's an extra hair tie and lip balm, plus a snack or two, right at my fingertips.
And when the backpack comes off, the hands go right into that roomy pocket to absorb body heat. More perfection!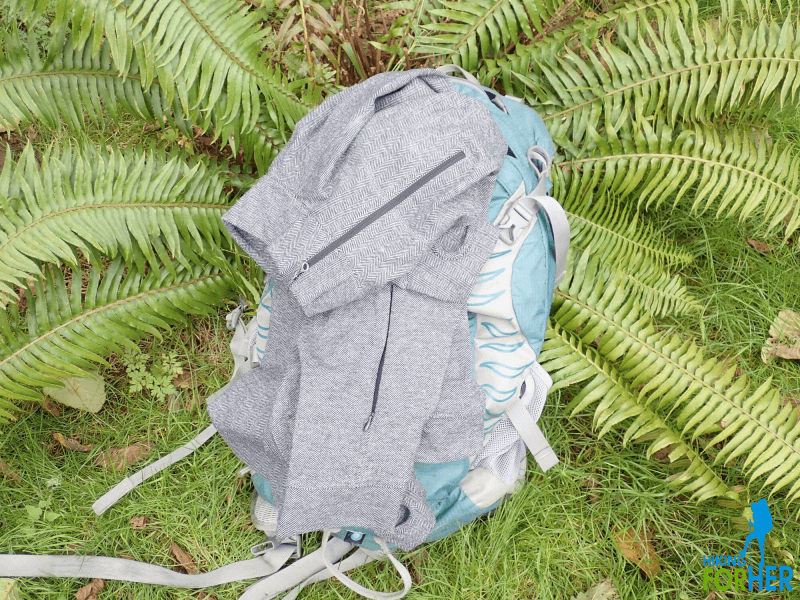 This shirt folds up nicely in your backpack when the day warms up, and comes out looking lovely and unwrinkled

The Skirt Sports company
This activewear brand uses real women as models, inclusive of all body types and skin tones, with genuine happy smiles.
To see these women modeling the clothing gives you a realistic idea of how it will fit your own curves and proportions.

Sizes 0 to 3X
Shirts, pants, leggings, skirts, sports bras and more!
If you'd like to see more photos of a "real" hiker (me) wearing their clothes, check out another review I've done of Skirt Sports pants, shirt and sports bra here.
What else is there to say
in our Tough Chick Top review?
Just this:
Make room in your hiking clothes line-up for this top.
It's the perfect weight and cut for chilly fall & spring trails. 
To recap:
You can fit a base layer wicking top underneath it, and layer a vest over it, for dry but frosty trails.
Or pull on your hard shell to trap all of that lovely body heat within this soft and cozy shirt when it rains!
But please, don't keep this shirt confined to your hiking line-up.
It's pretty enough to wear anywhere you happen to wander.
Take a closer look at all of the colors and sizing options at SkirtSports!
And smile when you think of yourself as a Tough Chick on the trail ;)
Home page > Best Hiking Clothing Reviews >
Skirt Sports Tough Chick Top Review
Hiking For Her: Hiking tips you can trust!