Enjoy Happy Trails, the free monthly newsletter from Hiking For Her.

Receive a free resource: Hiking Layering System Explained

Nocs Review:
Taking A Close Look
At Binoculars For Hikers

by Diane Spicer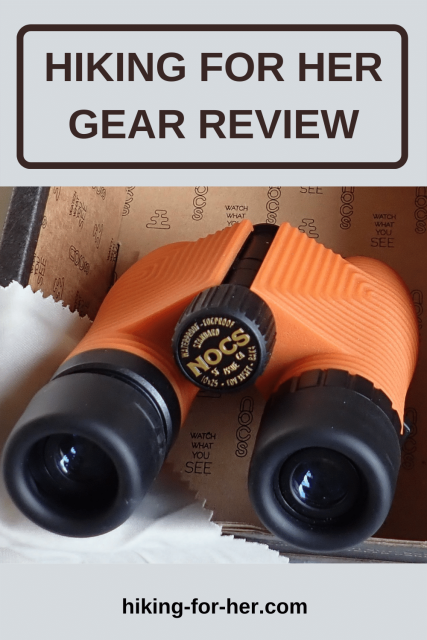 Vision is your dominant sense as a hiker.
That's why it makes sense to carry gear that enhances your sight.
This Nocs review will give you all the details on a pair of binoculars to open another dimension in your hiking.
But first...
Disclosures in this Nocs review
Hiking For Her received a pair of Nocs in exchange for an unpaid, unbiased review.
All photos and comments in this Nocs review belong to HFH.
The goal of the Hiking For Her website is to share straightforward and useful information on every page.
My motive in writing hiking gear reviews: to put the best hiking gear into your hands, and give you tips on how to maximize its use on the trail.
Let's begin.
What are we looking at in this
Nocs review?

Nocs Provisions makes many types of binoculars. You can see them for yourself on their website.
Here, we are examining the Nocs Standard Issue Waterproof Binoculars, 10 X 25.

The numbers and name will be explained in this Nocs review.
They are $95 US (at time of review).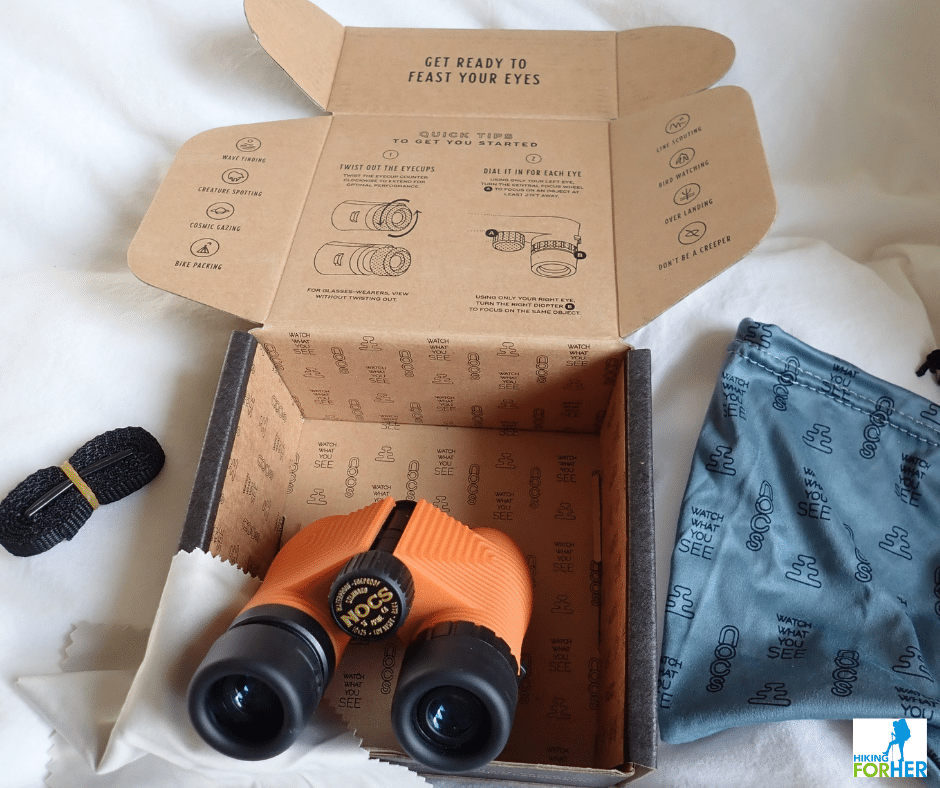 Here's what's in your Nocs Standard Issue box!

Technical details in this Nocs review
Our review begins with detailed specifications.
These numbers show you the quality and range of these particular binoculars.
Weight
Let's start with a collision of subjective opinion and technical details.
How heavy is too heavy for a piece of hiking gear?
Every hiker has a gear list built around safety and comfort.

It may also include one or two "luxury" items.
To one hiker, they make trail time more enjoyable.
To another? Extra weight for no purpose.

Here is the relevant number:
These Nocs weigh 11.85oz (336 g).
You be the judge if that's a deal breaker for you on your gear list.
Now let's look at the irrefutable numbers.
Lenses & optics

These binoculars use authentic Bak4 prisms and fully multi coated anti-reflective lenses.
Hiking Translation: a bright wide field of view 
Now for the numbers optometrists love:
Right eye diopter ±3º
Eye relief: 10mm

Minimal focal length: 13ft, 4M
Exit pupil diameter: φ2.4
Interpupillary distance: 60mm - 74mm, 2.35" - 2.9"
Hiking Translation: These Nocs binoculars are fully customizable to your particular facial dimensions and vision.
That equates to comfort, ease of use, and a good field experience.
Casing
I'm not sure what the technical term for the outside of the binoculars would be, but here's what to notice.

The size is 115mm x 108mm (4.53" x 4.25")
Hiking Translation: Nice and small in your backpack and in your hands.
It's IPx7 certified.

Hiking Translation: These binoculars are waterproof up to 30 minutes in up to 3 feet of water. I sincerely hope you never have to prove that to yourself.

The case is injected with an inert gas, nitrogen in this case.
Hiking Translation: This gas, combined with a medical grade O-ring assembly, gives you a fog free field experience. No condensation build up to obscure your view, in other words.

The case has a textured, ridged grip.
Hiking Translation: It won't slip out of your hands, even wearing gloves.

And if when you drop these binoculars, no worries. The ridges dissipate the impact force so you won't need a new pair of Nocs anytime soon.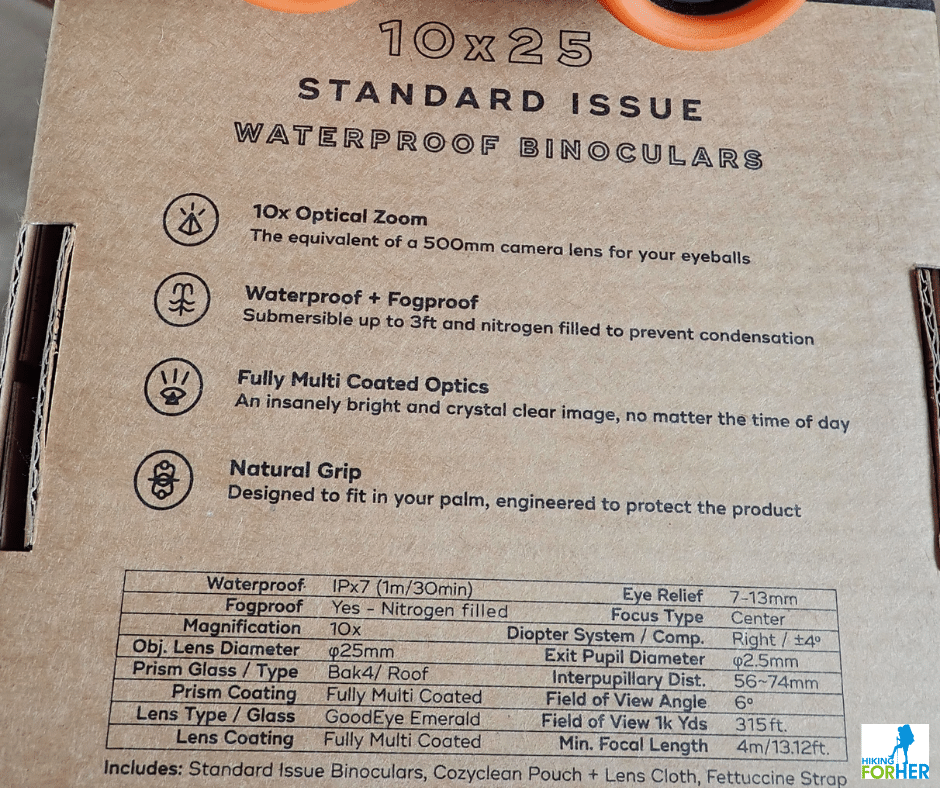 All the technical details, right on the box

Note the differences in two choices
of Standard Issue Nocs for hikers
You'll have to make a decision about which of these binoculars suit your type of hiking best, 8X or 10X.
Here are your options.

8X Nocs Standard Issue binoculars for hikers

Wider field of view (357 ft)
Magnification like 400mm lens
More stable handheld image
Brighter image
If you're tracking moving animals or birds, consider these.

10X Nocs Standard Issue binoculars for hikers

Narrower field of view (315 ft)
Magnification like 500mm lens
Less stable handheld image
Slightly less bright image
If you want to see details on a bird in a tree, or an elk herd approaching slowly in a meadow, consider these. More magnification gives you those details.

More Nocs choices for hikers

There are two other offerings from this company:
Pro Issue 42mm (as opposed to the Standard Issue at 25 mm)

Zoom Tube (monocular telescope) 32mm
This Nocs review does not offer details on them. But I wanted you to be aware that you have more choices for hiking binoculars from this company.
How did these binoculars perform
in the field?

Luckily, this Nocs review happened during the transition from late summer into fall.
Bright cloudless days in early October gave way to foggy, damp mornings as the month waned.
Great conditions for testing during this Nocs review!
On a sunny day hike, the binoculars did not disappoint. I was able to pick out the difference between a white rock and a mountain goat (always a rock), no problem.

The image clarity was impressive for such a compact lightweight pair of binoculars.
On a rainy hike, I pulled my focus closer, scanning for tree dwellers above my head: owls and rodents, mostly. I also spotted a few juncos, a towhee rooting around in the brush, and lots of LLB (little brown birds that move too fast for a good i.d.).
Great fun to watch them and marvel at their colorations!
Speaking of color, this orange is a perfect contrast in natural settings
I had debated about whether it was better to have them in a handy jacket pocket, or around my neck.
So I tried both approaches.
It was a bit of a scramble to fish them out of my pocket.

To address that concern I attached the small black nylon cord to the Nocs halfway through the first hike.
I found that set up easier than groping for them when I wanted them.
However, the cord/strap is very lightweight and twisted easily when I bent over. See my notes below about my solution.
Nocs review:
What I liked best about these binoculars

Let's set the scene.
I am not a large person. That has caused me hiking trouble in the past (looking at you, trail builders with long, long legs).

I also have a hard time finding glasses that fit my face. Right now, I'm wearing a child size frame.
An embarrassing detail you probably didn't want to know.

But it leads into why I have a hard time using binoculars built for an "average" face. They are too large and clunky, and I can never bring the eyepieces close enough together.
That means I end up squinting through just one eyepiece.
Not an ideal situation when you're scouting a campsite.
Or determining if that large brown lump on the ridge is a bear.
So when I saw how adjustable these binoculars are, I immediately wanted to try a pair.
This brings up interpupillary distance.
It means how close together or far apart your eyes are.
And it affects how easy or hard it is to find eyeglass frames (or binoculars) that fit.
These Nocs have you covered:

Close set or widely spaced, Nocs covers the anatomical spectrum (56 - 74 mm to be exact).

It will put the lenses right where they need to be for you. Even if your eyes are close together like mine.
Glasses on or off?
The twist up eyecups allow me to use the Nocs when I have my glasses on, or when I take them off in wet conditions.
I tested both (see field conditions above), and they worked well in both situations.
How easy is it to get a grip?

Along with a small face, I have small hands. So my grip on hiking gear can be compromised sometimes.
I am happy to report that the grip on these things is amazing!
I've had a chance to test them in a couple of recent downpours. They never slipped out of my cold wet fingers.
It will be interesting to test them in winter field conditions.
I wear hiking gloves with various textures and thicknesses. How will they handle these Nocs?
I'll report back.
How this hiker is using these Nocs
Some hikers consider binoculars a luxury item due to weight concerns.
So be it.
It's worth it to me to be able to have a pair of lightweight waterproof binoculars like these at the ready.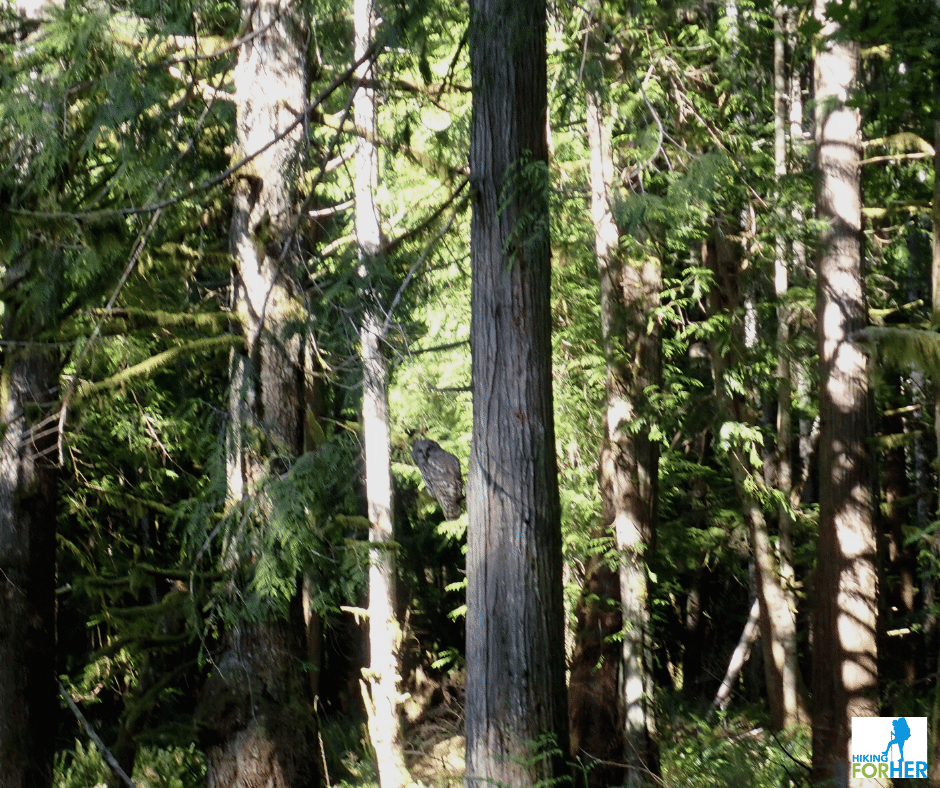 Spot the forest resident? Nocs binoculars make it easy to hunker down and observe this gorgeous bird without bothering it.
With Nocs, a hiker like me can:

Scan upcoming terrain

Bird watch

Verify an upcoming landmark
Monitor changing weather conditions

Scout a safe streaming crossing

Spot a good campsite from a high vantage point
Search for seasonal surface water
View wildlife at pond's edge or on a rocky ledge

Play around and have fun observing my surroundings
And don't forget all the other things in life that a good pair of binoculars can enhance. Sporting events, boating, concerts and star gazing, to name a few.
That's my short list, anyway.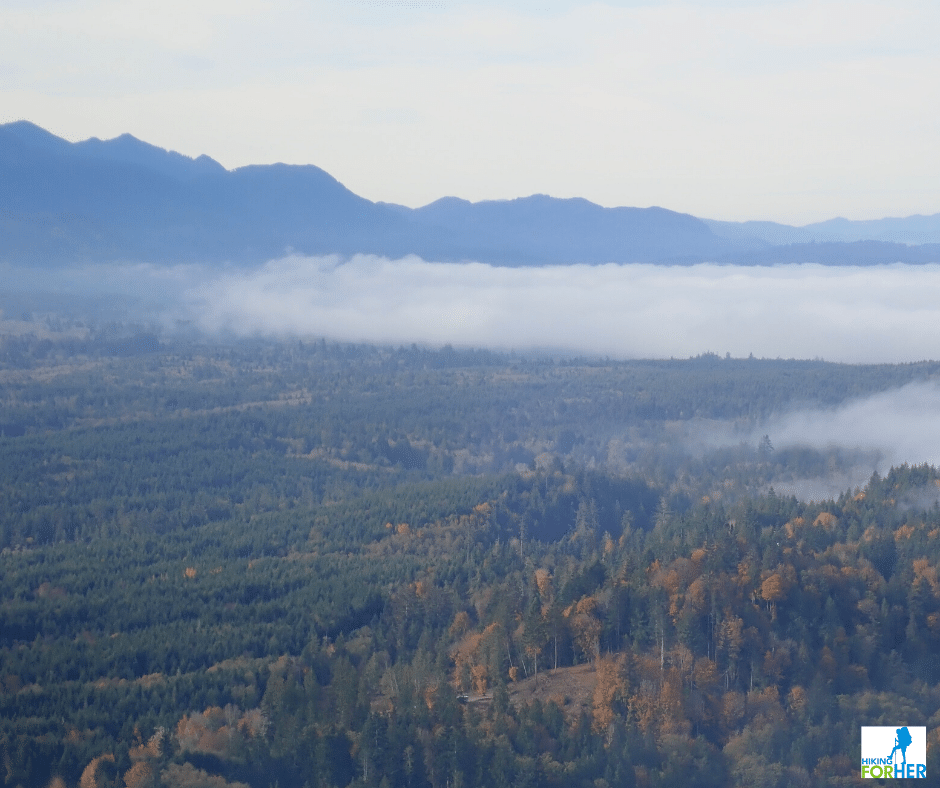 When the weather is changing, it's important to know what's ahead of you. Binoculars will provide visual confirmation of map coordinates before the fog rolls in.

Two intriguing possibilities to extend
Nocs versatility

I haven't tried this yet, but wanted to share this detail in this Nocs review.
You can adapt your smartphone to take pictures and video through your binoculars.
For these 10X binoculars, that's equivalent to a 500mm camera lens.
Very cool!

You'll need the Photo Rig adapter, an additional $27 US (at time of review).

And if you'd prefer to go small, you can get an Inspector microscope 4X multiplier lens ($35 US at time of review). It is also photo compatible.
You'll need the Zoom Tube to get tiny.

A note about the Nocs Provisions company
I noticed these things right away about this company:
Plastic free packaging
A design that works in the outdoors: compact, waterproof, lightweight

Inexpensive but good quality and customizable features
1% For the Planet member
Pays return shipping (which for me means they have few returns)
A few trail tips in this Nocs review

I always throw in some trail tips when I review outdoor gear.
So here they are, for your edification.

Go for a bright color when you buy binoculars.
The 10X is available in 4 colors, three of which are too subtle for outdoor use in my opinion (blue, gray and green). The orange pops, which is what you need in small gear like binocs.
The 8X has a nice bright yellow along with the orange option.
These Nocs come with a soft fabric pouch. Upgrading to a more durable case is a good idea.
Why?
I'm hard on my gear, and I want these to last a long time without the cloth pouch failing or the lenses getting scratched. I'll bet you agree.

Note: I prefer to choose my own gear cases, so I'm glad the Nocs didn't come with one that might not fit my needs.
Keeps the price point down, too.
I'll be upgrading to one of their woven straps. I like the idea of quick release connectors and adjustable clips. Two reasons:
No tangling, as well as security around my neck
Peace of mind that the binocs will always be within reach when Sasquatch finally shows up

Conclusions in this Nocs review

I wrote this review because a pair of Nocs solved a problem I've had as a hiker.
I need a pair of good quality binoculars that can endure rugged hikes without weighing me down.
These Nocs are great because they adjust to my face, and then adjust again when I hand them to my hiking partners.
They expand my range of vision as a hiker for very little weight penalty. That's important to me not only for safety but for enjoyment on the trail.
The clarity and crispness of what I'm viewing surprised, and then delighted, me. I spent a lot of time looking through these binocs as a result, something I don't usually do on hikes.

In conclusion, I have no hesitation recommending a pair of Nocs (affiliate link) to you.
Note how they would also make a great gift for the hikers, boaters, campers and sports fans in your life.

Thanks for reading this Nocs review!
Home page > Best Hiking Gear Reviews >
Nocs Review
Hiking For Her: Hiking tips you can trust!