Enjoy Happy Trails, the free monthly newsletter from Hiking For Her.

Receive a free resource: Hiking Layering System Explained

REI Beyonder Pack Review
From Hiking For Her

by Diane Spicer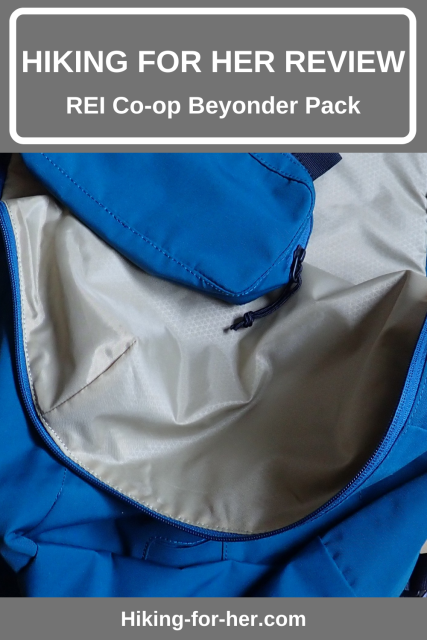 Not all backpacks are created alike.
Nor should they be.
Each has a purpose, with an intended type of user.
This gear review reveals how the REI Co-op Beyonder backpack will carry its weight in your many roles as a hiker, commuter and traveler.

What is being reviewed
This Hiking For Her gear review features the REI Beyonder Pack, which looks like this in Sea Forest.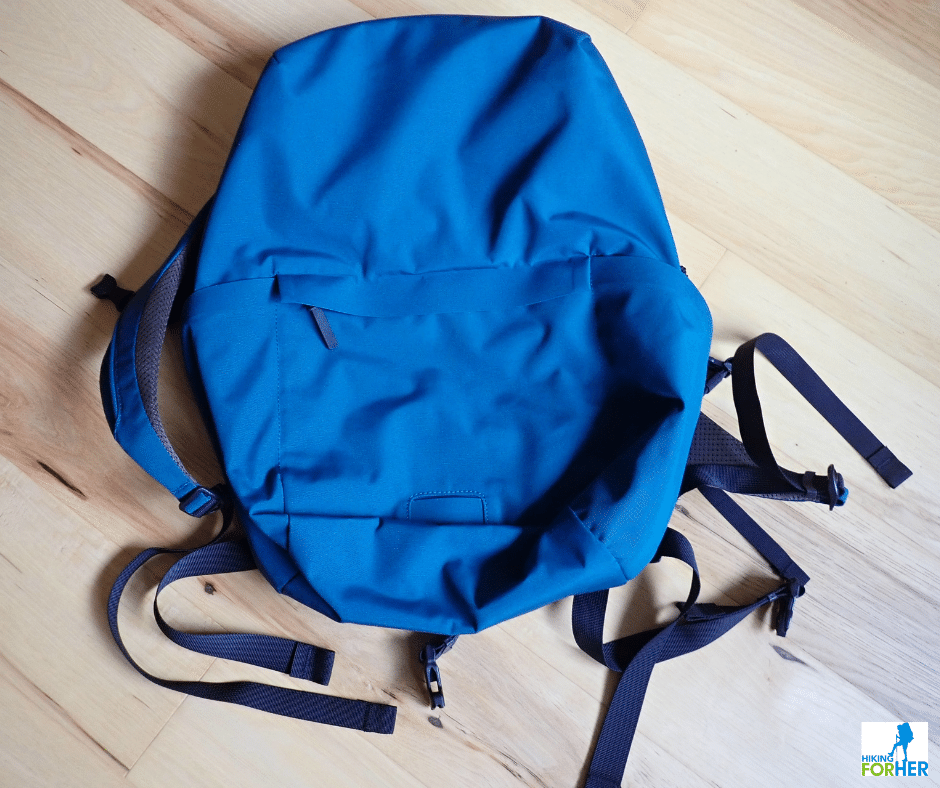 It's also available in a medium gray called Rockwall
A color note: It looks more turquoise to the naked eye than the bright blue it may appear on your screen in my photos. You can see REI's photos here if you'd like to compare.

Disclosures
in this REI Beyonder Pack review
Hiking For Her received this pack to do a full and impartial free review of its performance and quality.
As with all Hiking For Her reviews, all photos and honest opinions are my own. I share them to give you insight into the best hiking gear.  

You also need to know that as an REI Co-op affiliate and a long time member since the 1970s, I believe in their products and customer policies.
Hiking For Her receives a small percentage of your cost if you buy through this website. You are charged nothing extra.
Now let's go through what makes this little pack tick. There's a lot to say!

Technical specifications
The tech specs tell you what the designers intend for you to do with this backpack.
If you're not sure how to size up a hiking backpack or interpret the lingo, read this first.
The REI Beyonder Pack uses recycled polyester to build a pack with 17.5 liter capacity.
So right away, you know this is a compact pack, suitable for daily use and short and/or easy dayhikes.
That puts it into the sweet spot that is often empty on a hiker's gear list:
a backpack that comes along on the daily commute, doubles as carry on for travel, and triples for dayhikes.
Can one pack really do all that?
Excellent question, but first...

More design specs in this
REI Beyonder Pack review

One main zipped compartment
Laptop sleeve (up to 17 inches) and smaller sleeve for a tablet or iPad in a second zipped compartment

Adjustable bottle pockets (be sure to read about those below)
Padded shoulder straps
Adjustable sternum strap (see its importance below)
Adjustable hip belt

Removable organizer pouch to hold things that tend to disappear inside a backpack
Meets most carry on size restrictions at 18.25 x 12 x 6.75 inches (but always check the regulations before you go)


Now it's time to dissect this backpack
in the REI Beyonder Pack review

Let's start with the outside, then work our way inside. We'll take a look at the quality and finish up with how the pack feels and performs.
Note that I am a short female, and my comments on how the pack fits may not reflect your own experience.
Also note that I've been at this hiking thing a long, long time and I know how to spot a good design when I see it. So again, my comments may not reflect your approach to hiking gear, but I'm going to share them anyway ;)


What do we see when we look at
the outside of the Beyonder pack?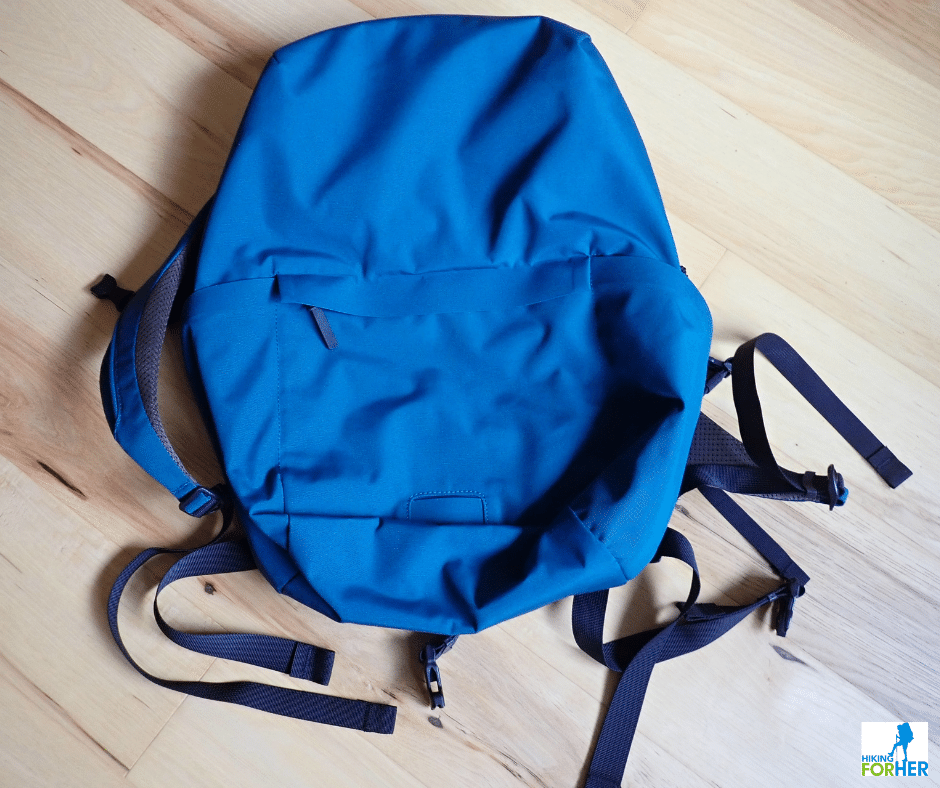 Exterior pocket and top zippers with pulls for quick access. Note the stretchy attachment loop at bottom.
The first thing I look for on the front exterior of a backpack is pockets. You need a place to put the things you want frequently, whether on a hike or during your morning commute.
And you want those pockets to zip closed, for security and to keep out grit.

So it's good to see this exterior zip pocket placed low on the outside of the front of the pack. It's where you can easily slide open the access and get at your snacks, phone, and car keys.
SPOILER ALERT: There is an even better place to stash those things inside the pack. I'll get there in a minute.

Easy access to all the good little things in your life, and a key clip to hang onto those darned things!

On the pack's sides

There are two bottle pockets, as you would expect on a backpack.
But here is a new-to-me feature:
a snap to accommodate different sizes of bottles.
Great idea! No more worries about a slender bottle slipping out and getting left behind on a plane seat.

The snaps are on both the left and right bottle pockets.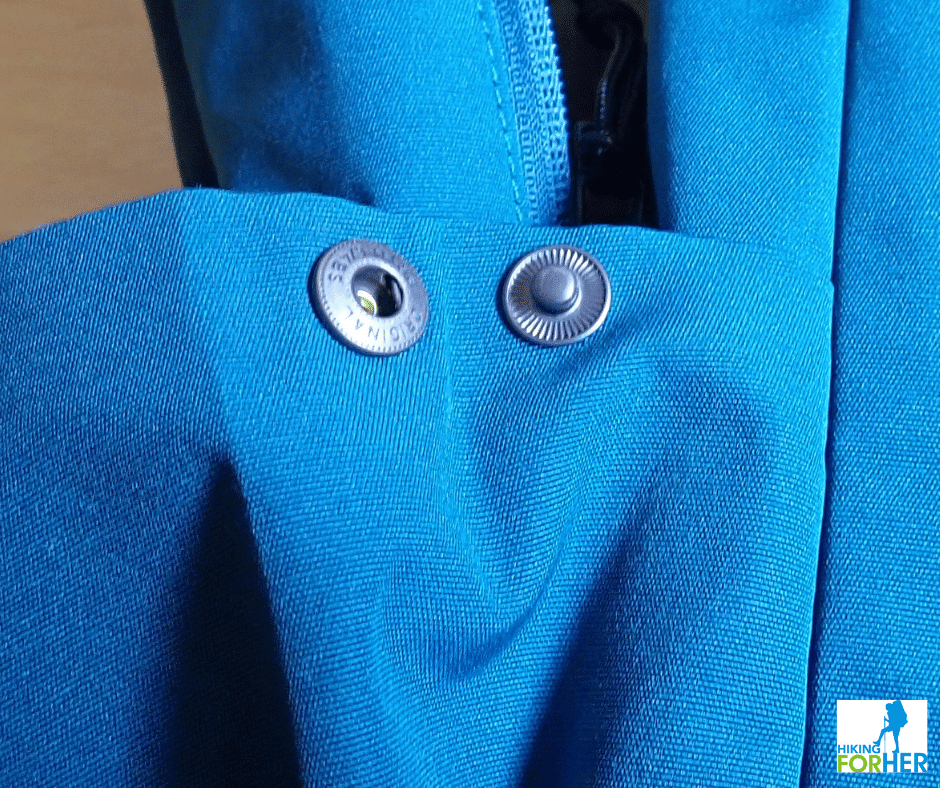 Now let's look at
the back of the Beyonder pack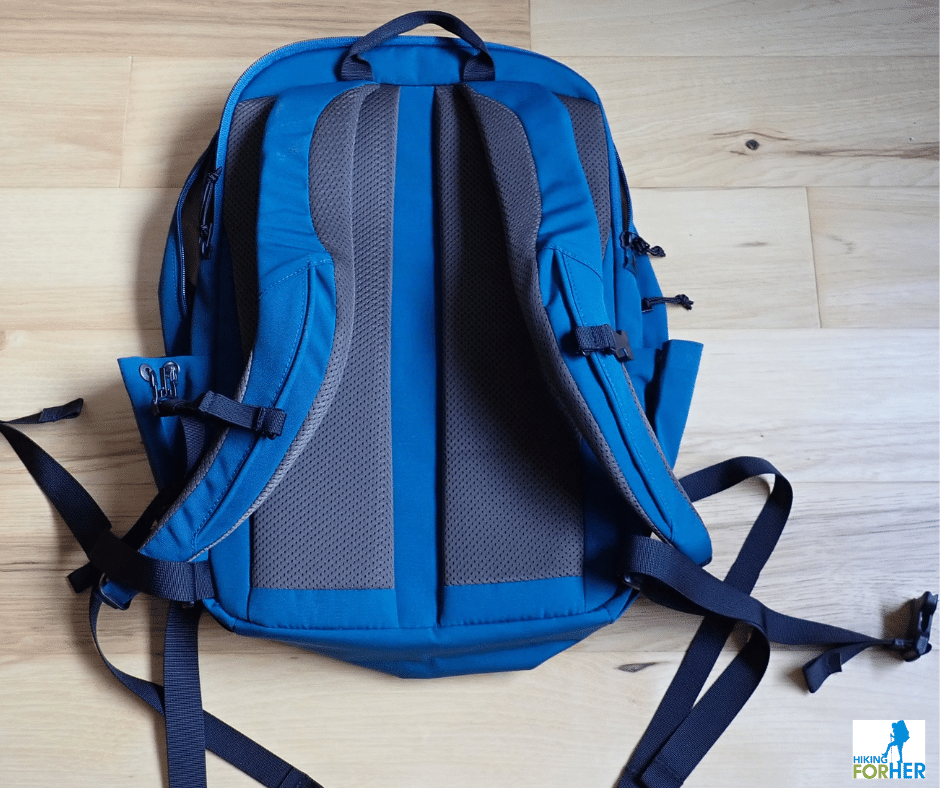 Padded and breathable shoulder straps and contact points, plus adjustable straps at sternum and hip, and a haul loop - yup, looks like a backpack!
This backpack ventilates the places you sweat when wearing it. Good thinking!

Note the presence of an adjustable sternum strap.

It's there to transfer load and distribute it to spare your neck and shoulders.

I would never consider wearing a backpack without one, it's that important for a good fit.
You can tug on the shoulder and hip straps until you get the fit just right.
Trail tip: Please do that each time you wear a backpack, to protect your spine. This is especially important if you are not conditioned to carrying a load.

How is the inside of the
Beyonder pack organized?
This little pack has plenty of space for everything you need in a day.
The compartment closest to the back of the pack has two sleeves:
The top sleeve accommodates a 17 inch laptop.
The lower sleeve holds your iPad or tablet.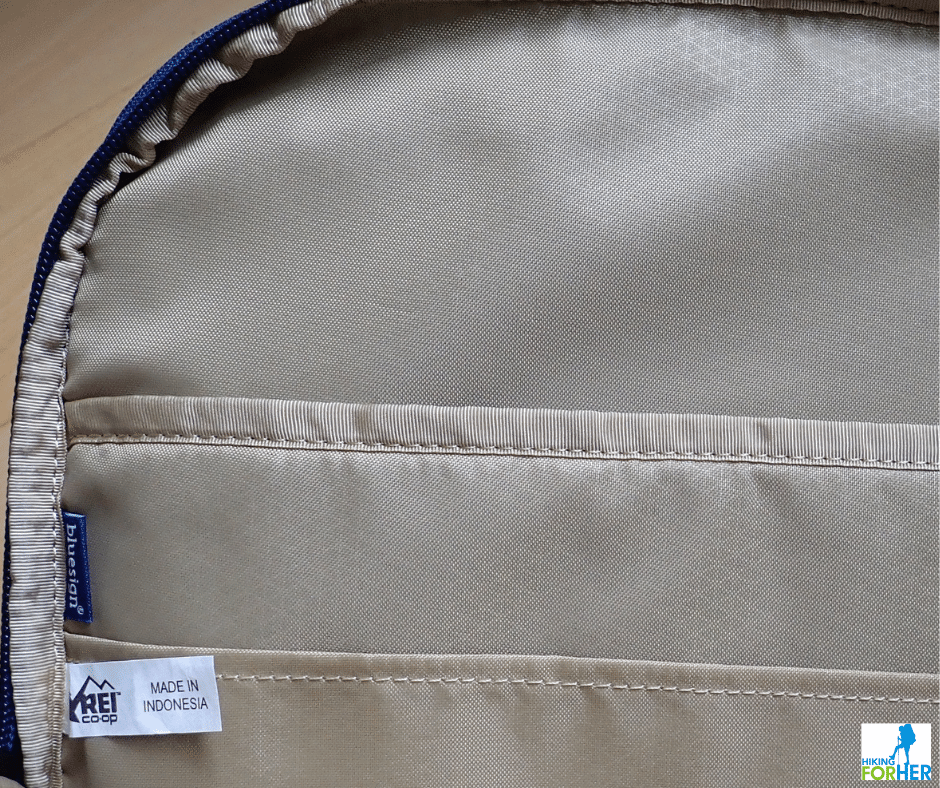 The top sleeve holds your laptop, the lower sleeve is roomy enough for your tablet or (gasp!) an old school book.
The main compartment has a horizontal tab with two snaps to secure the removable pouch.
And plenty of room for food, a jacket, and whatever your day is going to need.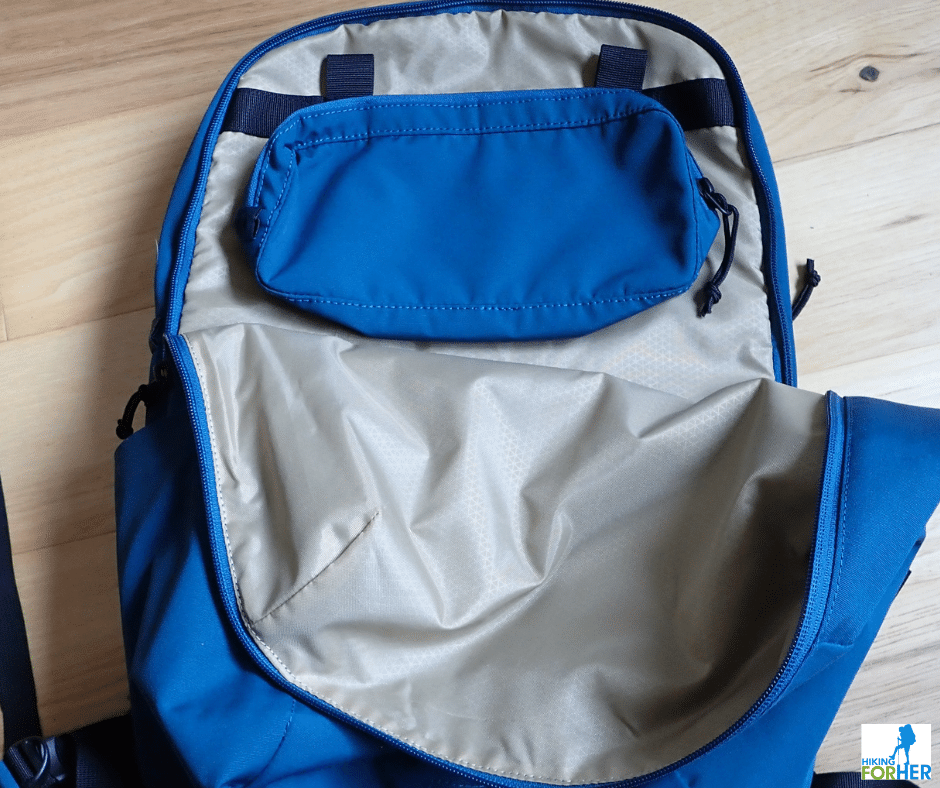 The pouch attaches securely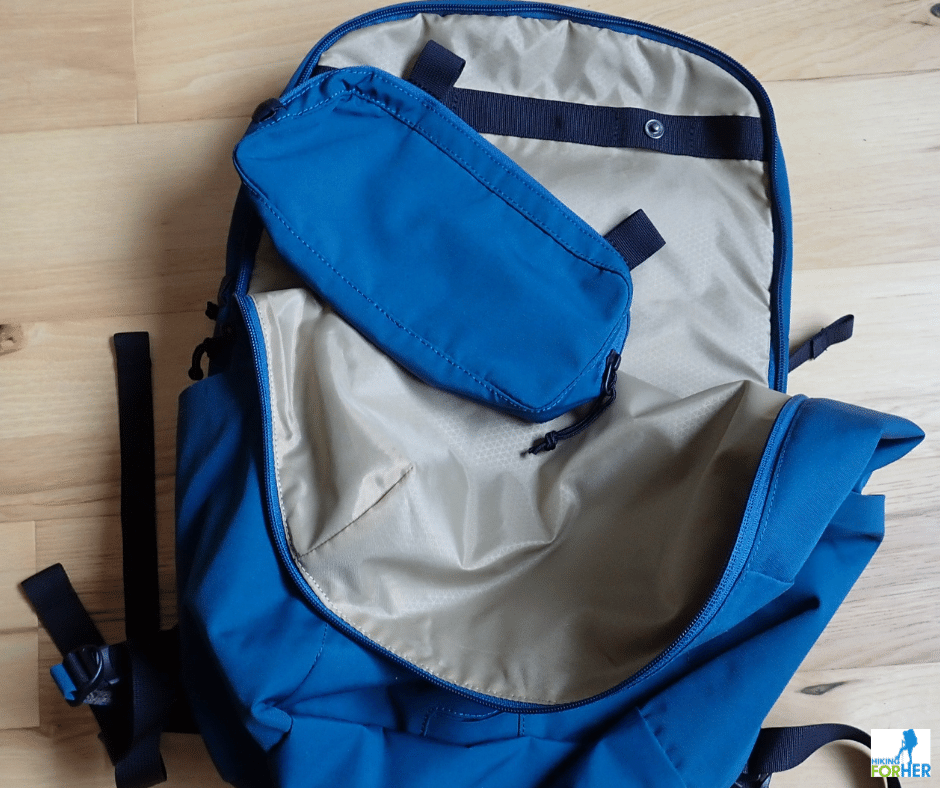 Quality notes in this
REI Beyonder Pack review

You can think of quality as value for money. Only you can determine which price point brings you value. This pack costs $119 US at the time of this writing.

But you can also think of quality as durability.
And for that, we turn to materials and construction in this REI Beyonder Pack review.

Materials used
This pack is constructed using recycled polyester (bluesign® approved).
Polyester is durable, so it can stand up to anything you spill or throw at it, won't snag or easily abrade, and looks great.
Recycled materials keeps trash out of landfills, so that feels good.

But what does bluesign® approved mean?
It refers to a product made using tightly controlled (or no) hazardous chemicals. Also, approval means the production process considers the entire pathway of production. That includes energy efficiency, air and water emissions, and worker health and safety.
Read more at the bluesign website.
Construction details

A backpack you use on a daily basis needs to stand up to a lot of tugs, tosses and hoists.
So take a quick glance at these thoughtful features:
Sturdy two way zippers with easy to find pulls makes getting into and out of the pack easy.
Overhanging fabric on the front bottom zipper protects against errant donut crumbs.
Inside compartments lined with a lighter color fabric will wipe clean easily. The color contrast makes looking into the bowels of the pack easier.
Use the removable organizer pouch for small but important things that tend to go missing. Snap it in to keep them top-of-heap, or unsnap and tuck the pouch into the bottom of the pack. That all adds up to less wear and tear on the pack.

Fit and feel notes in this
REI Beyonder Pack review

Not sure about you, but I'm always in a hurry to get on the trail or train or plane, or into my favorite coffee shop.
So I want a backpack that I can sling on, buckle up, and forget about.
And that describes this backpack perfectly.
Adjust the straps for your height, waist and snugness preference. Then forget it's there.
It doesn't stick way out (turtle hump) and it doesn't sag or drag.
The pack doesn't impede bending, stretching or other big movements.
As a female, I appreciate the curved shoulder straps to fit my contours.
What I loved about this backpack
Here are my favorite features on the REI Beyonder pack:
Fits my smaller female frame using adjustable straps

Padded AND curved shoulder straps for comfort

Sternum strap for ergonomic function
Removable small pouch to use in many ways

Key clip in front pocket

Uses recycled materials and a thoughtful production process


Anything I would like to change?
Nope.
Every single feature is either adjustable or has enough capacity to do the job.
In this case, hauling stuff you need for work, play or travel.
It's a great little pack and that's why I'm sharing it with you.
One note on hiking with this pack: Use it only for a short or easy (flat, well maintained) trail.
But wait!
There's more to see!
You've just seen what the REI Beyonder Pack review considers a great piece of gear.
But there are three more members of the Beyonder gear family:
Beyonder convertible bag
Beyonder rack trunk
Beyonder handlebar bag

See them all here.
Conclusions in this
REI Beyonder Pack review
So let's put it all together.
This pack is small, designed for lighter loads and shorter distances.
It's adjustable for proper fit, padded for comfort, and has plenty of storage capacity for all sorts of gear and technology.
Versatility makes a hiker's heart sing, and this pack is the definition of versatile. It's able to carry your stuff downtown AND take you through a day hike. Maybe even on the same day!

It looks good, as in streamlined and not too "backpacky".

It stands up to grit, moisture and abrasion thanks to recycled polyester.
And it stands up by itself when you stuff your jacket down into the bottom of the main compartment!
Plus, it's priced right.
And if you're an REI Co-op member, you will receive 10% back with your end-of-year rebate. Such a deal!

See it here, and then make room in your gear closet for this handy, attractive and well designed little pack.
Thanks for stopping by to read this REI Beyonder Pack review!
Home page > Best Hiking Gear Reviews > REI Beyonder Pack review
Hiking For Her: Hiking tips you can trust!