Sustainable Gifting Guide:
Your 2019 Map
To Eco-Friendly Hiking Gifts
by Diane Spicer
Hiking For Her's 2019 sustainable gifting guide highlights the wealth of options you have right now to go easy on the environment as you light up your favorite hiker's face with a grateful grin.
Keeping human impact sustainable within a fragile, finite global ecosystem really matters to hikers!
And I'm guessing that's why you're here: to find gift suggestions for high quality hiking gear and outdoor clothing while being mindful of impacts on future generations.
You're in the right place! 
Use it for yourself, too.
If you're looking to support outdoor brands who strive for lower environmental impact and reject the mistreatment of animals and humans, you'll meet them here in this guide.
Contents of this
sustainable gifting guide for hikers
This guide includes:
the real world definition of outdoor brand sustainability 
quality brands now embracing sustainability
best sustainable hiking clothing and gear gifts

available from REI Co-op
Disclosures
Hiking For Her is an REI Co-op affiliate, meaning the links in this guide take you to sustainable gear picks that will impress your hikers, and will result in a small commission for HFH when you purchase.
HFH is also a co-op member, reaping the benefits and rewards every year since 1978.
Read more about why being an REI Co-op member is a smart long term strategy for every hiker.
Now let's get started on your quest for sustainable gifting!
What do we mean by
"sustainable" gifts?
You could use the words "eco-friendly" and "animal welfare" and "fair trade" to get a rough idea of what it takes for inclusion in this sustainable gifting guide.
But those "green" buzz words might not mean much to you.
Let's get specific and name the sustainability principles REI Co-op uses to label a product sustainable:
Use of recycled materials to reduce impact on the environment
Textiles made with minimal or no harmful chemicals and air/water emissions, and with less use of energy (Bluesign label)
Responsible management of forests (wood fiber sources)
Down (feathers), leather and wool sourced in a responsible and humane manner, following established standards
Organic certification for fibers (cotton and hemp) or food ingredients (fruit and meat)
Fair treatment of workers: wages, working conditions, and representation

Trust REI Co-op
to source sustainable gifts
REI Co-op is using sustainability as a lens to view the inevitable, but controllable, impact of producing hiking gear and outdoor clothing at a competitive price.
Tracing the supply chain is a way to identify the specific environmental and social costs of getting your gift of a new backpack or jacket to your favorite hiker.
Supply chain example
Here's a good example: 
Carbon emissions

from creating new synthetic fabrics (backpacks, tents, rain gear) play a huge role in supply chain pollution. 
Using recycled fabrics in products is a responsible way to head toward carbon neutrality.
REI has also established product standards for responsible, or minimal, use of chemicals in their manufacturing processes (think clothing, backpacks, camping gear).
They also want to know that down feathers used in their jackets and vests, along with the wool in their base layers, socks and jackets, are responsibly sourced from certified farmers who uphold animal welfare standards.
And they've put a lot of effort into setting up a used gear outlet.
So which outdoor gear brands are embracing these ideas?

Brands taking a stand
in this sustainable gifting guide

You won't find some famous outdoor brand names associated with hiking in this sustainable gifting guide.
But you will see several outdoor brands which have been verified to use some, or all, of those sustainability principles outlined above.
Achieving sustainability is a work in progress, as goals are set and then achieved for one product, and the process begins again.
So your favorite brand might be working hard behind the scenes to get on the Sustainable Train, but isn't quite there yet.
Which brands are highlighted in this
sustainability gifting guide?
The brands featured in this 2019 guide include:
REI Co-op
Patagonia
The North Face
Hydro Flask
Note that prices you see in this guide may be lower when you click on the photos to investigate these gifting options.
A happy surprise, no?
Let's start with REI Co-op as a source of durable, well designed and sustainable hiking gifts.

Sustainable gifting guide:

REI Co-op 
A backpack is a logical gift for a hiker, right?
More features to love on the Traverse backpack:
Adjustable torso, making this an easy gift to get right for your hiker

Adjustable, swappable shoulder straps and interchangeable hipbelt to dial in the correct fit and comfort level

Integrated rain cover, eliminating the need to buy an additional piece of gear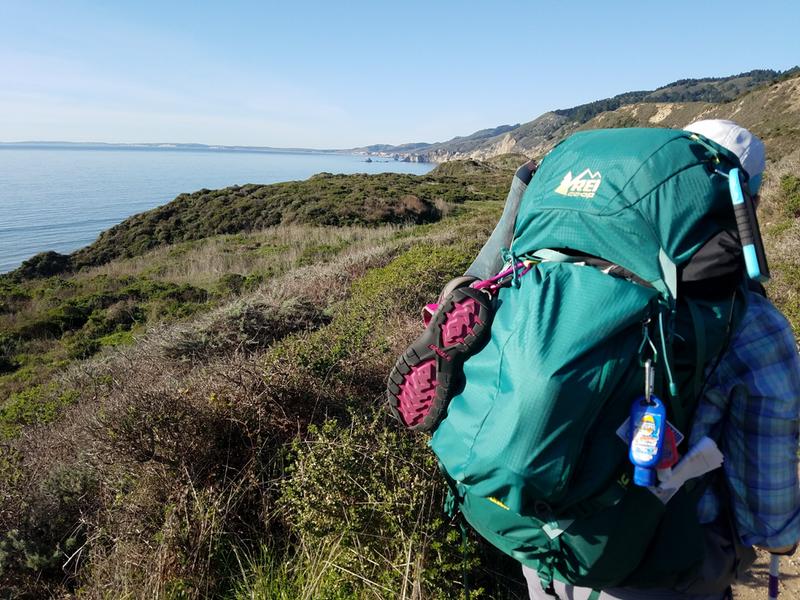 ---


Sustainable gifting guide:

Patagonia
The history of the company named Patagonia is well worth examining if you're not familiar with it.
Patagonia features 61 styles of waterproof shells (the outer layer in a hiking clothing layering system).
All are made with recycled materials.
All are certified as sewn by people who were treated humanely (Fair Trade Certified Sewn).
Patagonia has set itself a company goal to become carbon neutral by 2025.
So expect to see many more recycled and renewable fabric offerings from Patagonia.

A good duffle bag is an important piece of outdoor gear, whether you're car camping, storing stuff at the trailhead during a backpacking trip, or staging a day hike from the back of your car.
This one from Patagonia reduces landfill waste by using 100% recycled body fabric and webbing, sourced from plastic bottles.
It's available in various sizes, from a cute little 26 liter version (a baby duffle!) all the way up to 100L.
Patagonia Black Hole Duffel
$129.00
---


Sustainable gifting guide:

The North Face
This company offers hiking clothing with the Bluesign logo (elimination of harmful chemicals, attention to air and water emissions) and/or the Certified Organic/Organic Fiber label.
They also make good use of recycled fabrics.
The North Face also uses responsibly sourced wool or down.

Looking for a versatile vest that can be used as a warm midlayer under a jacket in cold weather, but also looks great as an outer layer when it's dry and cool-ish?
Here it is!
---

Sustainable gifting guide:
inexpensive yet meaningful
gifts for hikers
Looking for a way to ease into sustainable gifting with a few thoughtful gift suggestions that will be appreciated by your favorite hiker?
Keep reading!
Inexpensive ways to be an eco-friendly gifter

(less than $20)
Searching for a really unusual gift that's reusable and uber eco-friendly?

---
A hiker can never have too many socks, and that's a fact.
Liner socks are meant to be snug beneath outer hiking socks, offering moisture wicking and quick drying fabric to prevent blisters.
A hiker can never have too many snacks for the trail, either.
But too much sugar and weird chemicals work against a hard working body.
This snack has only 2 ingredients to fuel a hike:
Toting along food on a hike can involve a lot of non-reusable plastic to keep it fresh and tasty.
If those attractive reusable sheets don't scream "cool eco-friendly gift", how about this reusable durable silicone sandwich bag to replace cling wrap or plastic bags? 

---

Sustainable gifting for hikers 

under $40
A hiker can also never have too many hats, especially if she loves to explore trails in all four seasons.
For warm weather hiking, this hat has a lot going for it.
Hikers need hydration options regardless of the temperature, which makes a reusable, durable water bottle an excellent gift.
These 21 ounce metal Hydro Flask options keep beverages cold all day, or hot up to six hours, on a hike:
Explore the entire universe of Hydro Flask sizes, colors, and caps here.
---

Sustainable gifting guide
updates
As more outdoor brands and products become available, this guide will be updated to give you the best sustainable gifting options for year round gifting to the hikers in your life.
If that includes yourself, bookmark this page and check back when it's time to make a wish list for your birthday or other special event.
And thanks for taking a step toward a brighter future for the planet.
Every little step counts, and you're a valuable part of the sustainability cycle!

Gift cards for sustainable gifting
If you have no idea what your hiker would like from this sustainable gifting guide, why not let the electrons do the work and give a gift card from REI Co-op?
You'll rest easy knowing there are many, many sustainable choices of hiking and camping gear, outdoor clothing, and fun stuff for the trail for your hiker to choose and enjoy, thanks to your thoughtfulness.
How to find more sustainable products
on the REI Co-op website
Ready to do more shopping for eco-friendly outdoor products?
Type the word "sustainable" into the search box of the REI website.
No surprise when all products tagged sustainable appear. But keep going.

Sort into viable options for your gift giving: categories, gender, best use, sizing, price.
You can also type in one of the preferred attributes, such as "fair trade", to discover an entire collection of products at REI.
Try "eco friendly", too.
Your gift list will be whittled down to nothing quickly, and you'll feel great knowing you're a giver of quality, sustainable hiking gifts.
And if you're an REI member, your eligible purchases result in an annual rebate - a perfect way to gift yourself each year for being such a smart gift giver.
Lots more member rewards, too! Explore them here:
REI Membership Benefits
Home page > Best Hiking Resources >
2019 Sustainable Gifting Guide For Hikers
---
As an Amazon Associate, Hiking For Her earns from qualifying purchases. 
Hiking For Her: Hiking tips you can trust!
Hiking For Her LLC ©2008 - 2020  All Rights Reserved
   No photos or written material can be used without permission.