Enjoy Happy Trails, the free monthly newsletter from Hiking For Her.

Receive a free resource: Hiking Layering System Explained
Backpacking Gear Reviews
You Can Trust

by Diane Spicer
Backpacking gear reviews can whisk you into a magical land where everyone stays safe, warm, dry ...
and always looks fantastic, with great hair and a perky smile...
regardless of trail conditions or weather events.

Whatever best hiking gear or outdoor clothing being reviewed is without a doubt the most durable, and features the cleverest design known to humankind.
How can you live one more moment of your life without the best hiking gear??

Easy, that's how!
Because you're going to...

Be careful!

And be cautious!

"Prove it!" should be the attitude you adopt while reading gear reviews.
A good place to start reading
backpacking gear reviews

Here's a good place to use your careful, cautious, "prove it to me" approach:

Gear Junkie.
For example, if you're curious about backpacking gear reviews, check out this example from GearJunkie.

Note how it's balanced: the good right along with the bad. That's why they've earned a place in my "trusted" category for hiking gear reviews.

Be prepared!

Also be prepared to cross-check the information from multiple sources, if you are seriously considering this backpacking gear as an addition to your gear list.
Don't fall for the first piece of marketing you read in that glossy hiking magazine!
There are rooms full of marketers plotting ways to entice you into trying on, or trying out, their outdoor gear and clothing.
Nothing wrong with that, but go into the gear arena with eyes wide open.

Another trusted source of
outdoor gear reviews

Assuming you've already visited Gear Junkie mentioned above, here's a second source of credible reviews: Backpack Gear Test.
Who knows? You might even end up being a reviewer for them!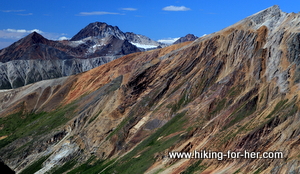 Big views need trustworthy gear! Choose your backpacking gear reviews, and gear, carefully.

My reviews

I replace worn out gear every season, just as you probably do.
And I love to try a new concept, or a new twist on a favorite brand.
In the spirit of sharing with my virtual trail buddies, I've got some gear reviews for you, too.
My opinion and endorsement cannot be bought, because I'm not in the business of pushing gear on you.
My reviews are factual and thorough.
Be confident that I am on the prowl for the very best backpacking gear reviews, and that I will share them with you!
Your turn!

Now it's your turn to share outdoor gear knowledge.
As in: Be useful. 
If you use a great source for quality, unbiased gear reviews, please send it my way, and I'll share the wealth right here on this page.
Thanks!

P.S. It doesn't have to be backpacking gear - any hiking & camping gear review sources are welcome here.
Home page > Hiking Gear Reviews >
Backpacking Gear Reviews
Hiking For Her: Hiking tips you can trust!