Enjoy Happy Trails, the free monthly newsletter from Hiking For Her.

Receive a free resource: Hiking Layering System Explained
Best Hiking Pants
For Women Hikers In 2023
by Diane Spicer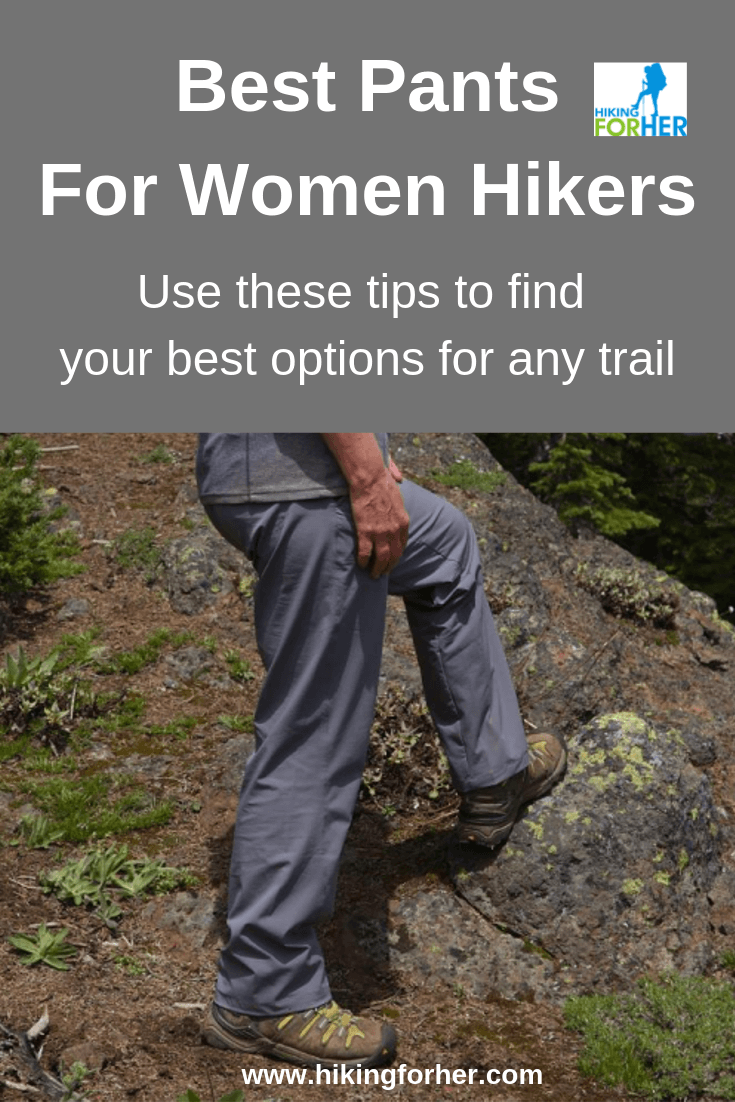 The best hiking pants for women hikers are the ones that stand up (get it?) to your outdoor adventures.
And I mean, ALL of your outdoor adventures.
The ones where you:
slide down a slippery slope,




scramble through thick brush, 

butt glissade down a long snow patch,

face plant in the mud,


flail your way across jagged rocks...
you get the picture, right?
When I first started hiking, I wore cotton jeans.
But I have a good excuse, because that was 45+ years ago. Cotton and wool were the only choices for hiking clothing back in the day.
Just for the record, those wool pants made me itch like crazy.

And they were WAY too big (my dad's hunting pants).
But in today's hiking world, there's no excuse to wear cotton on a hike, unless it's high summer and you're confident that the "weather weasels" (forecasters) are 100% accurate in their blue skies prediction.
And you'd be hard pressed to find some itchy wool hiking pants! Merino wool is the way to go now.

So you're wondering, what are the best pants to wear hiking?
It took me decades to find them.
But I'm going to tell you right up front what they are, before I go through the features that I rely upon.
If you want the best womens hiking pants for tough trail conditions, as in really tough, buy a pair of RailRiders.

At the end of this page is the story of how I happened upon that brand.
But you probably don't need that type of overbuilt pants.
Instead, keep reading...

Great hiking pants options
for female hikers
If you're a trail fashionista, you might run away from the idea of "convertible" pants.
These are the kind with zip-off lower legs, allowing you to convert full length pants to shorts.
They have all sorts of zippers and pockets, and usually an adjustable or elasticized waist band.
Color options are limited, along the lines of what you might see on Mother Nature's palette.
But I wear these on many hikes throughout the seasons, and they perform well.

For example, a pair of REI Co-op's Sahara women's hiking pants are in my gear closet. They are available in waist sizes 0 - 26W.

The newest REI hiking pants are these, available in sizes 0 - 26W, in petite, regular and tall lengths.

 And if you're a petite hiker (i.e. short legged), they've got you covered, too (just less fabric).

Another option for women's pants
One more company that is doing things right for womens hiking pants: Kuhl.

Best hiking pants saga...

How I came to find the best hiking pants from RailRiders is a long saga, not even including the early Dark Ages of cotton jeans.
To make a long saga short (something the Icelanders would frown upon), I discovered convertible nylon hiking pants in 1977.
However, as the years rolled along, the pants were made of thinner and thinner material, and the knees and butt got hole-y after just one season.
The crotch seams inevitably split during my balancing maneuvers on rocks and logs. If I tried to repair them, they'd split again.
And the "zip-off legs feature" (see photo below) led to mismatched colors because I kept forgetting to wash both the legs and the pants themselves every single time (sometimes I'd zip off the legs and leave them in my pack for weeks at a time).
Two toned pants, groovy!
Or not-so-much.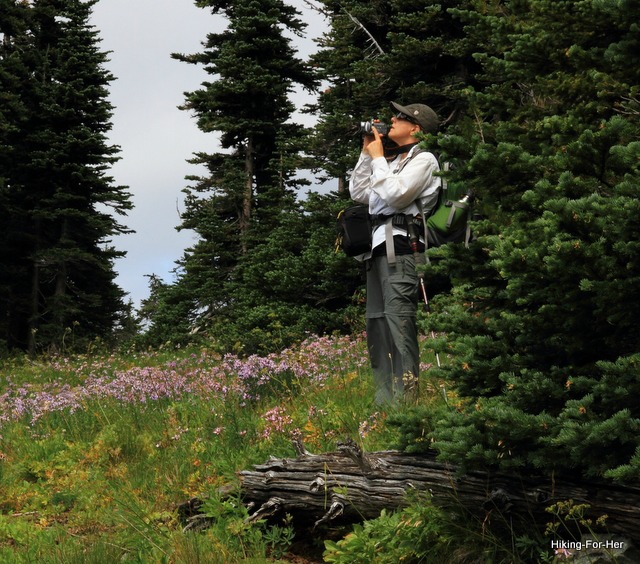 The best hiking pants fit and stay in one piece, no matter what!
        
And then it happened...

A few years ago, I spotted an ad for RailRiders.
On their website, I noticed that the clothing catered mostly to men with non-hiking hobbies. However, there was a small woman's section and lo and behold! some pants!
With reinforced knees and butt.
In colors other than pretty pink and neon purple.
I wasn't sure I needed the anti-insect chemicals, but they wash out after awhile so I wasn't deterred from considering these pants.

Could it be real?
Could my quest for the best hiking pants be nearing a conclusion?
Would I win the best hiking pants lottery?
Only one way to find out: splurge (these pants are not cheap, but then what quality item ever is?) and hit the "send" button on my first order.
The pants arrived, they fit perfectly, and the rest is history. I've worn the same pair of pants for 3 hiking seasons (with frequent laundry breaks in between, rest assured), and there is only one tiny abrasion mark on them from sliding down a rock face.
And we'll just overlook the tiny burn hole from an errant campfire spark.
So am I pushing you to buy a pair of these pants?
Heck yes!!
I'm not on commission, I don't own stock in the company (if that's even possible, who knows?), and I have no affiliate relationship. I just love their pants!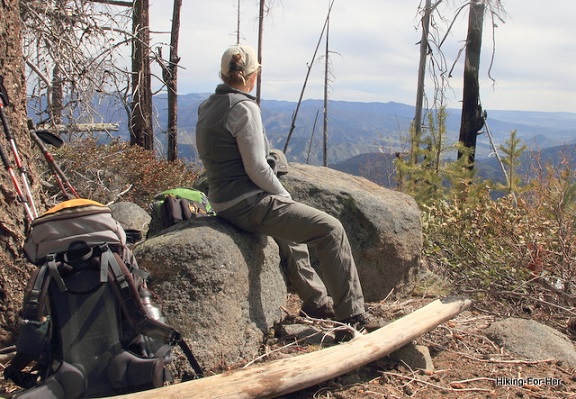 Me and my RailRiders, a perfect match.

Take note of these cautions

A couple of words of caution before you do, however.
These pants are fitted, with a tailored feel.

There's not a lot of room for deep knee bends, so if you're going to be doing several hours of uphill work in warm weather, maybe shorts are a better idea.
On the other hand, they fit really well under my rain pants!

They taper snugly over my hiking boots and can be cinched tightly with a drawstring.
This can be an advantage when I'm in insect territory (as in the Arctic National Wildlife Region in the photo below), or when I want to slide on my gaiters quickly (no tucking fabric in or getting caught in the velcro).
However, they do not have zippers on the legs, so you have to take off your boots to take off the pants.
Bottom line: These pants are not ideal in all situations. That's why I give you other options.
Tip: You might want to order up a size if you like a loose fit. There's a waistband adjustment option that makes this a viable option.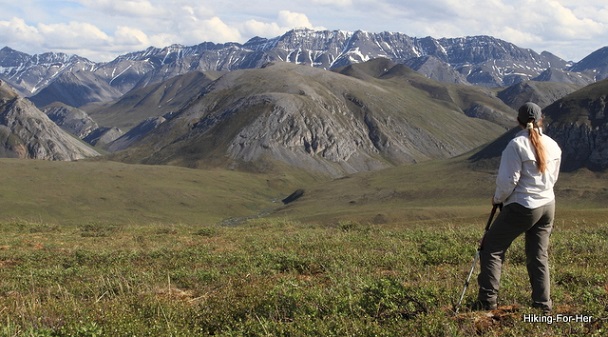 Just a few other features I like:
These nylon pants dry fast, so if you're caught out in a shower, no worries.
Ditto for drying out overnight inside your tent.
At home:

They are wrinkle-proof after undergoing hundreds of "jam them into the bottom of my pack" field trials.
There are plenty of pockets, some with zippers.
I appreciate the neutral color of the fabric.
So from my perspective, they're the best hiking pants I've ever owned. I hope they work for you, too!
Need technical hiking pants,
with all the bells and whistles?
Read my review of GOREWEAR pants here.
These pants are suitable for cool, windy conditions when you don't expect buckets of precipitation. 
They have features that make them a pleasure to wear!
Plus size and petite best hiking pants recommendations

Plus size hiking clothes that fit right are hard to find, but these recommendations for hiking pants might get you onto the trail in comfort.
And here are some petite hiking pants tips for you.
Read a review of some versatile convertible pants in three lengths here.
Best wishes for success

Here's wishing you a successful quest for the best hiking pants for your trail needs!
And just in case, here's some info on hiking shorts.
Because sometimes it just feels great to show a little skin on the trail.
Home page > Best Hiking Gear >
Best Hiking Pants In 2022

Hiking For Her: Hiking tips you can trust!